Baby Hiking Backpack - Stay Active, Comfortable & Safe
You love hiking - and you've already got all of your friends hooked on it, too. But now you have a new member of the family, and you want to let them in on the joys of hiking. The thing is, the new member is still a tiny baby.
So, the question is - how do you do it? Babies are fragile, sensitive, and require so much attention and care. Is hiking really a baby-friendly activity?
You bet it is.
The key is to do it correctly, safely, and comfortably - both for your baby and yourself. That's where we come to the rescue:
We know that searching for the right baby equipment can be confusing and overwhelming - even when it has nothing to do with hiking. That's why, in this article, we're going to tell you all about hiking baby carriers, the benefits of hiking with your baby and share some tips and tricks for enjoying the best hike with your baby.
So, what are we waiting for? Let's get right into it!
Benefits Of Hiking With Your Baby


Even though most may not think that hiking is an ideal activity to include your baby - or even a toddler - in, there are tons of benefits to doing just that. We're going to name a few here, just to get your mind going - and you'll do the rest.
Bonding Time
While some people might say that it's futile to take a baby hiking with you since they won't remember any of it, we beg to differ. Let's start with the number one reason as to why you should take your baby with you:
Because it will be a great bonding experience for the baby to have with you as parents.
Yeah, they won't remember the different kinds of flora and fauna, they won't comprehend that you've hiked a popular trail in a national park or conquered a mountain trail, or how many miles you trekked - but they will remember being with you.
Every moment spent with your baby at the earliest stage of their life - and later, of course - is valuable and adds to the bond you as parents have with your child.
Outdoor Activities
Being a new parent comes with a bunch of challenges - and a shortage of time. Most people can't even think of doing anything remotely similar to hiking with a newborn; we get it. But the truth is, there are possibilities.
If being active is important to you and you want to continue with the habits you've formed before you had a child, but you're not sure how - hiking may be the answer.
Gym and other types of physical activity require you to be away from your baby, but hiking - given the right equipment - doesn't. So, you'll be able to spend time outdoors, get your exercise, and still be with your baby. We'd say that's a win-win situation.
Forming Habits Early On
It's crucial to introduce your child to the activities and values that you want them to hold highly in life, very early on. If you allow your baby to get used to - and fall in love with - hiking at the earliest stages of their life, it'll remain a staple part of their life later on, too.
You likely won't have to go through that difficult transition period with taking your toddlers hiking for the first time and them being grumpy and bored. Instead, it will become second nature to them by that time. Besides, kids are far more likely to do something and accept it as "useful" and "good" if they see their parents doing the same.
So, strap that baby carrier on - and start creating healthy habits for your kid early on.
Baby Hiking Tips For Active Parents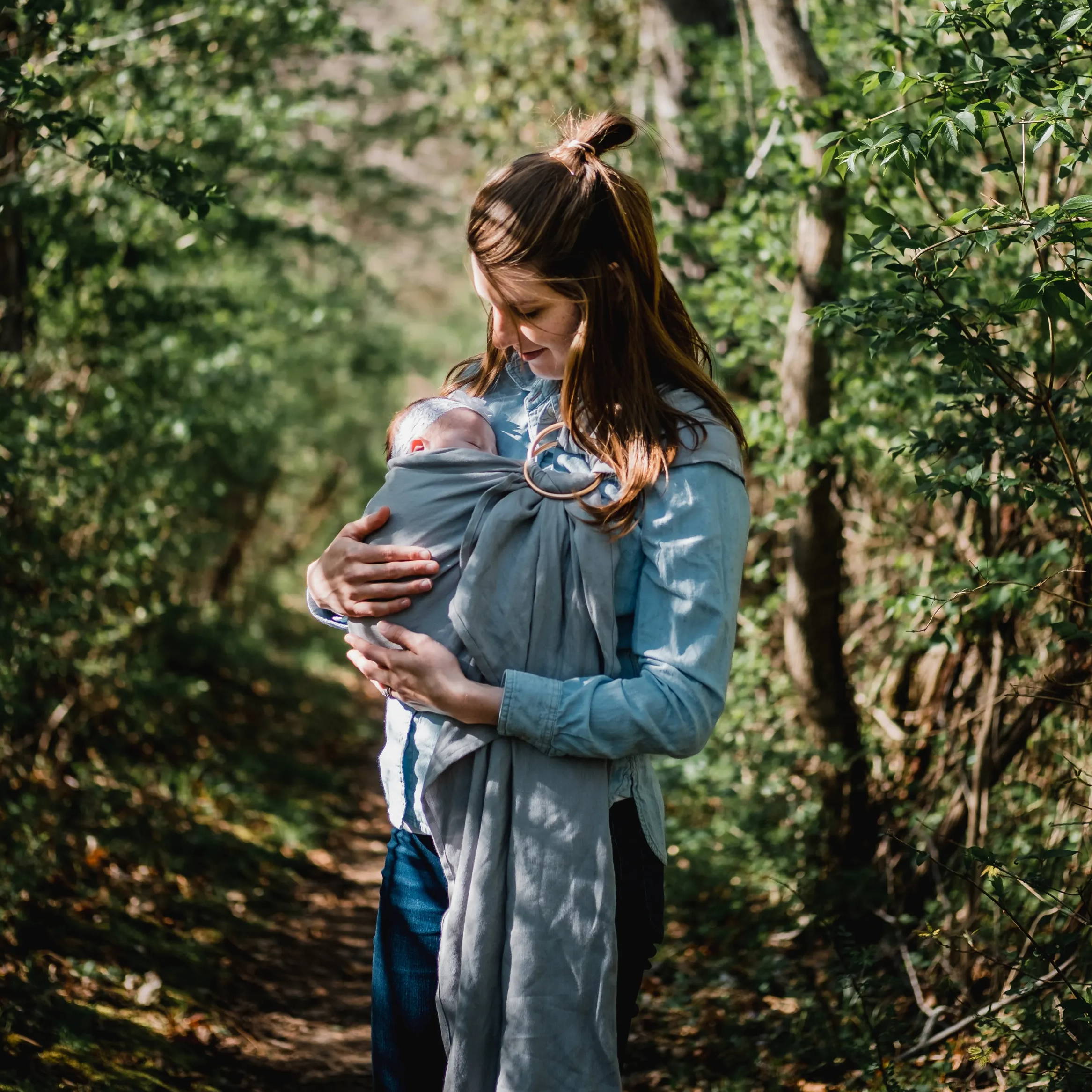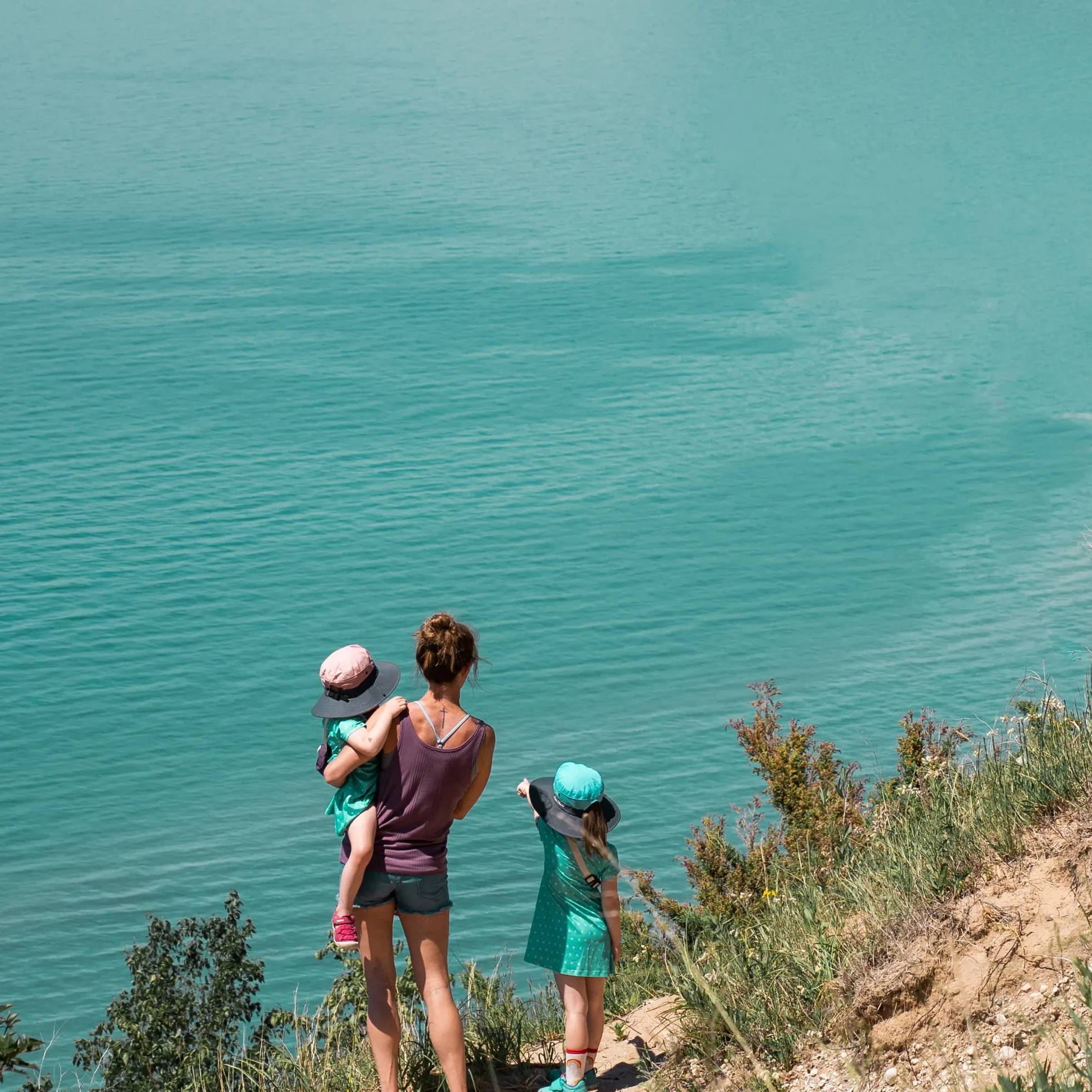 Before we get into the best hiking baby carriers, we want to go over some of the most important - and oh-so-useful - tips for taking your baby hiking.
Give Yourself Time
The first tip won't even have to do with the baby - but rather yourself (and your significant other). We want to emphasize that health and wellbeing are of utmost importance and that they're a prerequisite to an enjoyable hiking trip, with or without a child.
Bringing a baby into this world takes an immense toll on your body; you need to give it time to heal. Trails won't go anywhere, and those experiences that lie ahead will still be there in a couple of weeks (or months) you need to recover further.
We know that you might be itching to get back to your activities from before, but don't rush it. The joy will be that much greater once you return to the trail with your little one in their carrier.
Start Slow
Before you embark on a more challenging hiking adventure, you might want to ease into it with some longer walks around town, then move onto simpler, familiar trails before hitting those more complex ones.
That way, you'll give your body time to adjust and get back into the groove slowly. Also, you'll be able to work out your strategy on easier treks - before getting to the more challenging ones. If you already have a favorite trail that you always go back to, and it's not too difficult, it's a good idea to start there. You'll have the sense of comfort that comes from familiar terrain.
Appreciate Small Wins
The reality is, you probably won't fulfill your plan and finish the hike the first few times you get out there - but that doesn't matter. In this case, it really is about the journey rather than the destination.
The mere fact that you got out there with your child and hiked - even for a little bit - is still a win and something you should be proud of as a new parent!
Things don't always go according to plan, especially when kids are involved - but you have to find the charm in it. No matter how long (or short) your first couple of hikes are, they are just the first steps to creating the habits that we've mentioned before - and the end result is what ultimately matters.
Plan Ahead
You're probably thinking, "Didn't you just say that plans are going to fall through?"
Well, we did - but that doesn't mean that you shouldn't make them anyway. While you won't be able to foresee every possibility and cover all bases, you'll feel more comfortable knowing you have some kind of a plan for your trip.
Heading out to the trail with no prior planning will likely make you anxious - and ruin your trip. On the other hand, knowing what you're setting out to do will give you a sense of security. Plus, putting plans on paper will allow you to track your progress and make it more rewarding to actually see how far you and your little one have come.
So, make a loose plan of what you want your trip to look like, but have realistic expectations, and don't be discouraged if you don't fulfill what you initially had in mind. Oh, and here's a piece of advice:
Take into consideration your baby's feeding and sleeping schedule to prevent any grumpiness caused by exhaustion and hunger.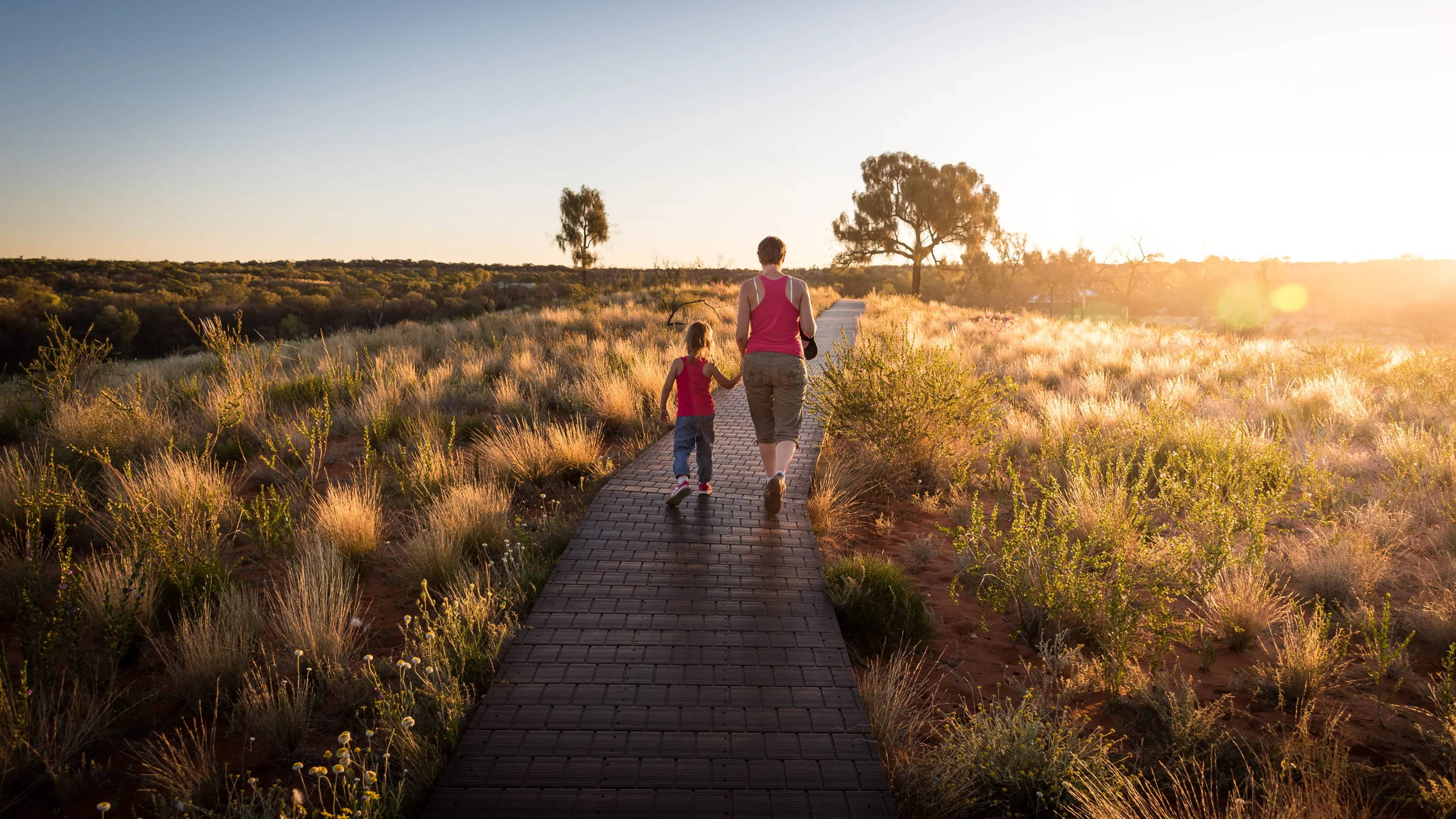 Make A Checklist
We're sure you already know this one from everyday life - but there's no harm in mentioning it here, as well:
Before heading out for your long-awaited hike, jot down a checklist of everything you think you might need. This list can contain only the essentials, or it can be a broader list of everything you want to have with you.
Once you have a rough outline, it'll be easy to narrow it down and select what will actually have a spot in your backpack. We advise you to get everything (or as much as possible) ready the day/night before to save yourself additional stress on the day of the hike.
Mind The Time
According to your baby's sleep schedule, pick the time of the day that'll work the best. Try to align the nap with the longest part of the hike so that you're at peace.
If your child has a part of the day when they're usually sleepier, it might be a good idea to pick that as your hiking time as it'll be easier on you.
When calculating the duration of the hike, don't forget to include the diaper changes and feedings, as well. This way, you'll make sure that your hike isn't too long.
Pick The Right Trail
Luckily, there are tons of trails out there for you to choose from, so there's no doubt that you'll find the right one. As we've said before, picking the more familiar ones is a good idea in the beginning, but once you've conquered those with your little bundle of joy, you'll probably want something different.
So, get your computer and search for the hikes that have the most baby-friendly characteristics. What do we mean by that?
Well, we're talking about the altitude, the type of terrain, elevation, length of the trail, and the like. All these parameters will seem much different when you account for the extra weight you'll be carrying - your child.
Don't forget to look for some reviews and previous experiences of other hikers, as well. There are great articles online about certain trails and what makes them convenient for hiking with a toddler.
When searching for a good trail, don't forget to look for rest areas along the way where you'll be able to do your diaper-changing or feeding routine.
Dress Your Baby Appropriately
Depending on what time of the year you'll be hiking, you need to make sure that your baby is dressed properly.
Many parents believe that they need to bundle their babies up, but the truth is that babies have a higher body temperature than us - and can get hot very easily.
So, the best choice is to dress them in layers and adjust that according to the weather. Most people find that protection from the wind is almost always necessary, so look into clothing and gear that provides that.
If you're in a more wet climate and rain is a possibility, you need waterproof gear and clothing. That's where a hiking baby carrier or a baby hiking backpack comes into play.
The Battle Of The Carriers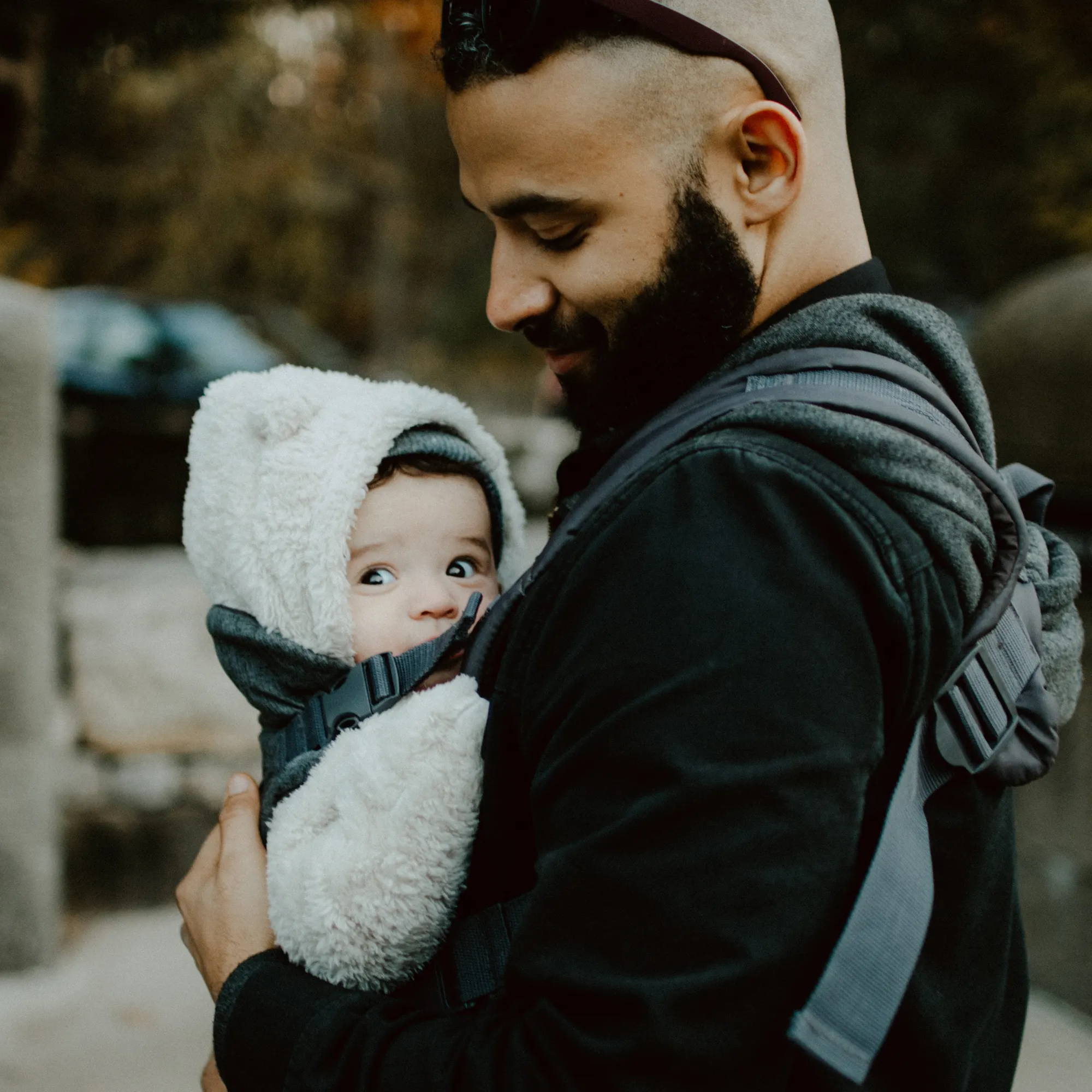 Now we're getting to the crucial topic of this article - the baby carriers or backpacks. These will be your best friend on all future hikes, so it's crucial that you choose the right one from the get-go.
If you don't have the right carrier, you're looking at an uncomfortable and grumpy toddler and loads of back pain for yourself. So, choose wisely.
There are several different things that go into deciding which baby carrier to buy; we'll try to present you with all of them and help you make the right choice for you and your child.
Lots of brands make baby gear, but two stand out as the most popular among hikers - Osprey Poco and Deuter Kid Comfort.
Deuter Kid Comfort
Deuter Kid Comfort is a child carrier that every experienced parent hiker knows and loves. Some parents would even argue that it's the best baby carrier out there. It's a lightweight, easy-to-carry - and safe - hiking carrier for babies and toddlers.
With this carrier, you'll be able to enjoy your hike, knowing that your baby's safe and comfortable. Oh, and there's also the Kid Comfort Pro carrier, with added features and design improvements.
Let's look into some of the features and characteristics of this amazing hiking baby carrier/backpack.
Shoulder Straps And Hip Belt
Improper weight distribution is one of the main contributors to back pain when it comes to any hiking baby carrier. So, when you're looking for a hiking carrier for your toddler, you want one with a back-friendly suspension system - shoulder straps and a hip belt. That way, your child's weight won't only hang on your shoulders but will also be carried on your hips.
Also, it features padded shoulder straps and a torso adjustment system, allowing for extra comfort on the trail.
An incredible additional advantage of this baby carrier is the fact that there is also a women's fit - with slimmer shoulder straps and conically shaped hip fins. That means moms can also carry their kids with the best possible level of comfort and security.
The Deuter Kid Comfort fits most body types - both men and women - and has adjustable features for everyone to be able to customize their packs.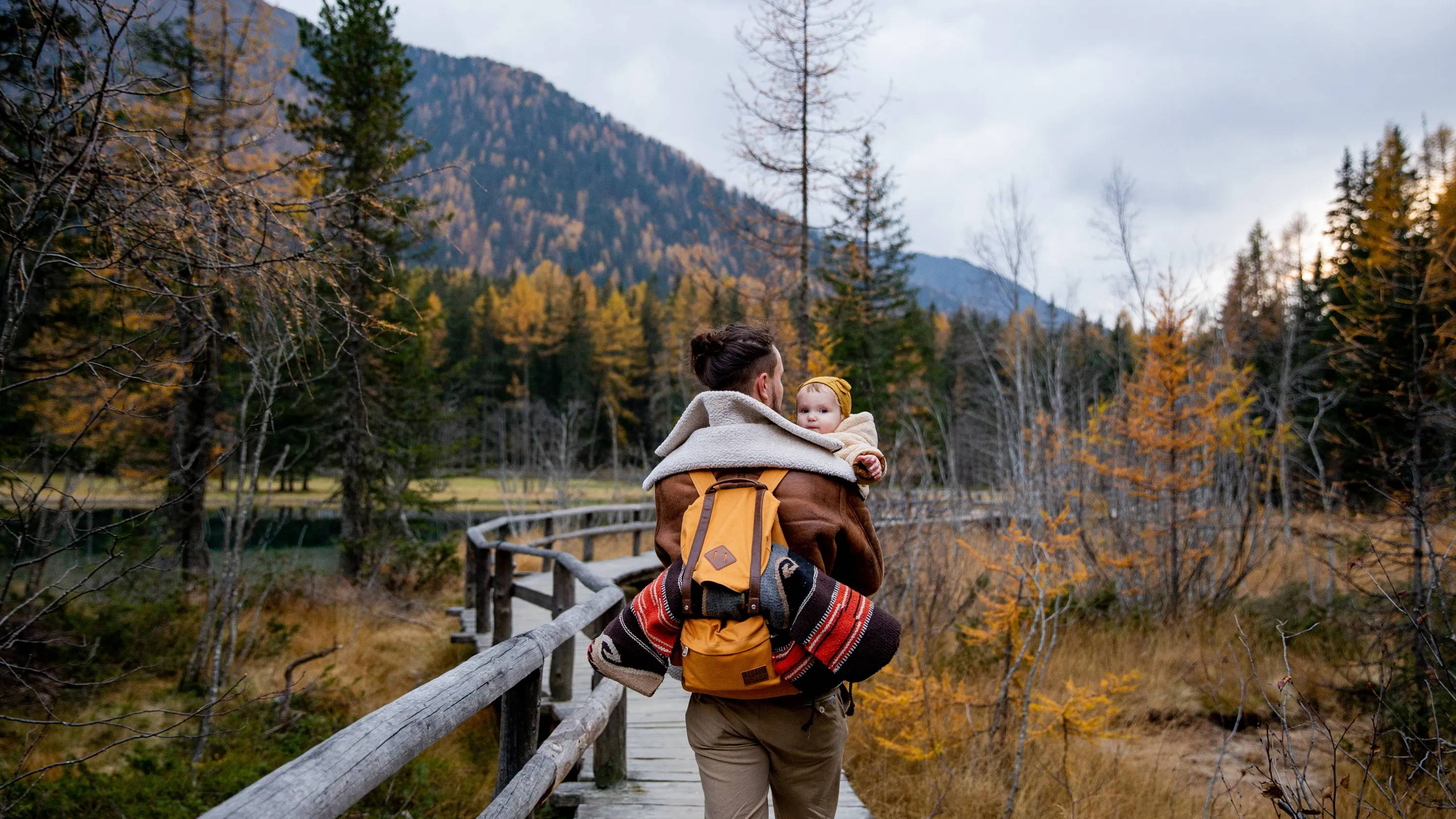 Great Carrying Capacity
While some other backpack carriers may offer more carrying capacity, Deuter Kid Comfort packs offer a more than sufficient capacity of 14 liters.
Abundance Of Pockets
With lots of exterior pockets, you can store the items you'll need on-hand throughout the hike, such as snacks, diapers, wipes, extra layers, and the like. That means you can easily access these items without having to take the kids out and rummage through the pack to find what you need.
Also, you can sort the items in a way that makes the most sense to you; there's enough storage space to allow you to do just that. Oh, and did we mention that it also features a dedicated spot for the hydration bladder?
Foot Stirrups
As much as you want to be comfortable while carrying your toddler on your back, you also want them to be comfortable, right? That's why this feature is so useful.
Instead of your kid's feet dangling to the side and them possibly getting pins and needles at one point, they can rest their little feet on the foot stirrups for maximum comfort.
Sleeping Pillow
Babies are sleepers, and they get tired easily - especially when the fresh air gets to them. So, you need something for them to rest their heads on if they fall asleep mid-hike. Lucky them, huh?
The Deuter Kid Comfort child carrier packs feature a large enough sleeping pillow to provide your kid with the most comfort for mid-hike sleeping. An additional advantage of this pillow is that it's easily detachable and washable - which is something every parent will be happy about.
Removable Daypack
A fantastic feature of this baby backpack is the fact that it has a removable daypack. So, if you decide to explore a part of the trail or the scenery along the way on your own - while your partner stays with the kids for a while - you can detach the daypack and lighten the weight on your back.
Furthermore, you can use this daypack for shorter, solo adventures, meaning you don't have to splurge on that separately - it comes with the child carriers.
Oh, and if you have older children who are willing to help, you could pack the daypack with lighter gear - and have them carry it. That way, you'll have less weight to carry yourself - and the kids will feel like they're contributing.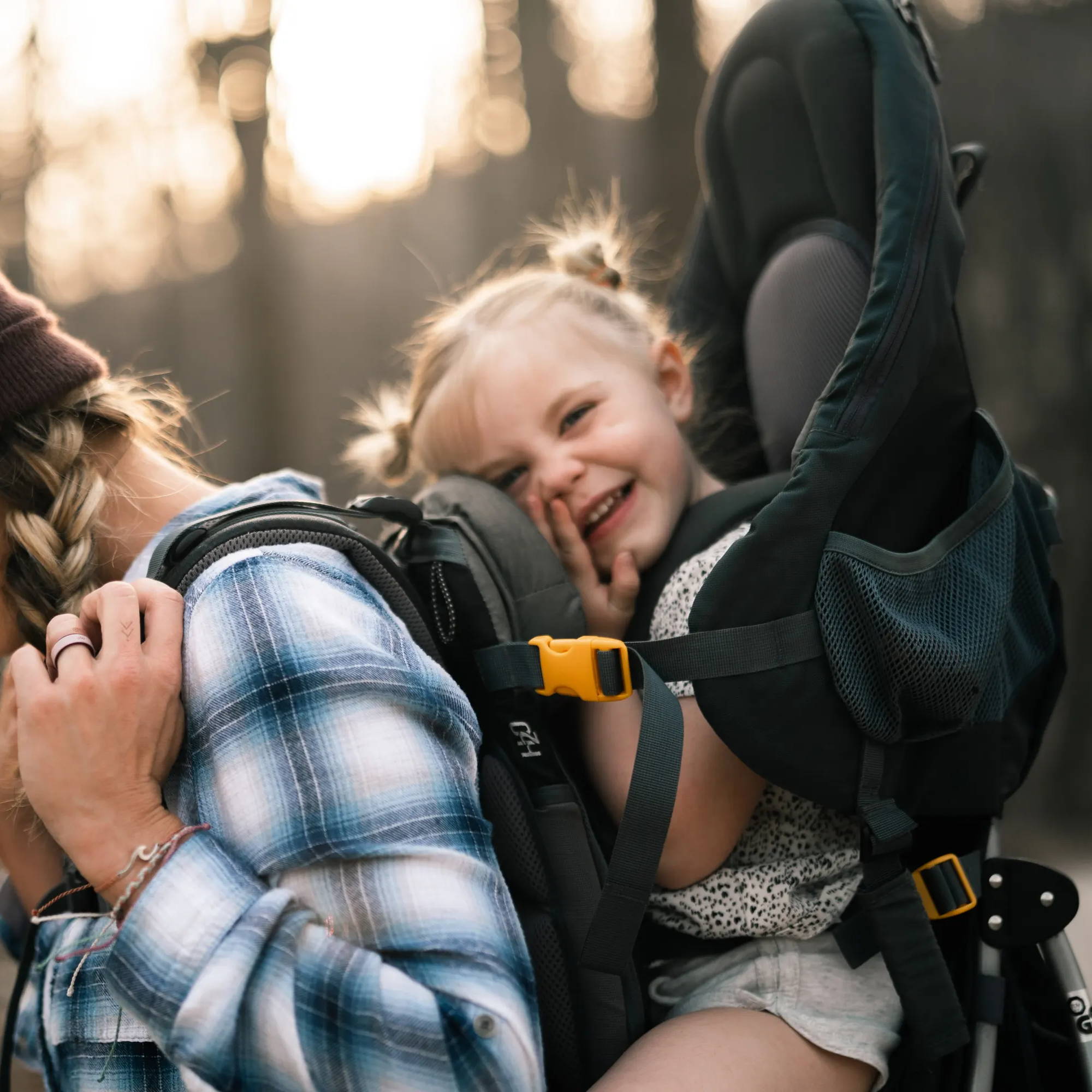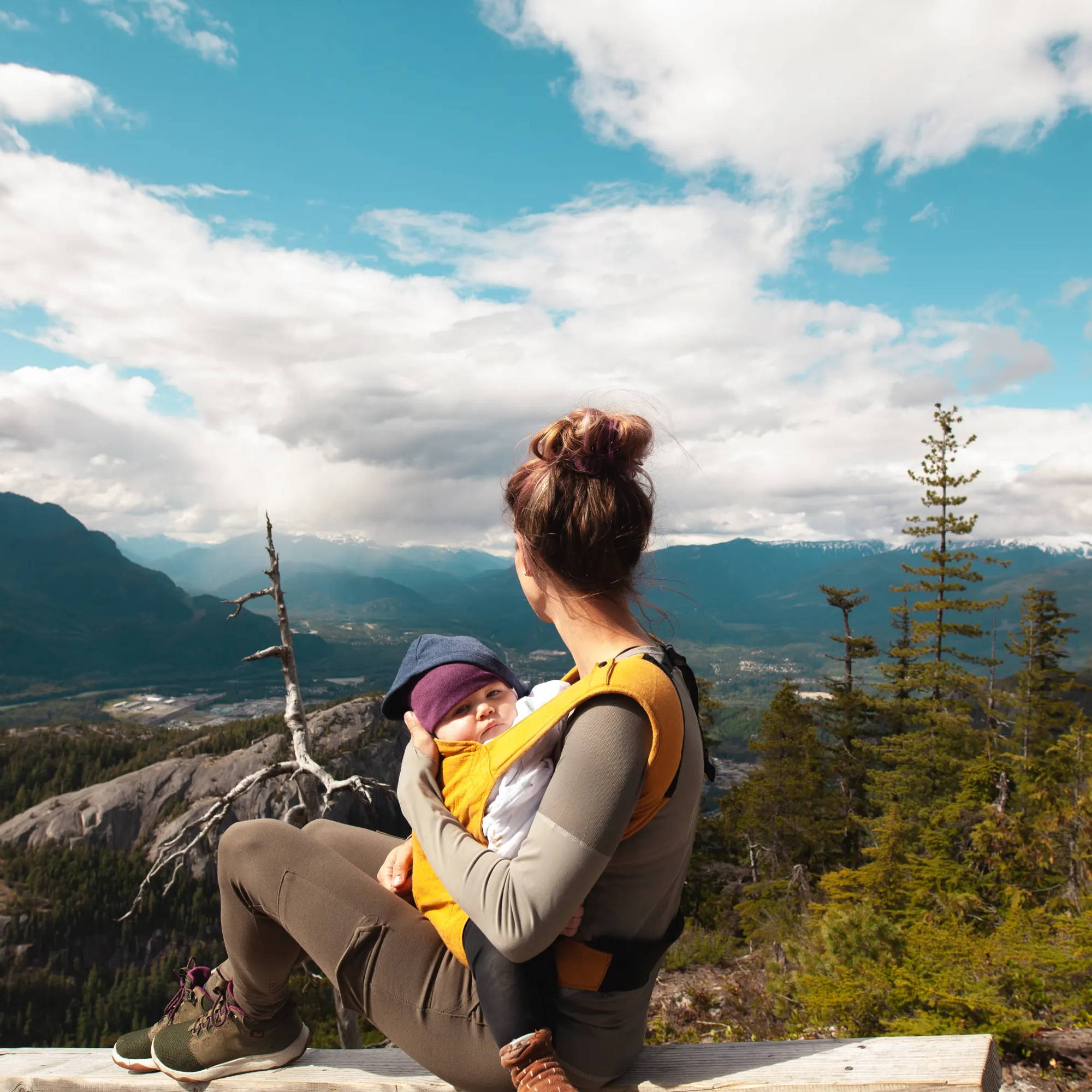 Osprey Poco
Now, onto the other pack - the Osprey Poco carrier - which, by the way, is considered the best hiking carrier by many active parents. You'll see why below!
Five-Point Harness System
When you buy a $200-$300 carrier, you want to be able to use it for a number of years and throughout your kid's early childhood. Well, Osprey has thought about that - and made their cockpit easy to adjust.
You can also adjust the height of the seat and the torso length with one simple rising (or lowering) of the red handle on the carrier. So, parents with multiple kids, we have fantastic news:
You won't have to worry about getting a headache trying to figure out how to adjust the seat.
Cockpit
With lots of padding on the interior part of the carrier and a generous drool pad, your kiddo's bound to have a comfortable time while enjoying the views from the carrier pack.
A slight drawback some parents have found with these packs is the fact that they have relatively small feet and leg openings. You need to be pretty precise when sliding your child's feet through - and while taking them out, a shoe or two might fall off.
But, that really is only a small con in comparison to all the great features the Osprey Poco packs offer.
Sunshade
Sun protection is vital whenever hiking for adults and kids alike. Babies have extremely sensitive skin - which burns very easily - so you need to protect it diligently.
Aside from using sunscreen, an integrated sunshade is a feature on your hiking carrier that will protect them the most. The Osprey Poco has UPF 50+ UV protection, meaning that, paired with sunscreen, you won't have to worry about the sun getting to your baby's sensitive skin.
A built-in sunshade means that you don't have to worry about making a DIY one - or purchasing it on the side. The mechanism is practical and easy to use, so you won't break a sweat - well, not during that part, at least.
Weight
One of the primary features people look for in carriers, daypacks, backpacks, and similar items is that they're lightweight. You don't want the thing you're using to pack all your stuff in to add more weight, do you?
Well, with child carriers, you can't exactly expect them to be light as a feather since they have so many features and are made sturdy and durable enough to carry the weight of a child. Some packs even have an aluminum frame!
The weight of this carrier is 7 pounds 14 ounces. We can all agree that it's not light by any means - but they aren't heavier than other premium backpack carriers. Also, with the number of features it offers, the weight is pretty much justified.
Soft Structured Carriers
To wrap it up, soft structured carriers are also an option. They are very different from the previous two packs, though.
These carriers aren't made for longer hikes. Rather, they're designed for day hikes at the beginning of your hiking journey. As such, they don't have all the features that the Osprey Poco and the Deuter have:
They don't have ample storage space, the same number of storage pockets, the sunshade, or the rain cover. However, they are useful for shorter treks and simpler walks in nature, as well as everyday life.
What gives soft structured carriers an edge over the previous two backpack-style carriers is the ease of use, a simple suspension system with padded straps, and a lightweight design.
So, if you're looking for a carrier to help you carry your baby on your first hikes that you'll still be able to use outside the trail, these are probably your best bet.
As we've established, having the right gear is crucial for a successful hike - but with that many choices, how can one decide?
We did our best to help you out in making that choice and give you some tips and tricks on hiking with your baby. Here's a quick summary of what we've gone over:
There are plenty of benefits to taking your baby hiking from the very beginning of their life, the most important ones being strengthening the bond with them and helping them form healthy habits from an early age.
It's crucial to let your body heal before hitting the trail, though. Once you make sure that you're good to go, you need to pick the right hike for you and your baby. Don't expect too much; be happy with the little victories - bigger ones will come with time.
When it comes to carriers, it's a matter of weighing their features - and determining what fits your needs better. There are two main competitors for the best baby carrier:
The Deuter Kid Comfort is a crowd favorite for a number of reasons - starting with the adjustable padded shoulder straps and hip belt, abundant storage options (including pockets), foot stirrups, and the comfy sleeping pillow.
The competitor - the Osprey Poco - is also an impeccable choice because of its easily adjustable torso section, integrated sunshade, comfortable straps, and a bunch of pockets.
Lastly, we have soft structured baby carriers. They don't have the elite features, such as the sunshade, the rain cover, or the storage that the previous two types have - which means they aren't a good choice for longer hikes. However, their simpleness makes them ideal for beginners and shorter hikes.
So, now you're all caught up on all things baby carriers. We'll let you do your shopping and hit the trail fully geared up.
Have fun!
---