Best Hiking Clothes For Women - The Ultimate Guide On What To Wear On A Hike
There's no such thing as bad weather - only bad clothing," as the proverb goes. And one circumstance where this is especially true is hiking.
We all agree - hiking is one of the top ways to get away from the hustle and bustle of the city, get some fresh air, and test your boundaries. But, you have to be prepared for it. Hiking - especially conquering an extremely long trail on a thru-hike - demands preparedness.
The thing about a hiking trail is that it doesn't give a damn about your comfort, so you are the one who has to make sure you remain comfy and dry on a hike - which also includes choosing the perfect hiking outfit.
Women hikers have learned to dress in layers to protect themselves from the elements - the cold, heat, lots of rain, damaging ultraviolet radiation from the sun, wind, rough surfaces, thorny plants, stinging insects, and prying eyes. And yes, all that could happen on a single hike!
Read on to learn about the best hiking clothes for women, how to layer them, and what to avoid when it comes to hiking gear. Hopefully, you'll find our hiking clothes recommendations helpful.
Let's dive in!
The Importance Of Hiking Clothing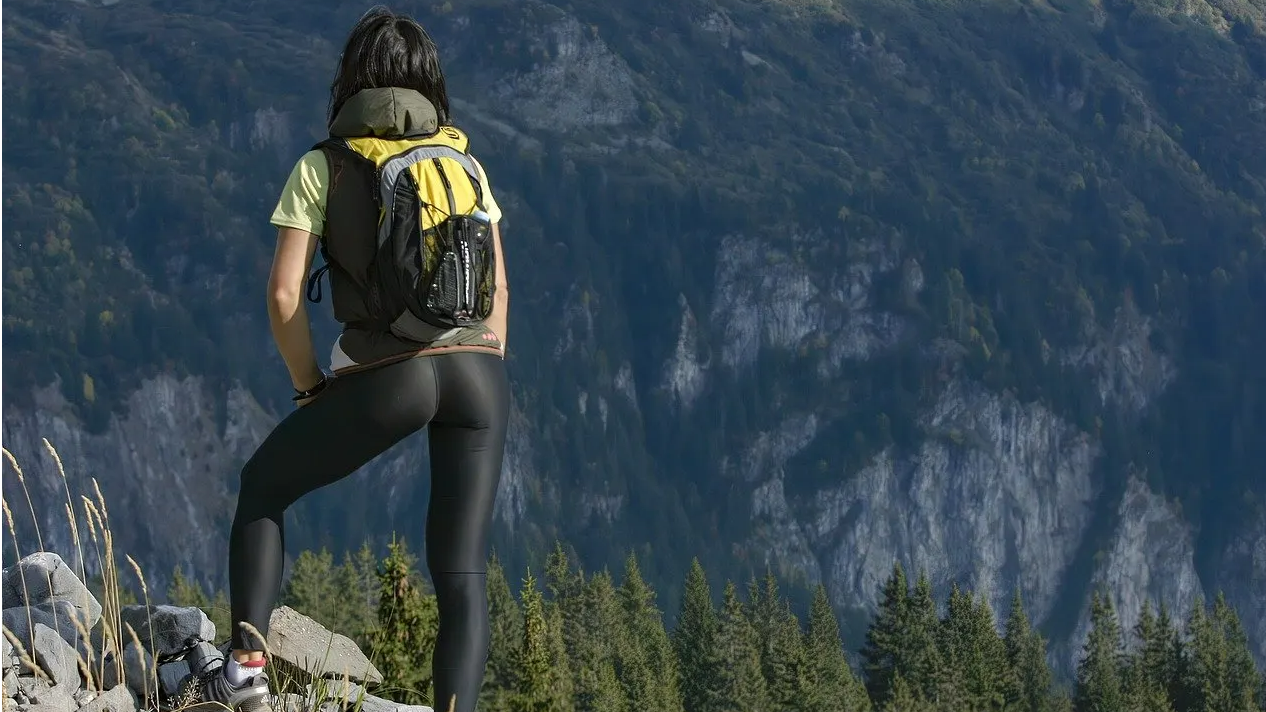 When deciding what to wear for a hike, you'll need to prepare for a myriad of things, which is why you must thoroughly consider each layer of hiking clothes you plan to wear.
You may quibble about jackets and shirts, but if you don't particularly care about your, say, underwear, you'll wind up drowning in perspiration - yuck. 
For instance, if you wear a bra, have you ever regretted your choice due to the chafing between the back hook and your backpack?! Then you know what we mean!
If you're a regular hiker or want to try some serious hiking trails, you should invest in hiking clothing - and hiking gear in general - that can be used in a variety of weather circumstances.
If you're just getting your feet wet and you're not in it to win it, it's still important - just not as much. You still want something comfortable and supportive, but there's no need to obsess about it.
Whatever the case, there's still some contemplation that goes into choosing the best hiking clothes for women - and we'll discuss it all below.
Best Types Of Fabrics For Hiking

The best hiking clothes for women come in a variety of fabrics. Here's the most important info about the popular fabric choices for best women's hiking clothes:
Merino Wool
Merino wool is perhaps the most popular fabric for hiking because it checks so many boxes. Best hiking clothes for women are made of merino wool.
It's a lightweight natural material with plenty of breathability and comfort. Moreover, it's adaptable; it keeps you cool in hot weather and warm in cold weather.
Plus, odor-resistant and moisture-wicking materials, such as merino wool, will help you avoid - well, stinking. It also helps to avoid allergies.
The main drawback of this otherwise lightweight, warm fabric is that it's more costly than synthetics and doesn't last as long.
Polyester/Nylon
Polyester's the best synthetic for the base and outer layers of hiking gear. It's light, keeps you warm, and is also long-lasting.
While the quick-drying nylon is less expensive than merino wool, it doesn't provide the same level of odor resistance. And since it's not extremely breathable, you can feel a little restricted while wearing it.
Fleece
As far as hiking clothes for women go, fleece is the insulator of the highest quality. Your mid-layers should preferably be made of fleece to provide the most warmth.
It's breathable, lightweight, and inexpensive.
The disadvantage is that it's seldom water-resistant, and if it becomes wet, you'll need to change soon! And if you wear it in the winter, choose a water-resistant protective outer layer - a high-quality down jacket, for example.
Cotton
Cotton is a comfort zone for many of us, so it's easy to think about it as the greatest hiking option - especially in the cold.
However, cotton isn't appropriate for high-intensity exercises like hiking - especially a demanding trail, when you'll be sweating profusely. It's not moisture-wicking - and isn't very insulating, either.
Cotton absorbs perspiration and takes a very long time to dry - and women and men alike should avoid it.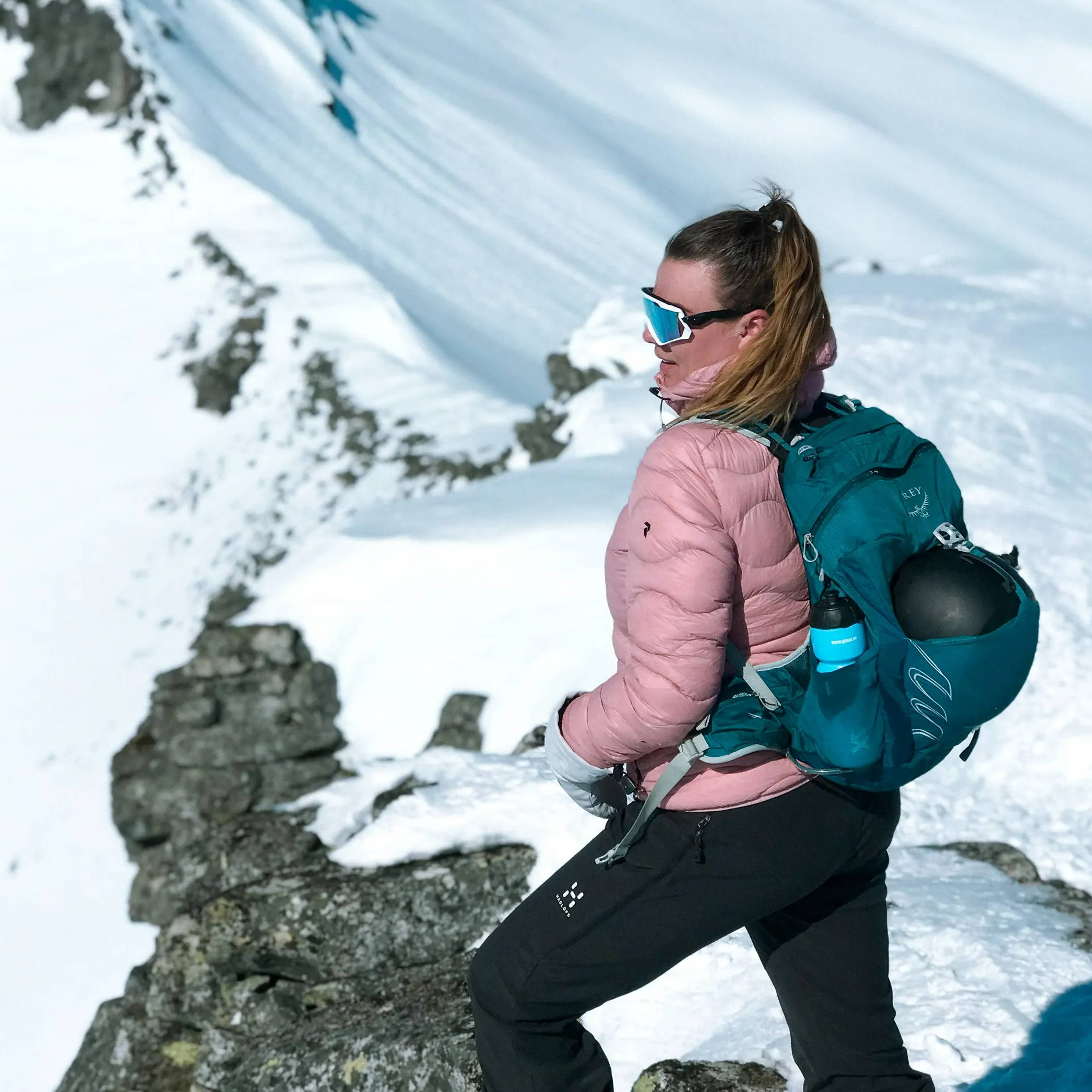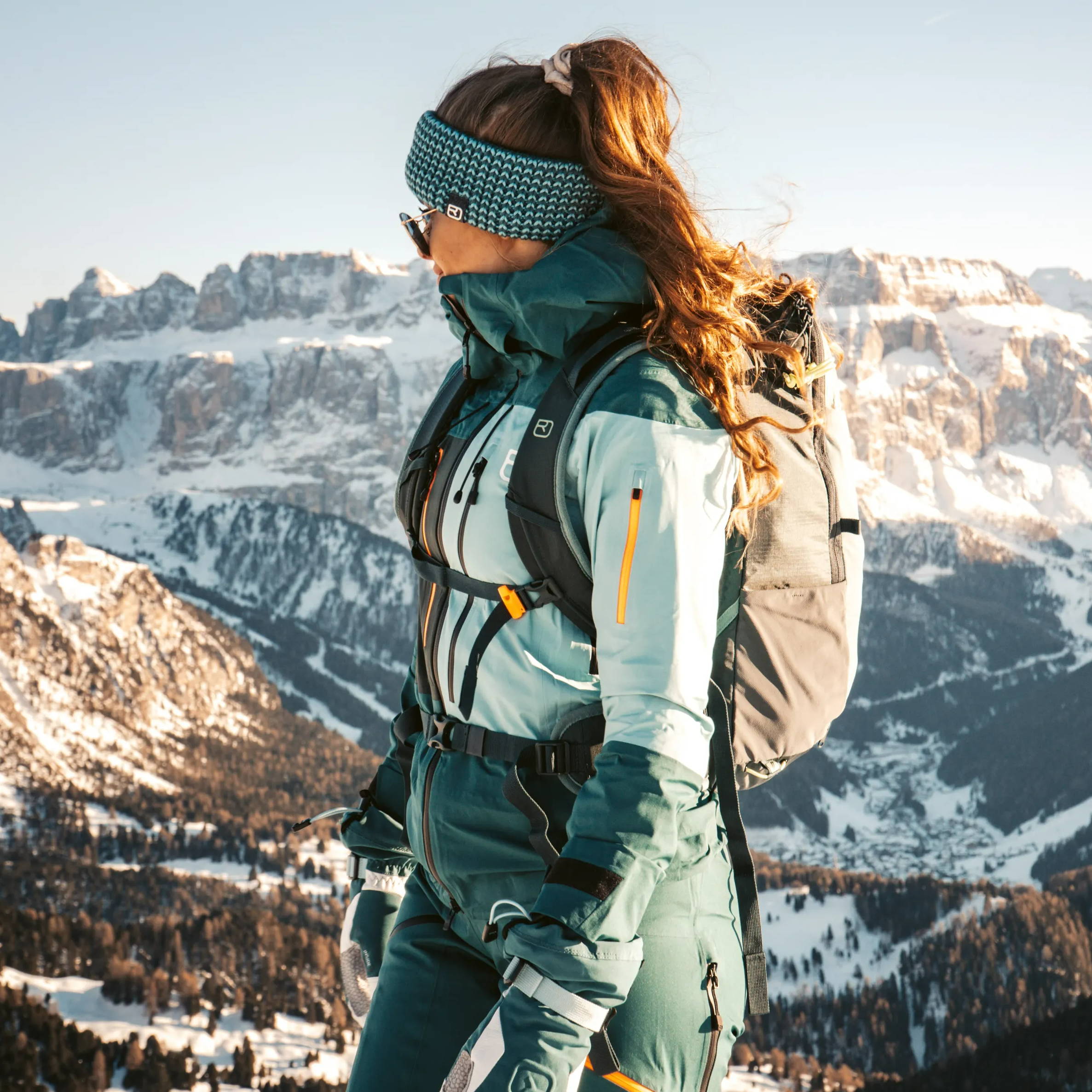 Key Fabric Properties Of The Best Hiking Clothes

Regardless of the material or appearance of your hiking gear, you'll need multiple layers of hiking clothing with distinct properties:
Moisture-Wicking
That's a fabric's capability to take moisture away from you and move it to the fabric's outer surface, where it can dry fast, which is crucial in a base layer or any garment that contacts the skin. Moisture-wicking fabrics allow you to work up a sweat without being damp or cold.
Insulating
This feature is critical in your mid-layer for remaining warm. Even the best hiking clothing does not create heat; nevertheless, if they're effective at insulating, best-hiking clothes will help to retain the heat that your body makes.
Waterproof And Windproof
An outer layer or "shell" with these properties prevents the elements from soaking your garments in the rain or cooling you when the wind whisks away your body's heat.
For these reasons, a down jacket or water and wind-resistant jackets are essential hiking clothes for women.
Breathable
Breathability is vital in all your layers because it helps your wicking layer dry faster. Perspiration that's wicked off your body dries inefficiently when the layers don't breathe together - and you may wind up saturated by your own sweat.
Sun Protection
Hiking clothes for women with an ultraviolet protection factor (UPF) rating shield skin from the sun's harmful UV radiation - a must for outdoor activities.
Environmental Considerations

Different trails have their own set of difficulties. So, investigate whether locals have any specific hiking clothing suggestions for the location you'll be going to.
Here are several examples:
Consider long sleeves, long pants, garments with built-in insect repellant, or bug-net apparel if you'll be hiking through brushy woodlands or a deep, dark forest.
Wearing them in the desert may seem counterintuitive, but they'll provide additional snake protection.
If your path will be passing through snowfields, this is a bonus. You'll be in for a lot of "post-holing" as the snow turns soft in the afternoon light.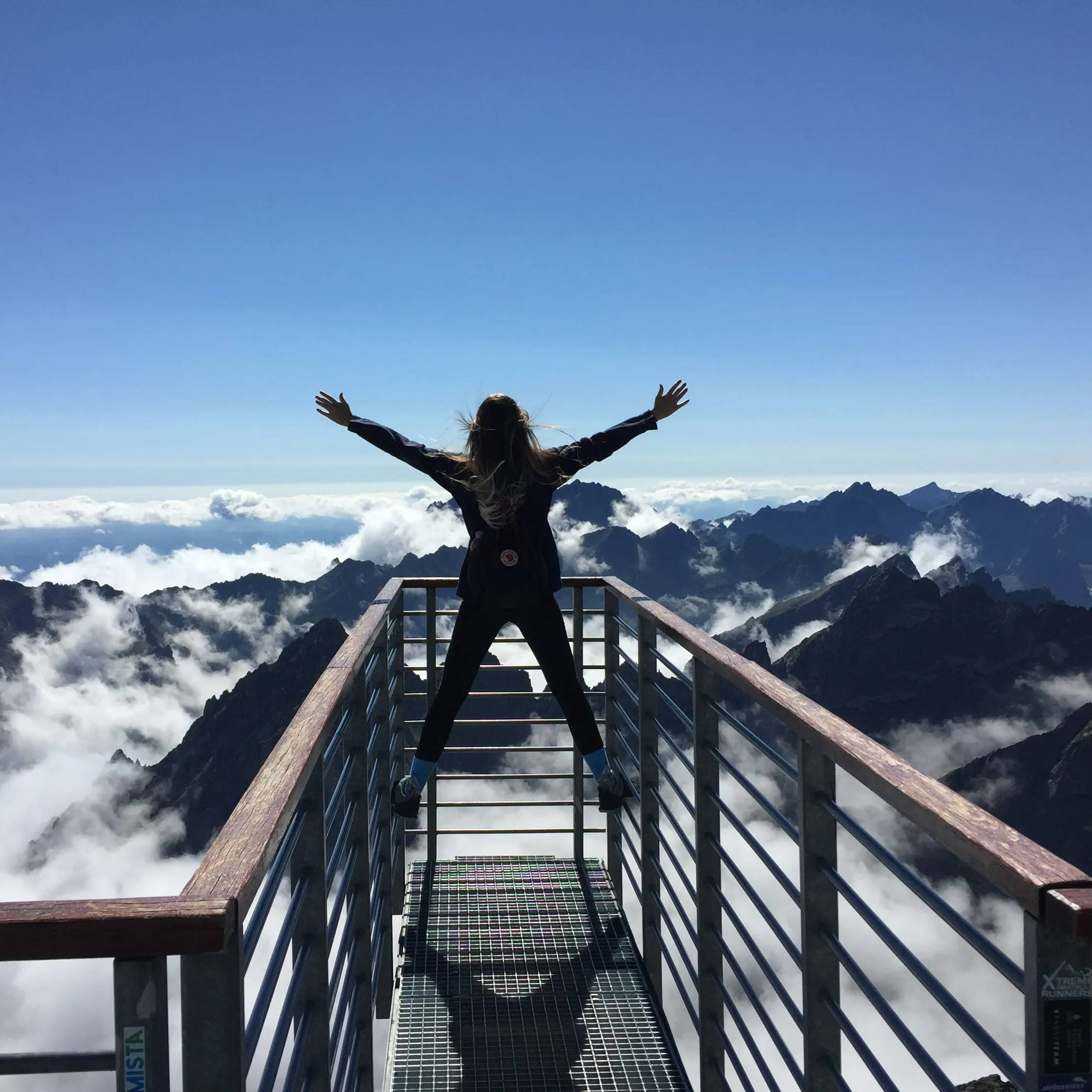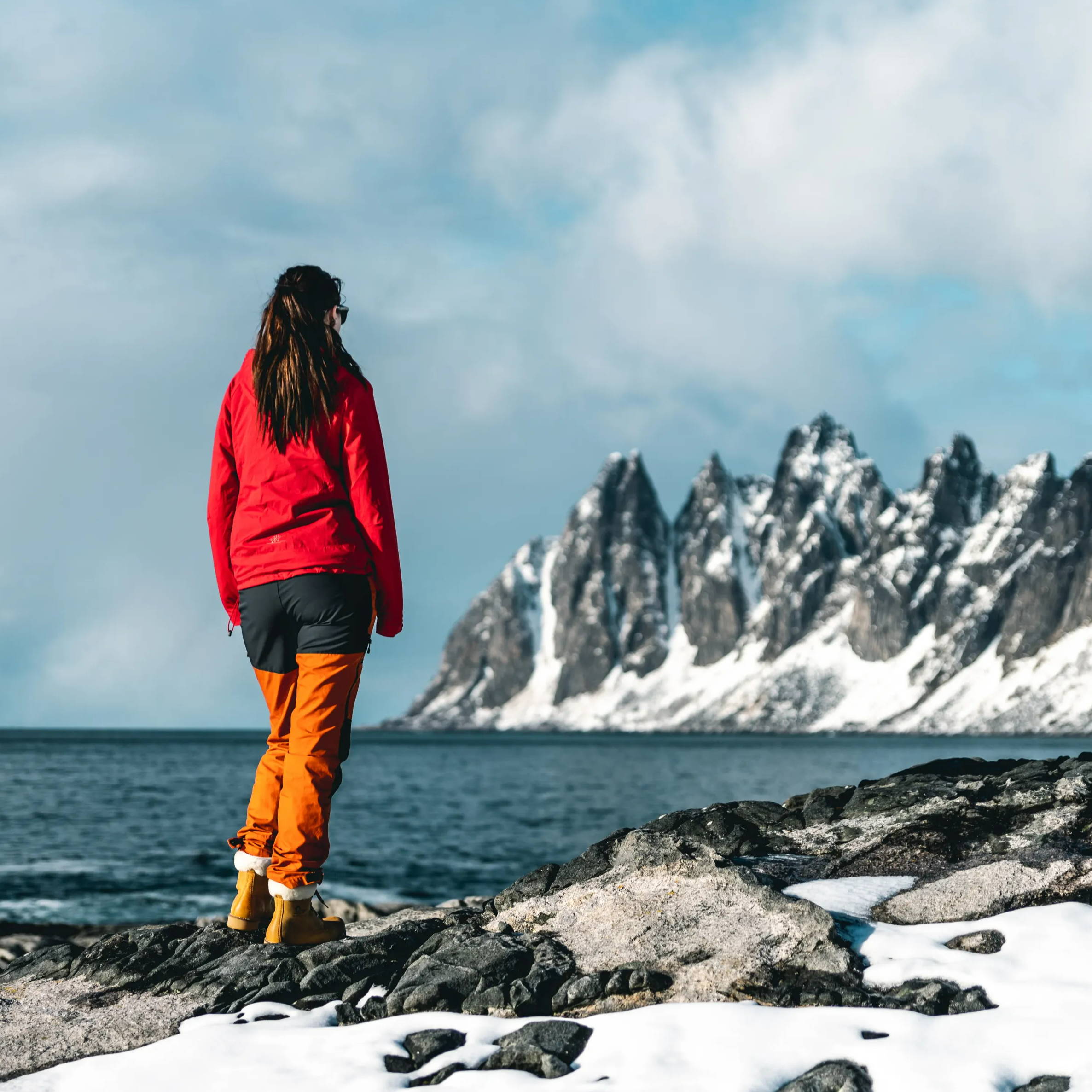 What To Avoid In Hiking Clothes For Women

When it comes to hiking clothing for women, as much as it's important to know what to wear hiking, it's also important to know what not to wear.
Cotton isn't your friend when it comes to hiking clothes. Cotton traps moisture and becomes heavy and - well, stinky. It's also not water repellent at all - which means it takes forever to dry. You might adore your big cotton T-shirts at home, but they aren't the best hiking clothes.
Denim and strenuous exertion don't go together, either. Jeans are hefty, take a long time to dry - and are just uncomfortable.
Although silk isn't as problematic as cotton or denim, it doesn't hold up well to heavy hiking. Basically, if you're going to sweat a lot, stay away from silk! It has some moisture-wicking properties, but unless chemically treated, it'll retain moisture.
In addition, silk is (sadly) excellent at retaining bad scents.
Some women prefer no-show or ankle socks. Still, when considering what to wear hiking, the style of socks you wear is critical. You want a sock that won't clump up in your shoe as it wears down, leaving the back of your foot exposed and chafing against the inside of your shoe.
Plus, you need all the ankle support you can get from your hiking clothes.
How To Layer Women's Hiking Clothes

Comfortable hiking and lightweight warmth require layering.
When you dress in layers, you're able to strip down as the weather warms up - and then layer back up when the temperature decreases.
Start with foundation layers over your underwear. That may be a long-sleeve merino wool layer below a lightweight T-shirt and wool leggings underneath your hiking pants in chilly conditions.
And in warmer weather, your hiking tank top may serve as your base layer.
Put on the mid-layer, but make sure it's a lightweight layer - such as a tank top or a long-sleeve shirt - especially if you're going on a day hike. Finish your hiking outfit with the outer layer - a quick-drying, water-repellent rain jacket or a warm, zip-out winter jacket.
Don't forget sun protection!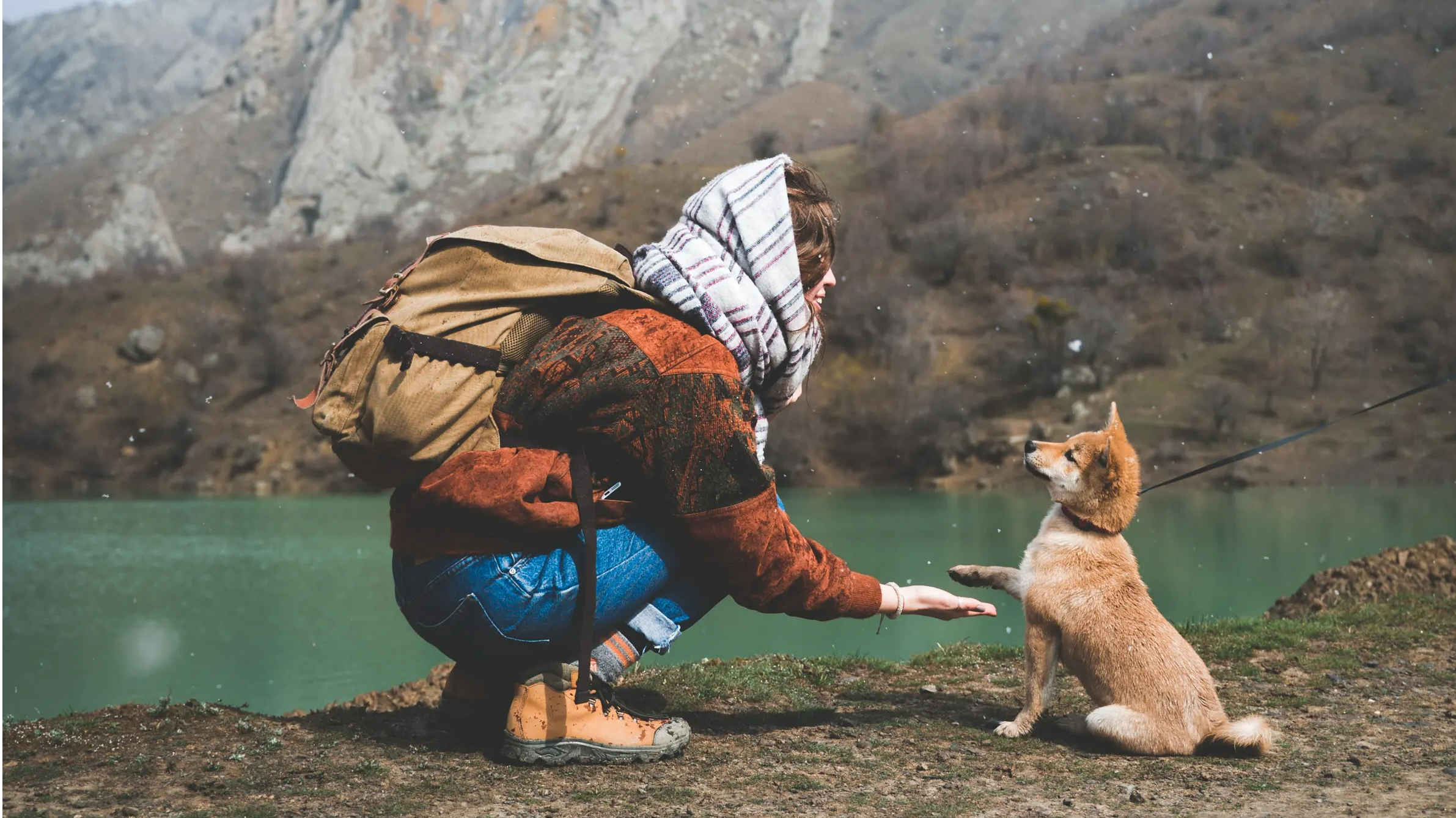 What To Wear Hiking: The Basics Of Hiking Gear For Women

Best women's hiking clothes and outfits consist of the following:
1. Breathable Undergarments
Underwear that's both breathable and sweat-wicking is essential. When it comes to the best hiking clothes for women - and by extension, hiking underwear - be methodical.
It should work nicely with your layering technique and feel comfortable against your skin.
Wearing inexpensive cotton underwear is pointless. That's especially true if you're a hiker taking on a challenging trail.
High-performance underwear is essential - and must do these major tasks repeatedly:
Wick away perspiration
Dry quickly
Provide enough covering
Protect you from chafing
Allow you to move freely
Cotton isn't going to take care of these things, period.
Sure, you can get cheap hiking undergarments at your local store, and they'll keep you dry, warm, and comfortable on a short, flat trail. However, once you've developed a taste for more challenging hiking, you'll need to spend some time and money on high-performance hiking clothes, including underwear.
Put in some time, effort, and money, and you'll get the necessities for safety and comfort in women's hiking pants:
Excellent ventilation and breathability
Sweat absorption, making it easy to wash and wear (important on long hiking trips)
Fabric that dries quickly (no clammy feeling)
Antibacterial textiles that are comfortable to wear and don't stink
The lack of chafing seams that ensures durability throughout multiple seasons of use
Don't put your comfort and overall safety at risk by starting your layering strategy with the wrong undergarments!
Look for these things first in hiking panties for women:
Cotton is generally not recommended for hiking. Look for fabrics manufactured by humans, including nylon, polyester, polypropylene - and other clearly made-up names.
Look for a little spandex to help with stretching, and opt for the "no seam" style to avoid binding and chafing. Use BodyGlide in sensitive places to prevent chafing - even with the best hiking underwear.
Some women prefer thong underwear for everyday wear, but consider how many steps you'll be doing on the trail and whether you want to struggle with drifting fabric on a regular basis. And if you prefer a "boy short" cut, it's possible that it'll clash with your hiking pants.
A hipster panty (underwear that rests on your hips, not those worn by hipsters - duh) is a great choice as it provides enough coverage to keep your trousers, shorts, or skirt in place - without tying you up at the waist.
Now you know exactly what kind of material and fit you want.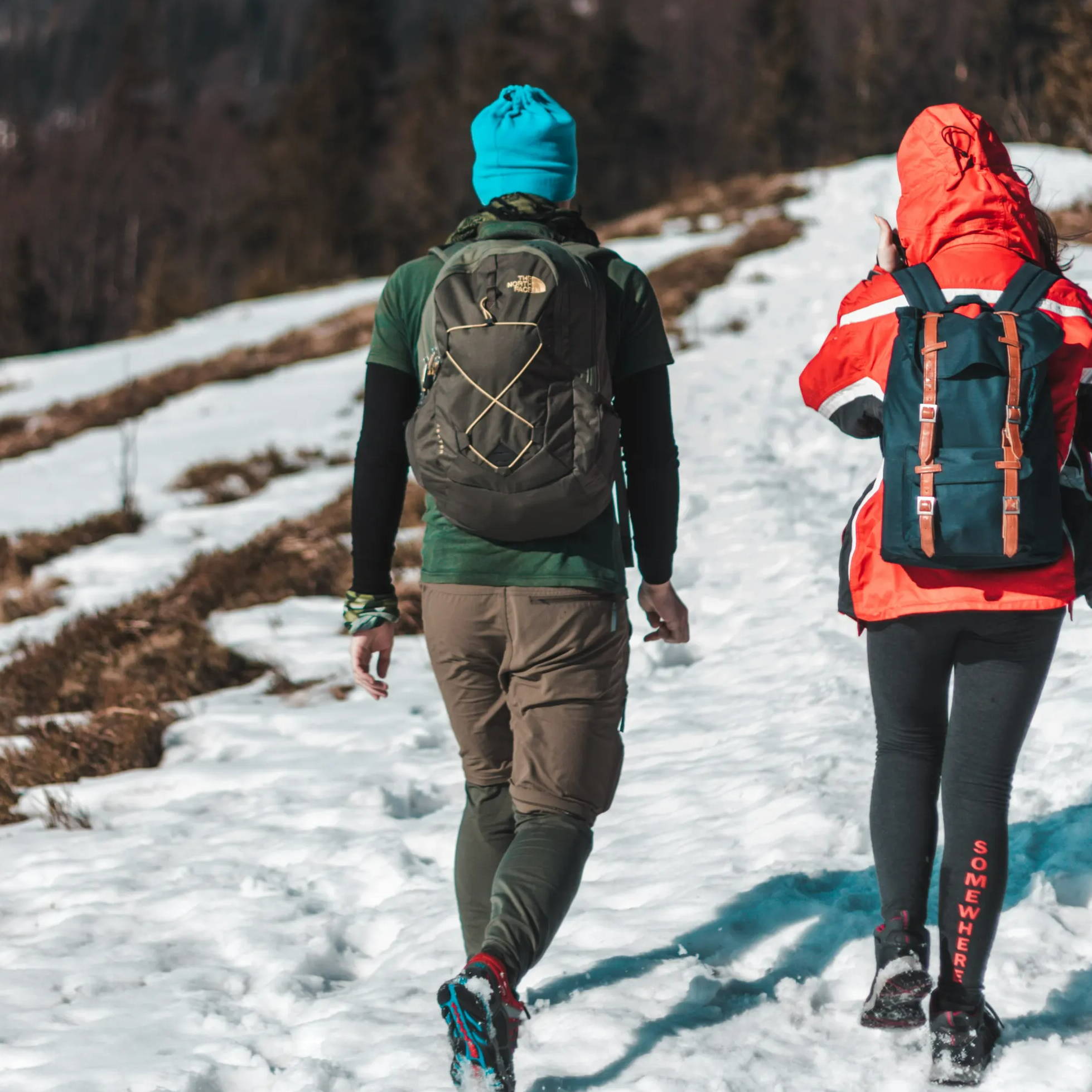 Another crucial thing to mention is that you shouldn't start your search for the best hiking underwear with a price comparison.
Here's how to find high-quality options instead of going for the highest price and believing it has to be top-of-the-line:
Go with brands that ladies who have been hiking for a long time have discovered to be high-performing.
Try out each recommended brand and keep track of what you liked and didn't like.
Sometimes a brand will offer more than one design or cut; all you have to do is find out which one's perfect for your body type and hiking style. Don't give up on the brand too soon.
While you shouldn't judge a hiking panty by its price, rest assured that hiking clothes aren't where you want to skimp out.
2. A Reliable Hiking Bra
Before digging deeper, here's the initial tip for you:
Don't wear an underwire bra on a hike.
Here's why:
You want your bosom to expand to let oxygen into your lungs, and an underwire bra is too tight.
Blood flow to and from your hardworking heart should be unimpeded.
Excess fluids should be drained from your neck and shoulder area by your lymph system.
You don't want to place more strain on these organs than your bag already does.
The metal wire may put you in danger during lightning strikes.
Instead, consider the following when looking for the ideal sports bra:
Your breasts are probably slightly different sizes.
In terms of exercise level, what kind of hiking do you intend to do?
Do you require/desire a lot of support in order to reduce bouncing?
Full coverage or no coverage is the modesty criterion.
Go with larger cup sizes to avoid spilling over the edge.
How fast you want to put this bra on and off is important not only for modesty but also for your level of frustration at the conclusion of a hot day.
Your selected price point - low-cost and changed every year, or a long-lasting piece of "gear" that can withstand a lot of laundering and on-trail time.
It's time to become more precise regarding fit now that you have a general notion of the style of sports bra you want.
Who hasn't had an ill-fitting bra that makes you want to shout in exasperation when hiking?
There are certain bad features the most atrocious sports bras have. Let's look at a couple of them:
If you can see the shape of your bra when you remove it, your straps might be too tight, or the bra band is worn out. Or could it be both?
The concern is that your circulation is hampered - and as a hiker, you'll need all the fresh oxygenated blood you can get!
What's more, your breasts are probably unequal in size, meaning you should wear a bra with adjustable straps so that each breast can be fitted individually. Also, some stages of your menstrual cycle - as well as pregnancy - will cause your breasts to swell.
Sports bras that fit well one day of the month may not fit properly the next.
Yet another perk of being a female hiker, huh?
A few bonus tips:
To extend the life of your hiking sports bras, avoid exposing them to the high heat of dryer cycles. Instead, line-dry them.
Hand-wash at home (as you might on a hiking trip) to be extra cautious.
Put your bras in a "delicates" bag and wash them in that setting to ensure they last a long time.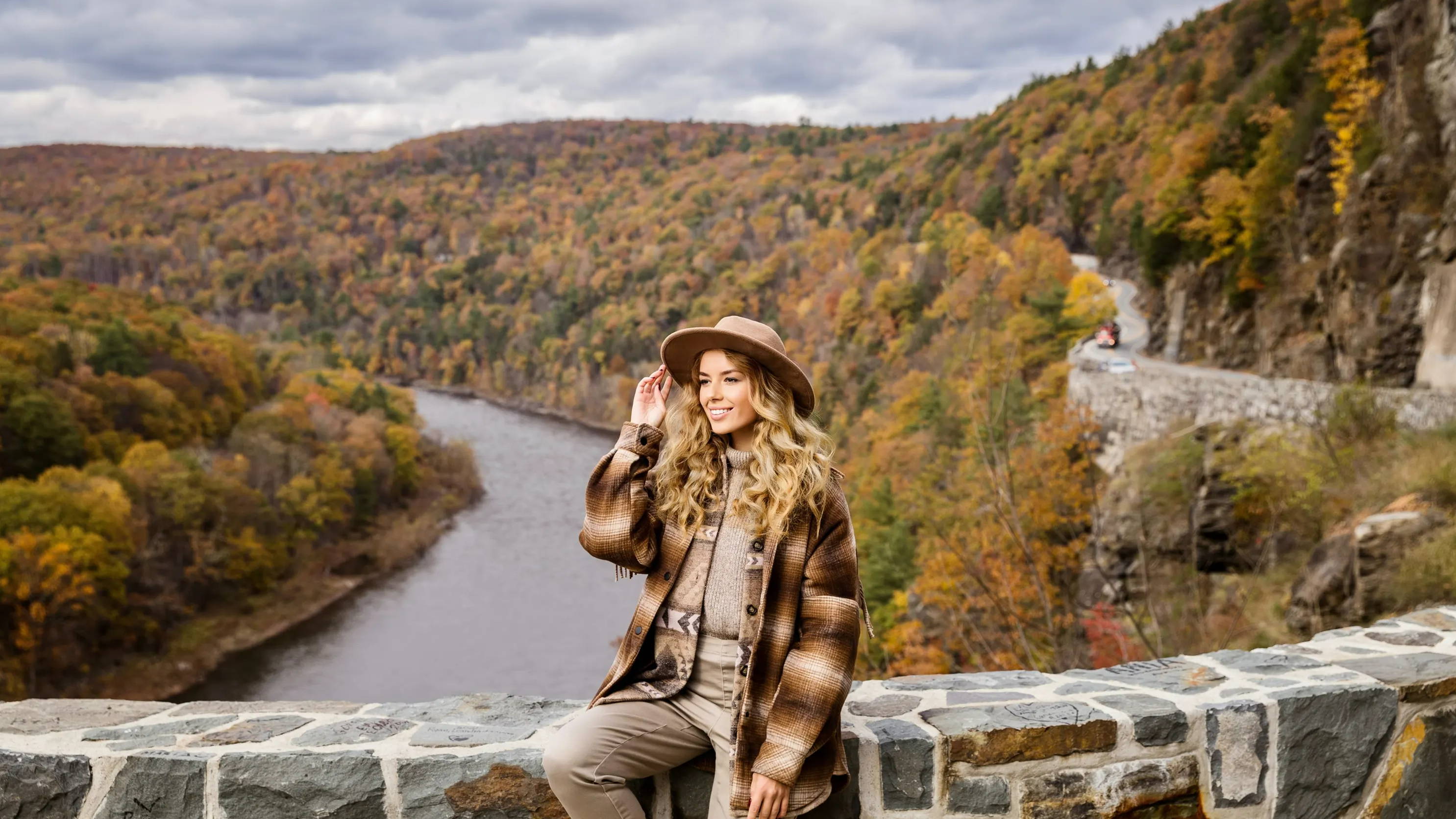 3. Lightweight Tops
Women's hiking shirts should include the following features:
They fit nicely, so they can be worn on any hike
They can withstand dirt on the trail without discoloration
They should protect you from sunburn, insects, and abrasions if you have sensitive skin
They can be utilized to add warmth and ventilation to your layering strategy
After 25 wash and dry cycles, they still look wonderful
A piece of advice for women hikers:
Don't spend a lot of money on high-end technical hiking clothes if you're a beginner hiker who only wants to hike in warm, dry weather. Wear what you already have until you figure out if hiking is a good fit for your lifestyle.
Unless you're hiking in locations prone to downpours, glaring sun, and insects, don't spend a lot of money on hiking clothing and gear if you're not a serious hiker. If you're a passionate hiker, though, you'll need the best hiking clothes for women that will do everything mentioned above.
You'll want to wear a hiking shirt that:
Can be worn underneath (or over) other hiking gear
Provides sun protection with UV 40+, which means it filters sun rays 40 times longer than if you didn't wear it
Contains no cotton fibers (just nylon and polyester) and will dry rapidly if you jump into a lake to cool yourself
Fits well to keep annoying insects and nasty crawlies at bay
Will wick sweat away from your body and boost evaporation, keeping you cool
Appears to be suitable for a trip into town at the conclusion of the hiking day
Choose quick-drying, moisture-wicking textiles when possible and look for UPF-rated sun-protecting weaves.
Remember - cotton is overly thick and ineffective at wicking away moisture and smells.
Cotton also doesn't hold up well to the dozens of washings a hiker's trail clothing goes through each year. Cotton shirts fade and become distorted over time. Plus, cotton clings to food spills, perspiration, and stains.
In scorching desert circumstances, though, it feels fantastic. So, don't fully rule it out from your hiking clothes ensemble.
Why Shirt Sleeve Length Matters
The best long-sleeved shirts should be capable of wicking sweat away from your skin - without leaving you drenched.
Short-sleeved shirts are ideal for layering under a jacket in the spring and fall.
Also, don't wear cuffs or collars that are too tight. When scrambling up boulders or snow banks, you want hiking apparel that allows you to move freely. On the trail, a V or U neck provides the maximum room for full head and neck movement.
A versatile long sleeve shirt can sometimes be substituted for a short-sleeve shirt. That allows you a variety of hiking apparel alternatives without adding to the weight of your bag. It also provides much-needed sun protection.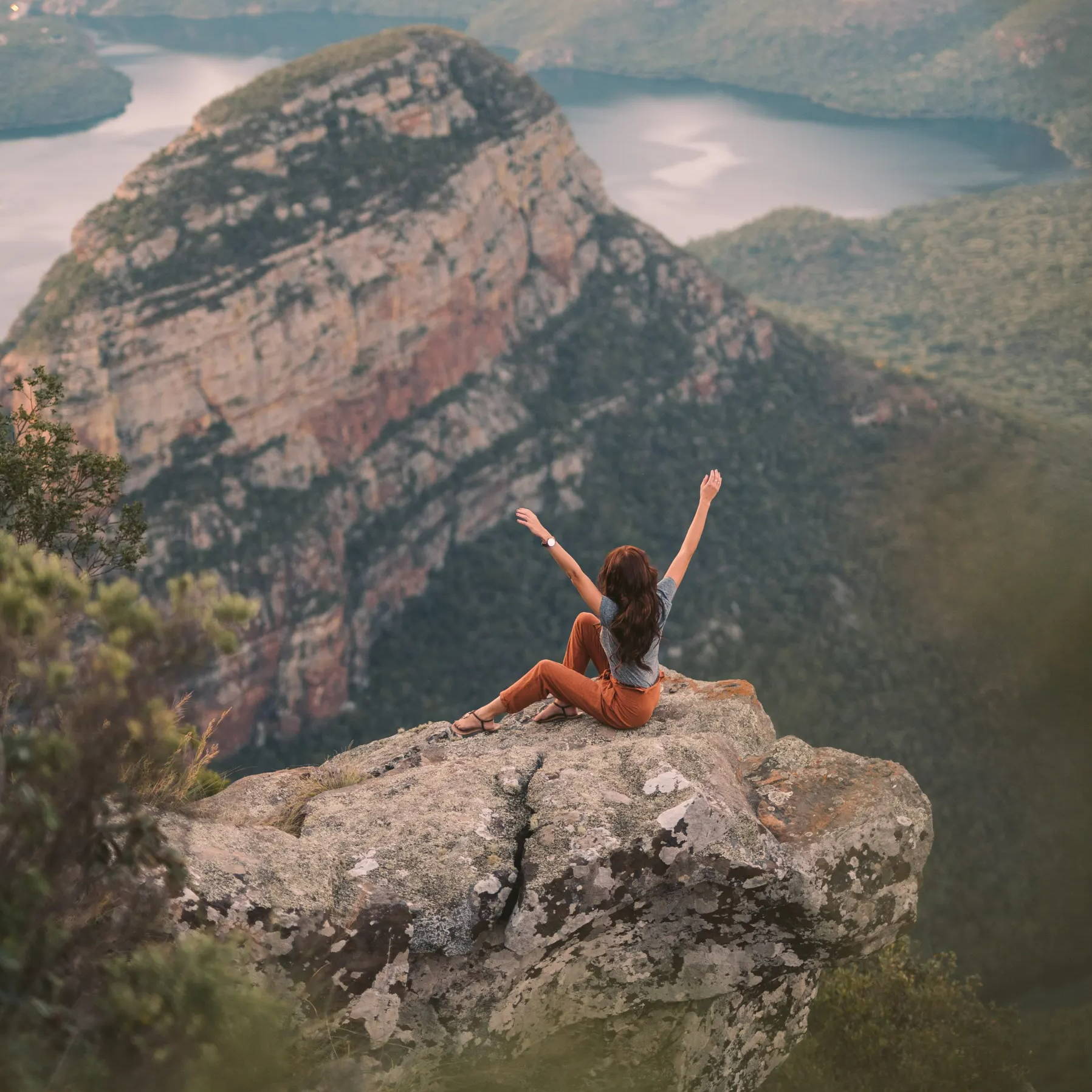 4. Best Hiking Pants
Pants that fit well, look fantastic on the trail, and can withstand the elements are hard to come across - but they're well worth the search.
They're a great base layer for both day hikes and backpacking.
Opt for a fit that doesn't add excess fabric to tangle you up but still allows you to move freely. As you bend, twist, and take giant steps along the trail, you want to have a full range of motion.
Your hiking pants must include the following features:
A gusseted crotch that allows you to move your legs more freely
A customizable waist with stretchy fabric
Reinforced knees and seats are a must-have on rough trails - although this double-layered hiking apparel may set you back a little more
Some pants come with built-in belts, while others offer a variety of pockets. Zippers - in all of their forms - are a hiking woman's best friend.
Zippers that run horizontally above the knees create adaptable hiking apparel that helps to lighten the load on the trail. When the weather warms up, they can be quickly transformed into shorts.
One word of caution:
Even if only the top half is soiled, wash the lower half (the "legs") with the top half.
Pockets and waistbands are usually zip closures rather than buttons. It's never fun fumbling with small buttons - especially when it's chilly or damp outside.
You'll appreciate plastic zippers as they're simple to use, long-lasting, and silent. Velcro might also be used as a closing - although it isn't as silent and may not stay closed if it becomes filthy.
Rain pants with zips that run from the ankles to the knees are ideal. They allow you to quickly put on or take off your jeans without having to remove your boots.
If the pants have a full zip design - meaning the zippers run all the way up to your waist - it also serves as a quick ventilation method. You can unzip as much as you want to allow cool air to circulate around your waist and legs.
However, a pair of ordinary hiking pants is unlikely to have a full zip design.
What about rain pants?
If you opt for rain pants, make sure they're one size bigger than your hiking pants so that you can put them on fast.
Look for a drawstring or velcro tabs around the waist. These make it simple to modify the amount of clothing you're wearing quickly. Also, select rain pants with zippers that run the length of your legs whenever possible.
Finally, choose a dark hue because it hides dirt and tree sap better.
Now you might be thinking:
Should you wear leggings for hiking?
Absolutely!
Who doesn't love wearing comfy leggings?
You'll have to make sure they're well-designed, though. As you hike through the day, you want leg movement and a waistline that won't droop or bag.
Everything that has been said about leggings also applies to yoga pants:
If you're going to wear your yoga pants outside of the yoga studio, they should be well-designed, too. They can also be used under rain trousers as a thin base layer when the temperature drops.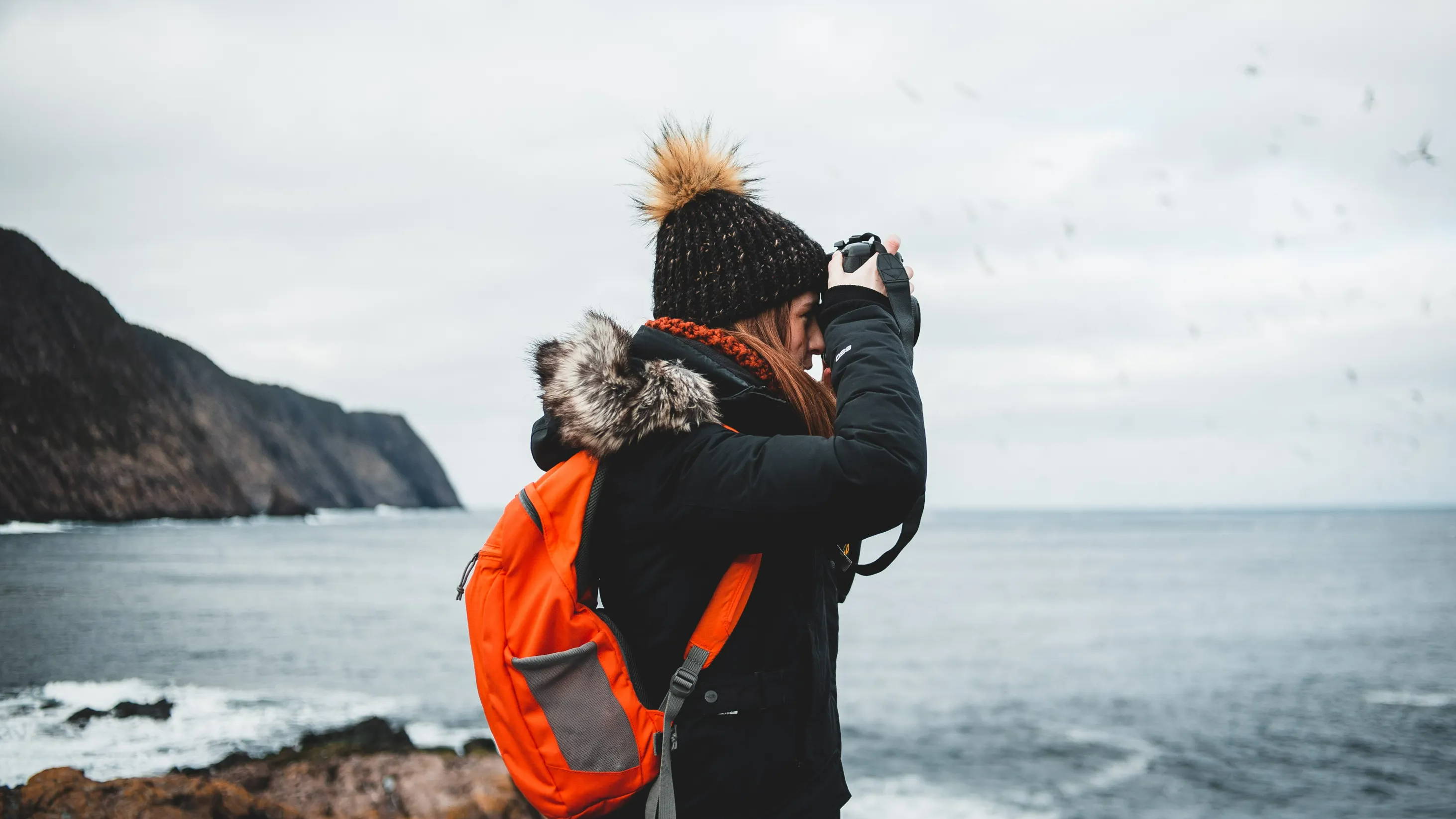 5. Jacket
Is it possible to have too many hiking jackets in a woman's trail wardrobe?
We don't think so!
On chilly fall trails or a snowshoe excursion, there's nothing that'll keep you dry and warm like winter jackets.
If you're shopping for hiking clothes and need a down jacket, focus on the features that are important to you. Here's what we advise you to search for:
A looser fit (even a custom fit) to allow you to wear multiple layers underneath
Several compartments with easy access for storing gloves, a baseball cap, or lip balm
A detachable hood that you can roll up when not in use
Cut a little longer in the rear, so you have an extra layer of insulation when you sit down on anything chilly
Adjustable cuffs (typically velcro; avoid snaps or buttons) to allow you to get the sleeves over your gloves or mittens
Taped seams and zippers that are easy to use when your hands are cold
If you want a windproof hiking jacket, search for the following features:
Wind-resistant, water-repellent fabric
A kangaroo pouch or deep zip pockets
A hood that cinches around your ears and secures your hat in place
A more relaxed fit
It's also essential that you can easily put it on - because when the wind picks up, you'll be yanking this jacket out of your pack and putting it on in a flash.
Naturally, there will be times when you won't need a jacket! Nonetheless, always keep it in your pack.
6. Wool Socks
When it comes to trekking, your feet are the most vital body part. So, when we say, "Safeguard them," we're not joking!
Merino wool socks dry rapidly, which is an important consideration for hiking.
Blisters + wet feet = a bad hiking experience.
We suggest wearing a pair of liner socks underneath your merino wool socks if you're prone to blisters.
Quite frankly, we could write a small book about the advantages of hiking socks.
They're made to provide more cushioning in the front and heel of the foot. That additional cushion has a pleasant side effect - it makes the socks more durable. You might believe that you don't require the additional padding at this time - but consider this:
You're on a ten-mile trip across rugged terrain that includes some long climbs for good measure. At the conclusion of a lengthy hike, you'll find that every little bit of cushion helps to keep the foot from "throbbing."
Once you start wearing a nice hiking sock, your cotton socks might become banished to the neglected bedroom drawer - or the basement. Most people who invested in good hiking socks ended up wearing them around the apartment, at work, and even to bed - if you're that type of person.
It's highly likely these merino wool hiking socks will become your favorite pair!
Hiking socks aren't the most technically advanced item of clothing - so there aren't many "things to remember" when deciding which pair to buy.
Still, there are a few factors women hikers should keep in mind when purchasing a hiking sock:
This bit is pretty standard. Read the "sizing guide" to prevent purchasing an ill-fitting sock.
Socks for hiking are normally available in three thicknesses - light, medium, and heavy. When it comes to sock thickness, it all depends on how often you hike and your own tastes. However, there are certain common guidelines to follow:
Choose a lightweight or medium-weight pair for summer hiking.
Choose a medium or heavyweight for chilly weather hiking.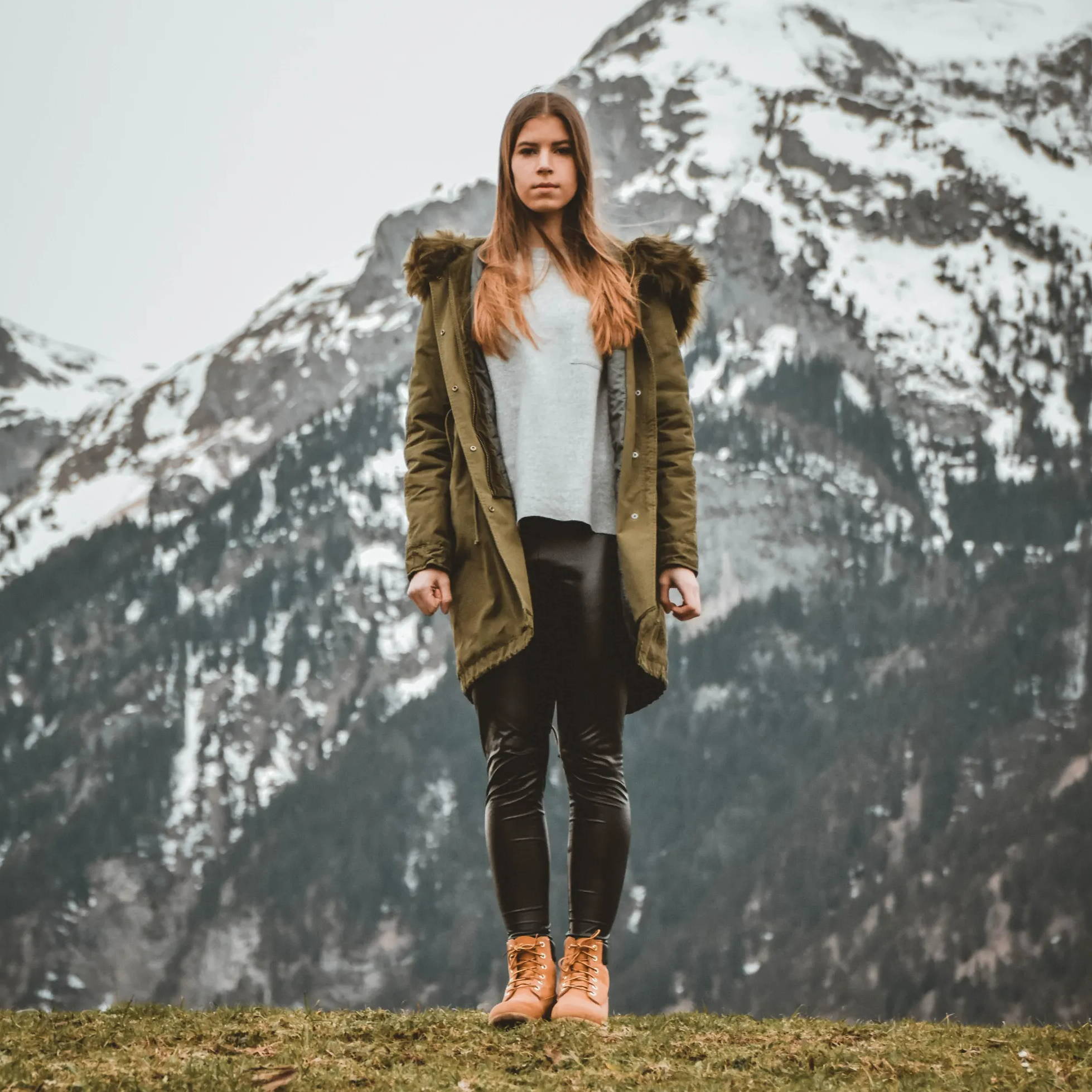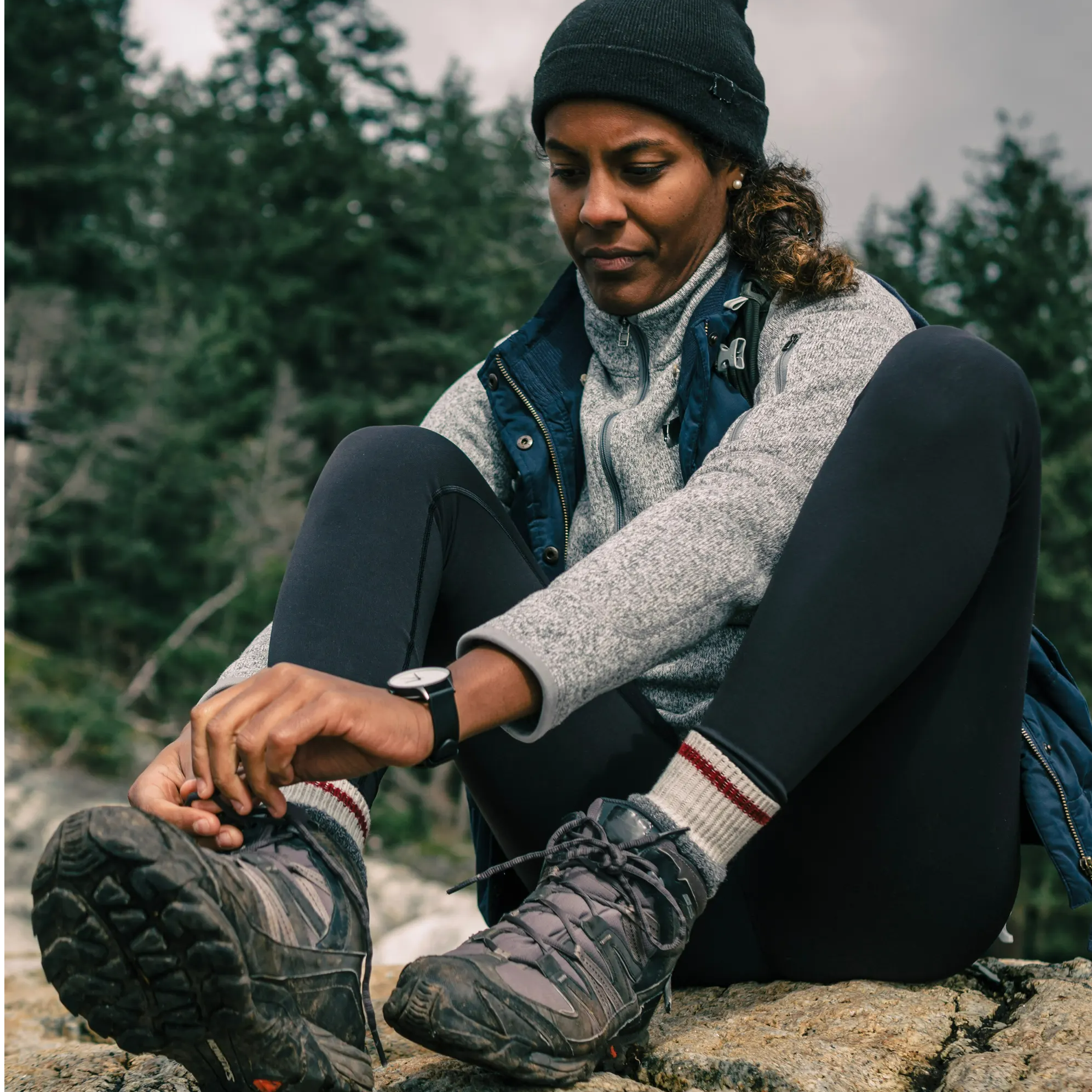 7. Shoes
A good pair of hiking boots will be your best friend on a hike - whether it's a day hike through a park or you spend days on rocky trails.
Even if you arm yourself with the best hiking clothes for women, no women's hiking clothing outfit is complete without a high-quality pair of hiking boots or shoes.
When it comes to hiking shoes, you want something that's both comfortable and lightweight - as well as made to withstand the circumstances in which you'll be doing the most of your roaming.
When choosing what footwear is suitable for you, here are the main things to consider:
Since fitness is a personal thing, what works for one person might not be the ideal option for another. The most comfortable shoes allow your toes to spread out, have padding that supports your foot form, and have some flexibility.
Weight carried on your feet consumes approximately five times as much energy as the weight placed on your back. Less muscular fatigue, tripping, and knee and hip flexor issues can all be avoided with lighter shoes.
That's not to argue that wearing heavier shoes is a terrible idea. If you often go off-trail hiking or carry a heavy load, a more robust and durable shoe may be more appropriate.
Hiking shoes are an expensive purchase, so picking a pair that'll last helps you get more bang for your buck. Traditional leather shoes will nearly always outlast lightweight trail runners durability-wise. If weight is a priority for you, though, search for trail running shoes with nylon reinforcements to get the optimal weight-to-durability ratio.
Women's Clothes & Hiking Gear: Conclusion

Choosing the best hiking clothing for women can be challenging if you're not ready to take it seriously.
An item like a warm jacket - whether it's a rain jacket that you can wear as a lightweight layer for mild weather or one that traps body heat and helps you stay warm in cool weather - is an essential part of backpacking clothes.
Truth be told, every single piece of hiking clothing we've mentioned in this hiking clothes for women guide is a crucial part of the best hiking outfit - whether it's the best hiking shorts, down jackets, tank tops, or underwear.
There are many things you have to consider if you're about to embark on an adventure that is a hike - especially a long-distance one. If you want to remember it fondly as the adventure of a lifetime, you shouldn't take our advice about women's hiking clothes lightly.
There's a lot that may potentially go wrong on a hike - and keeping your pants dry is not something you want to worry about, believe us!
---