Dog Hiking Gear - The Must-Have Essentials
Hiking is an extremely rewarding experience in and of itself, but when you throw your dog into the mix, it can only get better.
But, just like with any hike, you have to come prepared. Aside from taking your own gear, make sure you leave some room in your backpack for dog hiking gear, as well.
But, what will you need? And if you have to choose, what's important to pack while still keeping your backpack light?
Things can get confusing, especially for hikers that are only starting with their hiking journey - but still want to include their pups.
But, lucky you, because you have stumbled - or made an educated choice, good job - upon this article in which we'll go over the most important gear that you'll need when hiking with your dog.
So, without further ado - let's get right into it!
Hiking With Your Dog - The Basics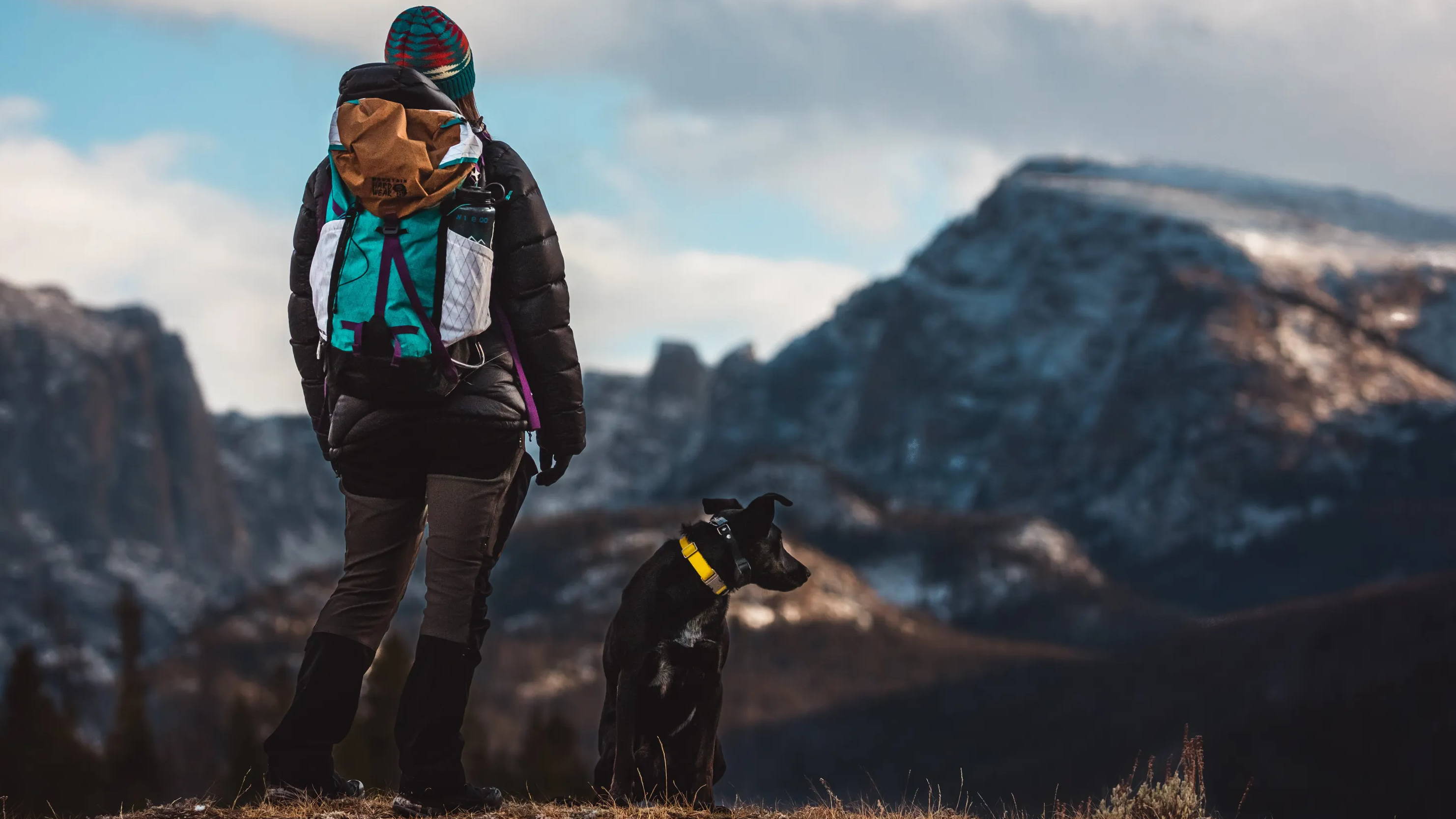 Before we get to the actual gear, we want to briefly tell you the necessary information about taking your dog hiking with you. We won't get too detailed here - we have an in-depth guide on that very topic.
But, if you want a brief summary, here it is:
Dog-Friendly Trails
Not all trails welcome your furry friend. That doesn't mean that they don't love them; some trails are just too dangerous for our pups.
Regardless of the reason behind it, you should check this beforehand. If you prefer going on hikes in national parks, you're in luck - most of them have this information available on their websites.
Even if the trail that you set your eyes on isn't dog-friendly, worry not - there are plenty of trails that are.
On that note:
Even dog-friendly trails have different policies about dogs; some allow unleashed dogs, while others require you to keep your pup on a leash the entire time.
Your Dog's Health
Before hitting the trail, visit your vet. Here's the thing:
Hikes can get exhausting, physically demanding, and challenging in terms of the weather conditions and tough terrain.
So, visit the vet and have them perform a basic check-up on your dog to make sure they can take a hike with you. They'll also tell you which intensity will be acceptable for your dog according to their health and physical condition.
Choose The Trail Wisely
Just like starting your own hiking adventure, you want your dog to start slow. Even dogs in their prime years that are physically active may find hikes challenging.
Hiking is a whole different category of physical activity.
Aside from excessive walking, there are often obstacles along the way. Whether it's steepness, bodies of water, wildlife, rock, or anything else you might find along the way, you and your dog will definitely need stamina.
So, start with easier, simpler trails - and work your way up to the more demanding ones, like mountain hiking trails.
Read More: WHAT IS THRU-HIKING - ALL YOU NEED TO KNOW ABOUT IT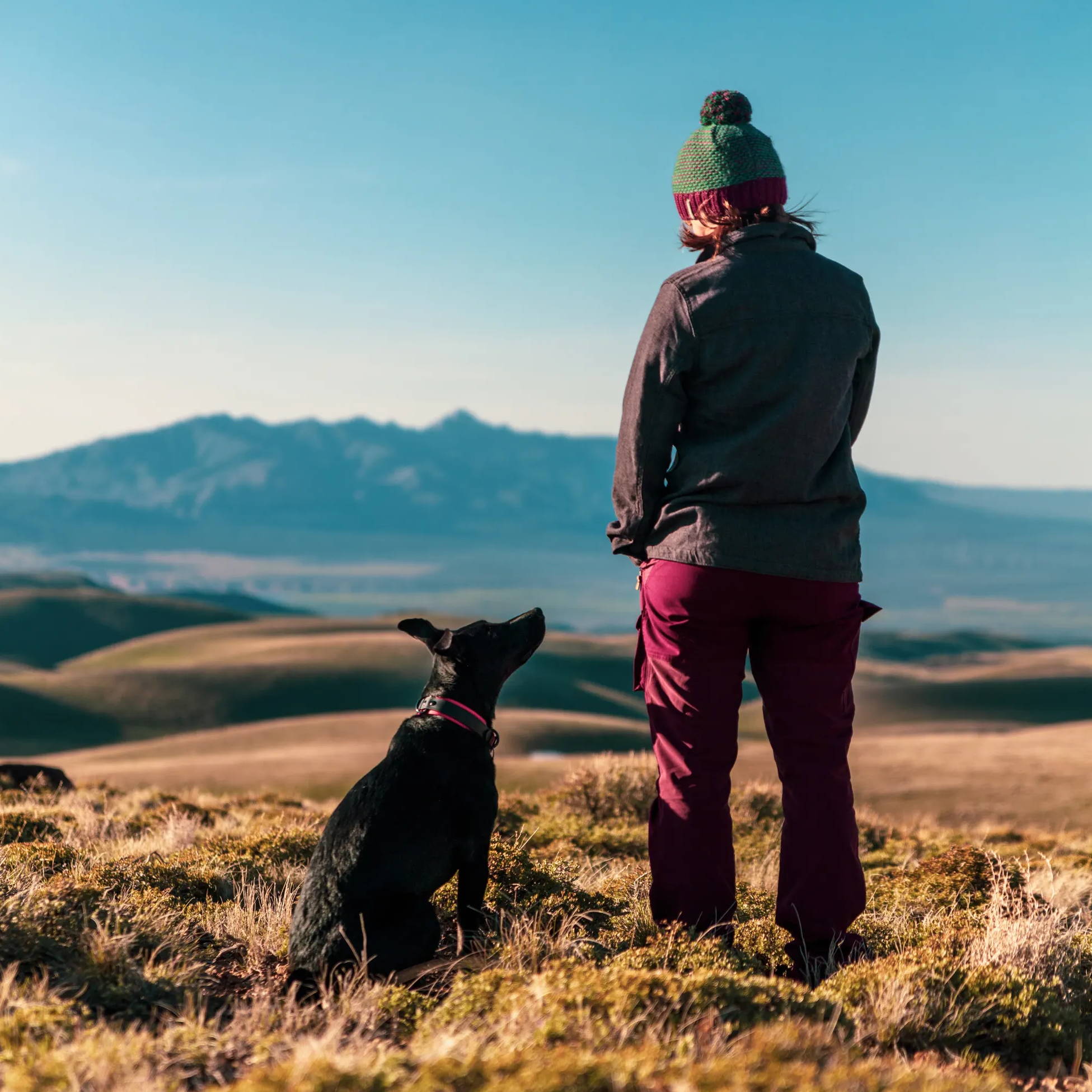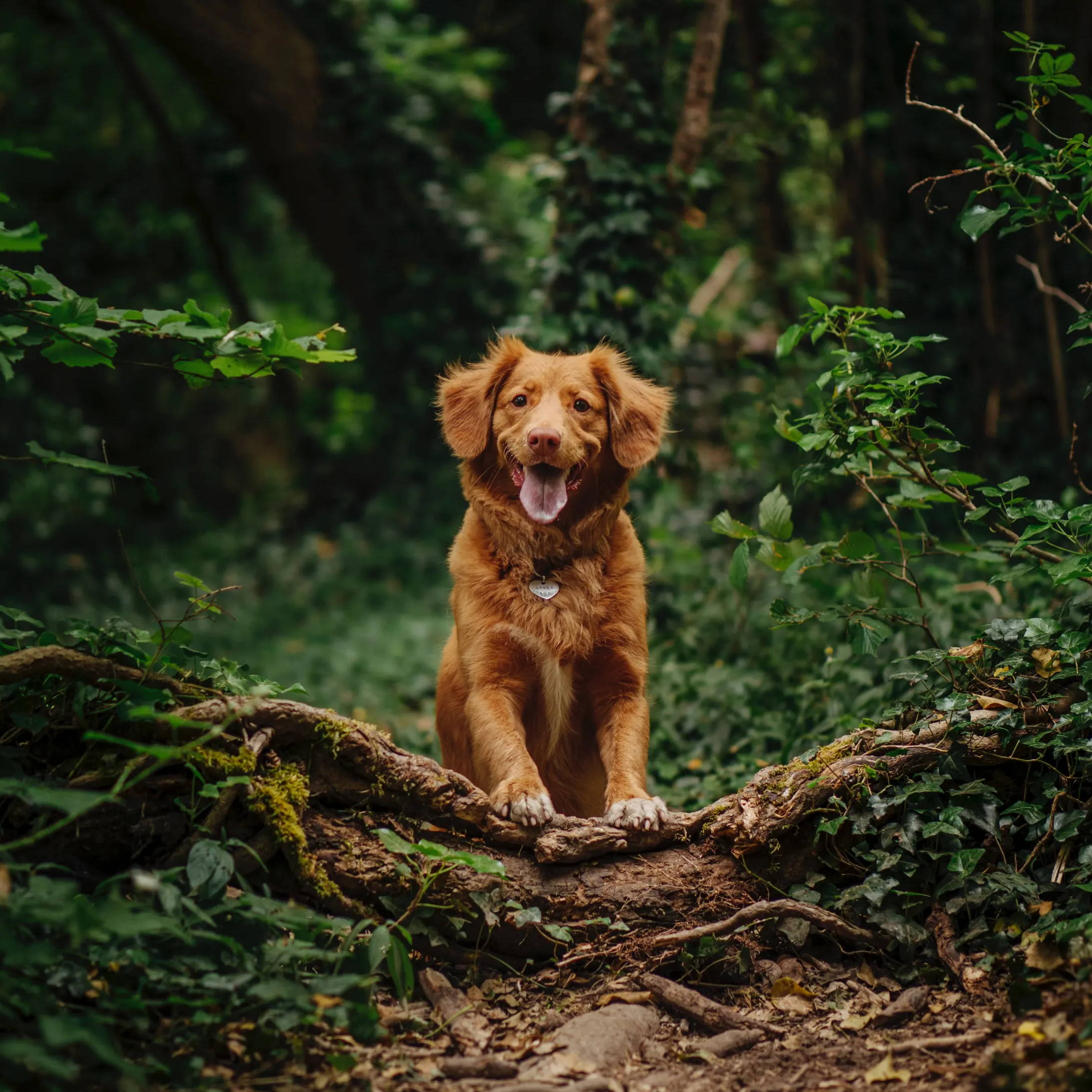 Train Your Dog
Regardless of whether your dog will be on a leash or not, you need to make sure they know the basic commands. In some cases, these commands might save their life. Taking an untrained dog on a hike outdoors will be more stressful for you - and more dangerous for everyone.
Learn Trail Etiquette
We've mentioned the leash as an important part of hikes, but there are other things to keep in mind while on the trail.
Some rules are universal, and others are specific to certain trails - here are a few worth mentioning:
1) Pick Up After Your Dog
Nobody wants to step into dog poop while hiking, so don't be lazy and pick up after your pup. Dog-friendly trails will have trash cans along the way, so you can easily dispose of the bag.
2) Respect The Wildlife
Remember that you're visiting nature; that space is someone's habitat. Stick to the designated walking area and don't ruin anything.
It can be tempting to explore beyond the trail, but it can be dangerous for you - and damaging for the wildlife.
3) Don't Litter
This one applies to both of you - well, more you than your pet. You mustn't leave trash behind you, and your dog can't leave feces.
You'll be picking everything up - so be prepared.
Dog Hiking Gear - The List

So, you know some of the essential rules of taking your dog on a hike, and now we can get to what you came here for - the gear. High-quality, durable, preferably waterproof - and reflective for better visibility - gear you should pack for your pup.
Dog Trail Pack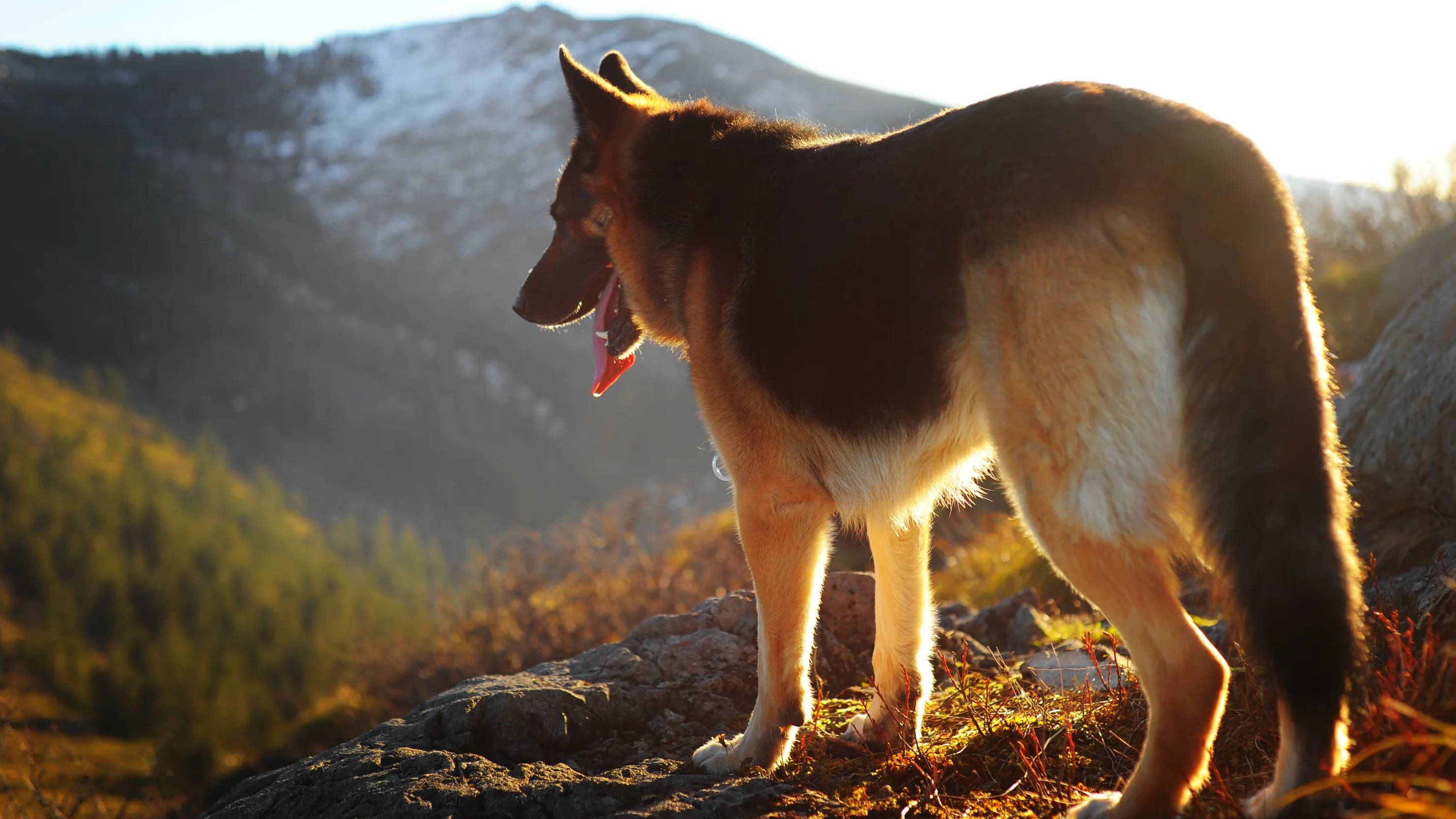 Good news - you don't have to carry all the weight in your backpack. Your dog isn't only there to make you company and enjoy the view; they can carry some of the stuff, too.
That doesn't mean that you should load them up with a bunch of stuff and leave your backpack empty. But, they can still carry some of the lightweight items - such as dog food, treats, and sunscreen.
A dog trail pack - a sort of jacket-meets-bag hybrid - can help you with that.
The trail pack ordinarily features an adjustable collar, chest strap, and belt, which will keep your dog comfortable with the weight distributed evenly.
The pack is detachable from the harness and waterproof - including the zippers - so that the contents can stay dry even with your doggo wandering through wet terrain.
There are different sizes of packs available, which makes them suitable for all kinds of breeds and dog sizes. But, pay attention to the weight limit - both for the sake of your dog and their packs.
Treat Pouch
You want your dog's essentials to be easily accessible to you, and this will give you exactly that. There are several different versions of this little pouch with different parts, so you can find one that fits your needs the best.
You can usually secure them to the waist, and they include a water bottle holder. That's a great feature since it saves space in your backpack. Plus, it's easily accessible, so you don't have to search through your stuff every time you or your pup want a sip of water.
Dog Harness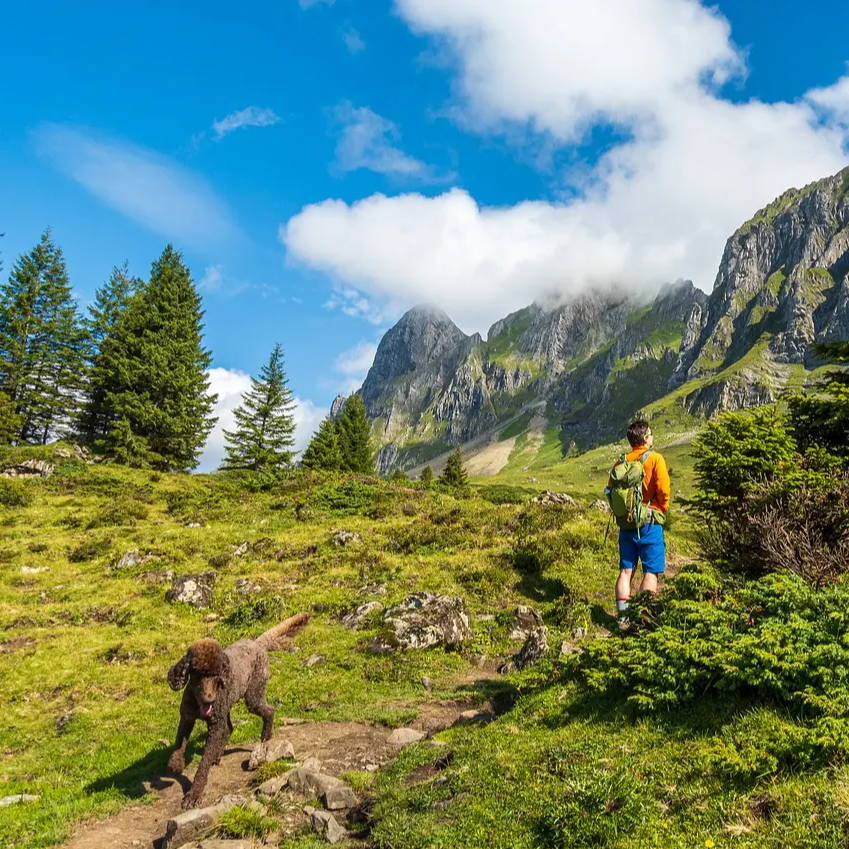 You may prefer a collar for everyday walks, but when you're taking your dog hiking, a harness would be our recommendation. The reason is practicality:
You can attach the leash to the harness the same way you would to a collar, but you also have additional gripping options.
Harnesses come with a strap on top, giving you more control over your dog, should you need it.
A harness usually features adjustable straps, side buckles, and an adjustable chest strap. They come in a wide range of sizes, too, so finding a good fit for your pup is easier.
Hands-Free Waist Leash
Sometimes, you need your hands free to use your other gear. That's where waist leashes come into play:
These convenient belts can be hooked to your dog's leash, allowing you to walk with them securely attached to you - while being able to take a stunning photo or perhaps check your map.
Some of these waist leashes have extra storage in them, so you can put stuff like your keys, phone, or money, in there.
Cooling Vest
Hikes can be exhausting regardless of the weather, but during the hot summer days, you need to provide your dog with some help thermoregulation-wise.
Sure, they cool off through panting. However, this can be insufficient when it's very hot outside - especially if you consider the fur they have on them.
So, a cooling vest will be greatly appreciated by your doggo.
Aside from helping with thermoregulation, these vests provide vital air circulation, as well as protect them from outside danger.
It's also available in a range of sizes, can be water-resistant, and has an attachment for the leash, as well.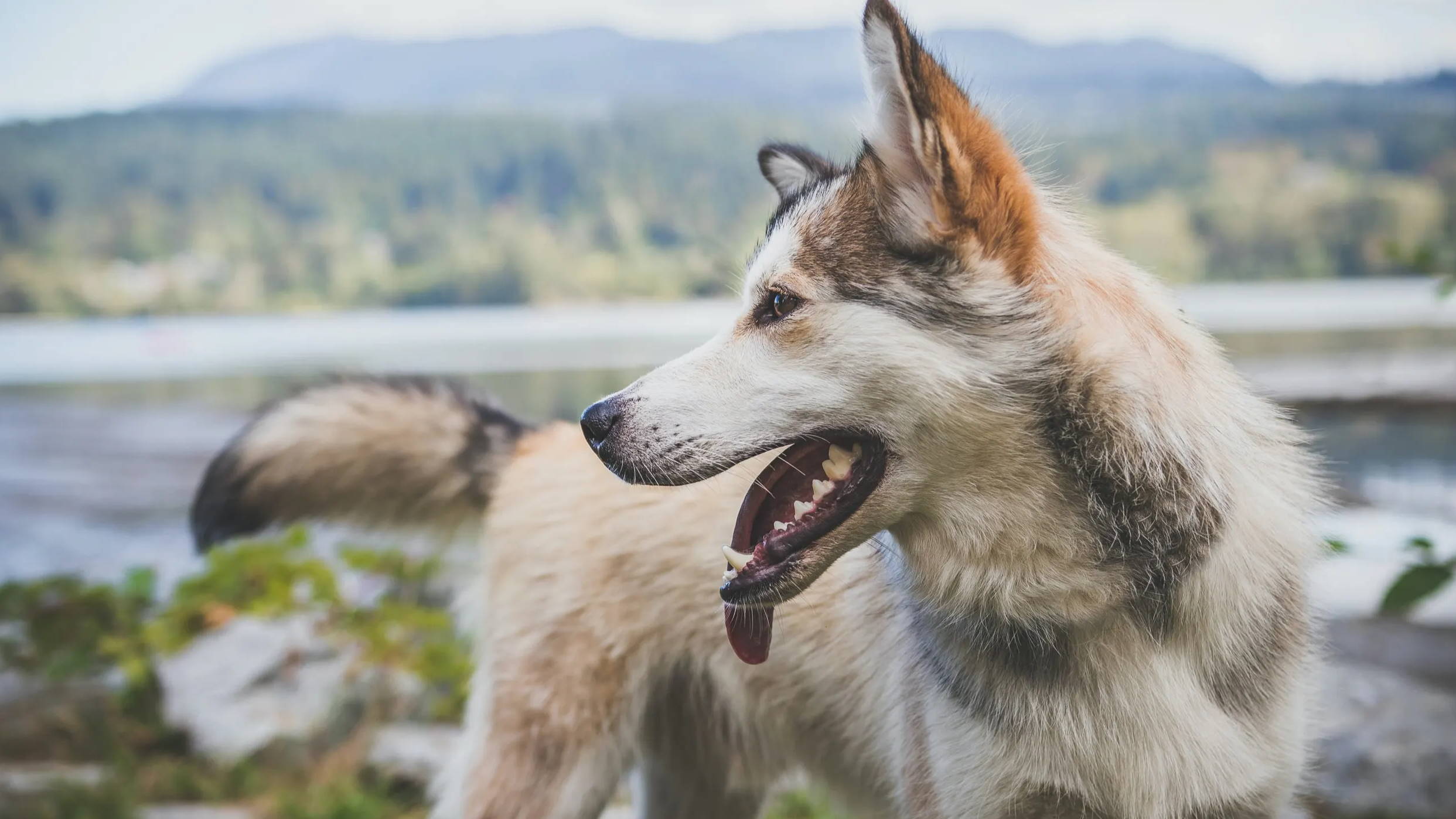 Dog Hiking Boots
Hiking boots are essential for a number of reasons in a plethora of different situations to protect your dog's paws. Whether it's because of heat, rocks, slippery ground, or water, it's best that you have these booties on hand.
Most of these high-quality, rugged dog boots are made to be put on easily, with velcro straps for easy size adjustment. One of the great features these boots often have is reflective straps that increase your dog's visibility in dimly lit surroundings.
That's an extremely useful feature to ensure your dog's safety, especially if you like to keep your dog off-leash.
The soles are usually made from rubber, ensuring that their paw won't slip while prancing along an adventurous trail and keeping them safe from the hot ground in the summer.
Do keep in mind, though, that it will probably take your dog a couple of tries to get accustomed to these booties. We've all seen those adorable videos of dogs walking in booties for the first time, right?
So, buy them ahead - and practice before hiking!
Collapsible Dog Bowl
While hydration is somewhat easier thanks to portable water bottles with a bowl attached, carrying a full-on dog bowl for food is a much more complex task.
We all know that bowls are chunky and take a lot of space which we never seem to have enough of in our backpacks.
Well, your problem has been solved with a collapsible dog bowl.
They're made of high-quality silicone and can be folded to be completely flat. That means almost no room taken up in your backpack by a large container - they can even be attached from the outside - while still giving your pup the ability to enjoy food and water from a bowl, even while hiking.
They're easy to clean and dishwasher-safe, so you won't even have to worry about cleaning up the mess when you return.
Collapsible dog bowls are also lightweight, so they won't put additional baggage onto your - or your dog's - shoulders.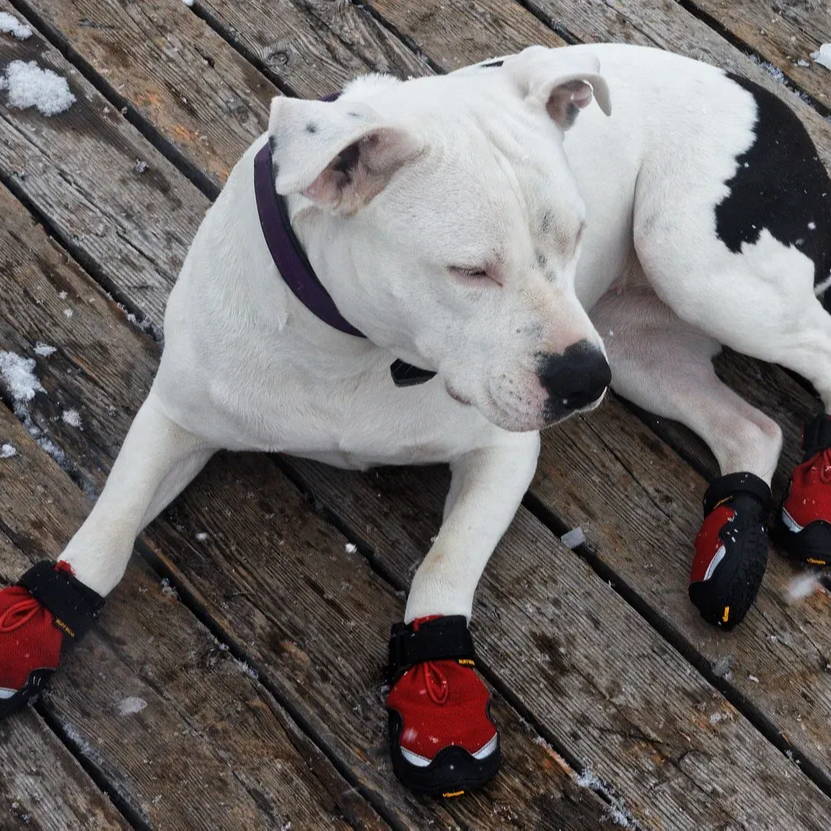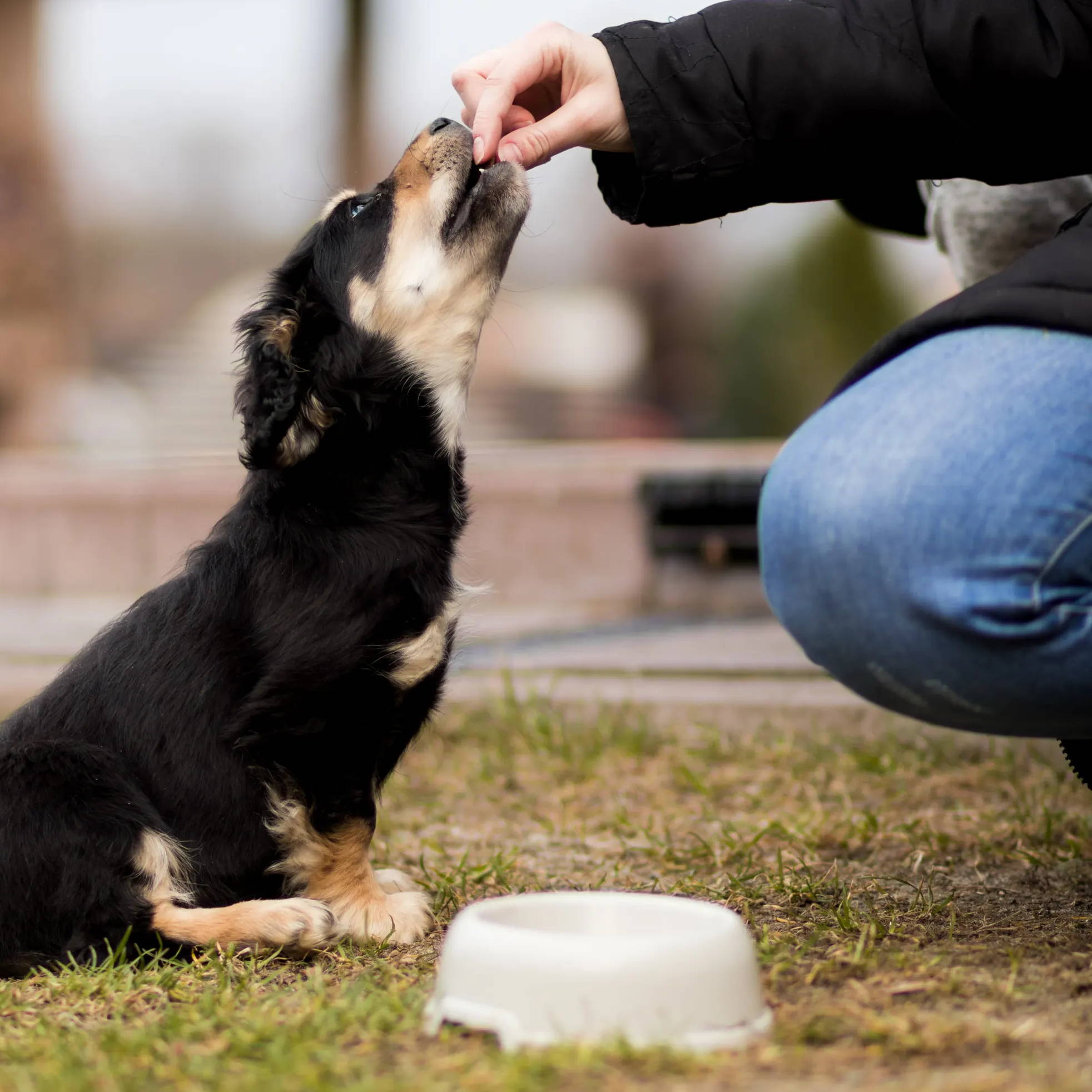 Travel Water Bottle
If it's a short trip, you might not need a full collapsible food and water bowl. In that case, this will definitely suffice:
This little invention will not only serve the purpose of keeping your dog hydrated but also prevent any water from getting wasted or spilled.
These bottles have a small bowl at the top, which gets filled with water with only one squeeze. Once the dog has had enough, you release it - and the leftover water goes back into the bottle.
Cool, right?
These will be useful for keeping your dog hydrated even on regular walks during the summer.
Cooling Water Bowl
You want your dog's water to stay cold and refreshing during the entire adventure. No one wants to drink warm water - humans or dogs.
Well, you're in luck because there's a little contraption that does just that:
They're designed to be used during any outdoor adventure since they're small and fit into a tiny pouch that dogs can carry around their necks. That means that it could double as a cooling neckband on hot days - which is an added bonus.
Most of these bowls can cool the water down pretty quickly - and keep it cold for about six hours.
Dog Carrier Backpack
If you're not sure whether your pooch will be able to keep up during your hiking trips, but you still want to take them along, there is a solution:
A dog backpack allows you to carry your dog on your back if they get tired in the middle of a hike. Of course, this is easier to do with small to medium breeds - but some might be strong enough to carry even the bigger ones.
Fortunately, these backpacks come in a range of sizes to accommodate any breed, from a chihuahua to a husky.
If you pull off the latter, tell us your ways, please.
Poop Bags
We've discussed this; don't leave your dog's feces on the trail, whether you're hiking or camping. We have poop bags for that - and you have no excuse.
They're lightweight, take up minimal space, and there are even biodegradable and compostable poop bags in a range of colors, so they can even serve as an accessory - if you prefer to look at it that way.
Either way, be sure to use them!
Flea And Tick Spray
This one is a must if you aren't already using a flea and tick collar to keep your pooch free from these pesky little parasites on your adventures.
You have multiple choices on how you're going to control ticks and fleas when it comes to your dog, so don't hesitate to choose one. It could save your pup's life!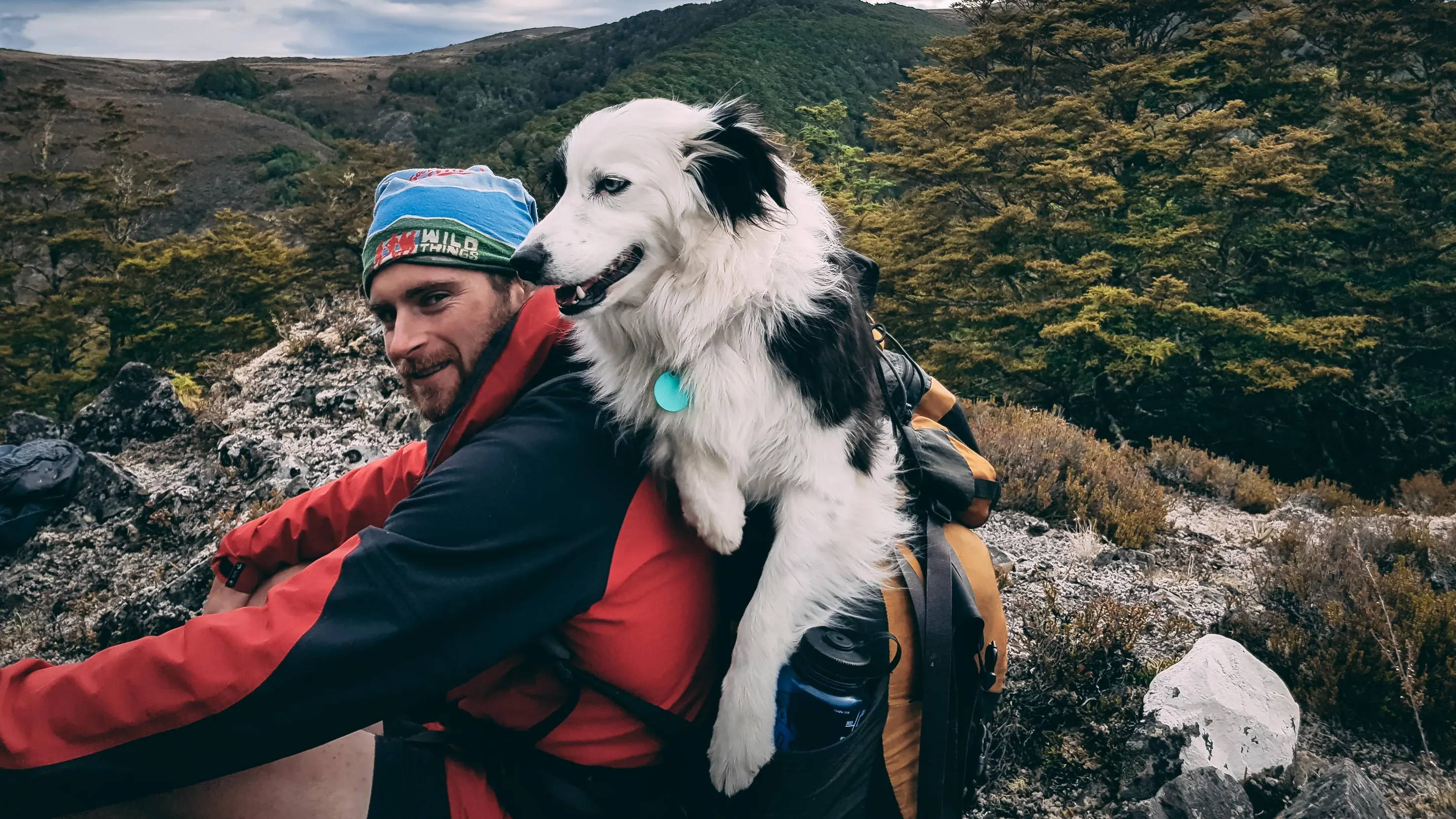 Dog Sunscreen
You might not realize this, but dogs actually need sunscreen, too. It's not necessary on everyday walks, but with prolonged sun exposure, your pup will need sun protection.
They generally come in the form of a spray and are safe to use on your dogs' noses, paws, and ears.
Most have a lightweight texture and dry almost immediately, meaning you don't have to keep your pup waiting before enjoying the outdoors.
First Aid Kit
One of the vital pieces of gear you can pack is a first aid kit. And while some items in a first aid kit can be used for dogs, others cannot. That's why we have first aid kits that are part of dog hiking gear.
There are pre-made ones ready to purchase, but you can also make your own customized ones - the choice is yours.
If you opt for making one yourself, you control the range of items found in the kit, which is definitely a bonus. On the other hand, a pre-made one is equipped with the most important items - and you don't have to stress about forgetting something.
Light-Up Collar
For those of us that like to walk with our dogs off the leash, it's a good idea to have a light-up collar. It improves visibility and allows you to keep track of where your pup is during your outdoor adventures and overnight camping trips.
Your pup will be free while hiking but remain visible to you - even in the dark.
It's generally necessary for your dog's safety even while they're on a leash; you never know what might happen and when you might need to keep track of your pup outdoors.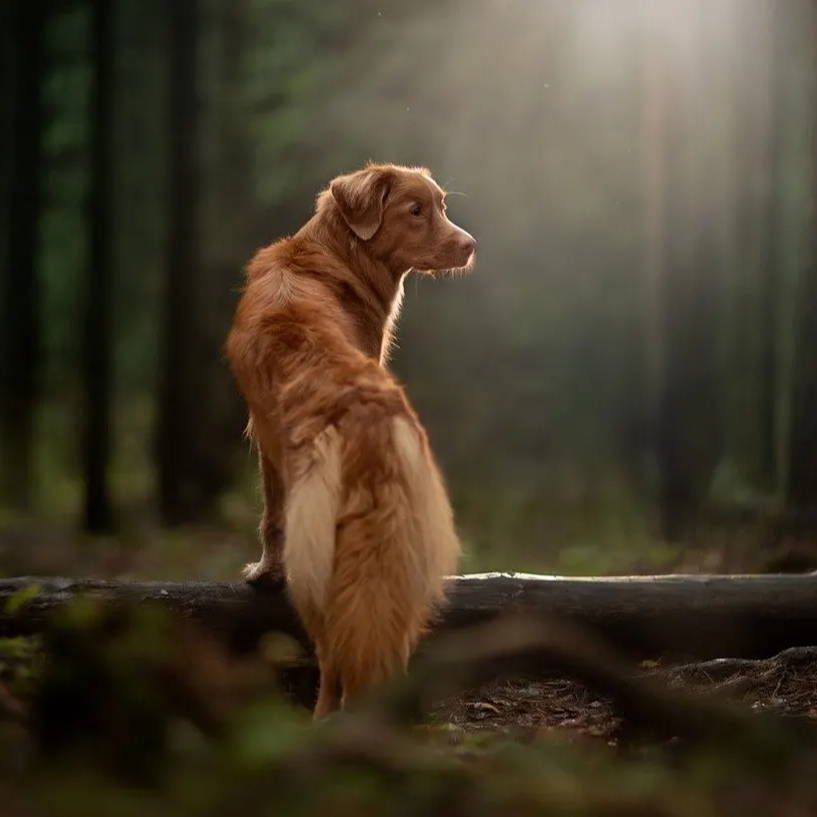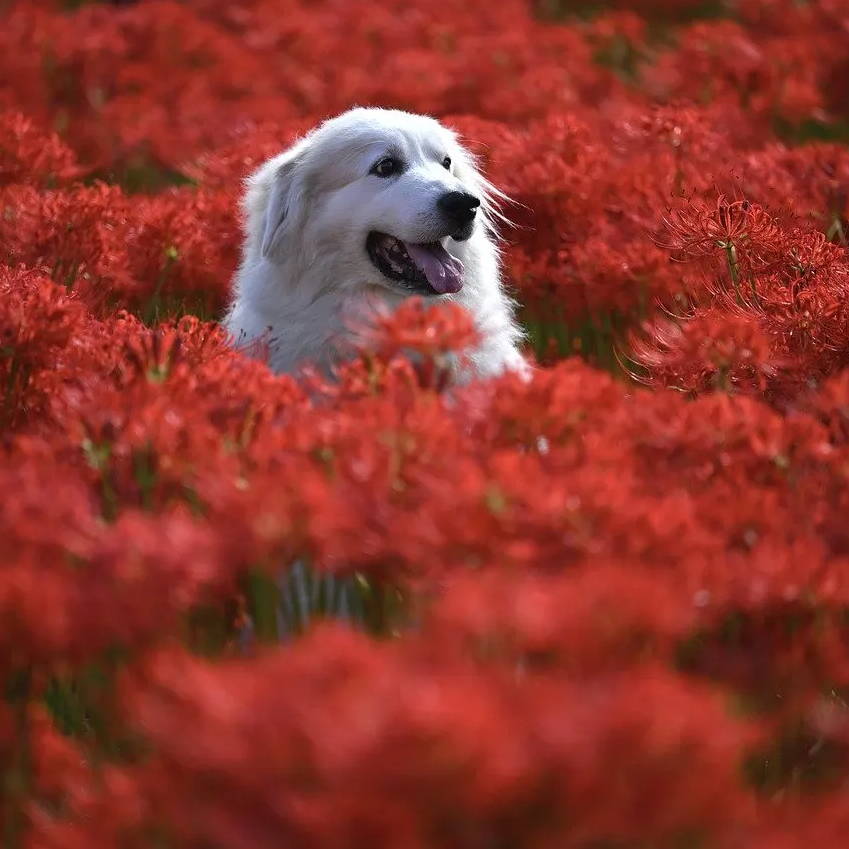 Our goal in this article was to help you make a distinction between gimmicks and things you genuinely need - and choose the gear you'll be taking on all your future adventures in the outdoors.
Just to recap everything, here's a brief summary:
Start by getting familiar with the trail etiquette and safety rules, then move on to the gear, including:
A dog pack or a dog backpack that will allow the two of you to share the weight
Rugged, durable dog boots that will help protect your dog's paws in the outdoors
Waist leashes that give you control over your dog while keeping your hands free for other things
Cooling bags - a good 2-in-1 item that serves both as a water cooler and as a cooling collar
A harness that makes it easier for you to control your dog
Treat pouches for keeping dog food and treats on hand
A cooling vest for summer hikes to combat excessive heat
Now that you've found this list, you're ready to step onto the trail with your pup fully prepared.
Happy hiking!
---