Hiking Clothes For Men - What To Wear On A Hike? The Only Guide You'll Ever Need
Hiking is something you can do for the rest of your life, whether you're young or old - and there is almost no place you can't get on foot, even when roads and bike paths have vanished.
It's no wonder that many people love it!
Like everything else in life, hiking has its pros and cons. The downsides of hiking aren't exactly downsides, per se - more like things you have to pay a bit more attention to.
For instance, the weather conditions, the landscape, and surroundings are drastically variable - and you have to stay on top of things at all times.
Even if you aren't planning on hiking in harsh weather or during the winter, it can get chilly, hot, windy, or rainy. Plus, you can often encounter bugs, scorching sun, or changes in altitude.
Besides planning and packing the obvious stuff - like your hiking gear - you have to think about your clothes. There are perfect outfits for these different scenarios that can make hikes easier, more comfortable, and far safer.
When picking what to wear on a hiking trip, keep the following in mind:
...in that particular order.
When it comes to outdoor activities, safety and comfort should come first. Always prioritize function over form. Most seasoned hikers are unlikely to place style high on their priority list.
They realize that safety and function come first - but it can't hurt to look good, too, can it?
Read our guide on hiking clothes for men to learn how to achieve the perfect balance between comfort, safety, and style!
The Fundamentals Of Hiking Clothes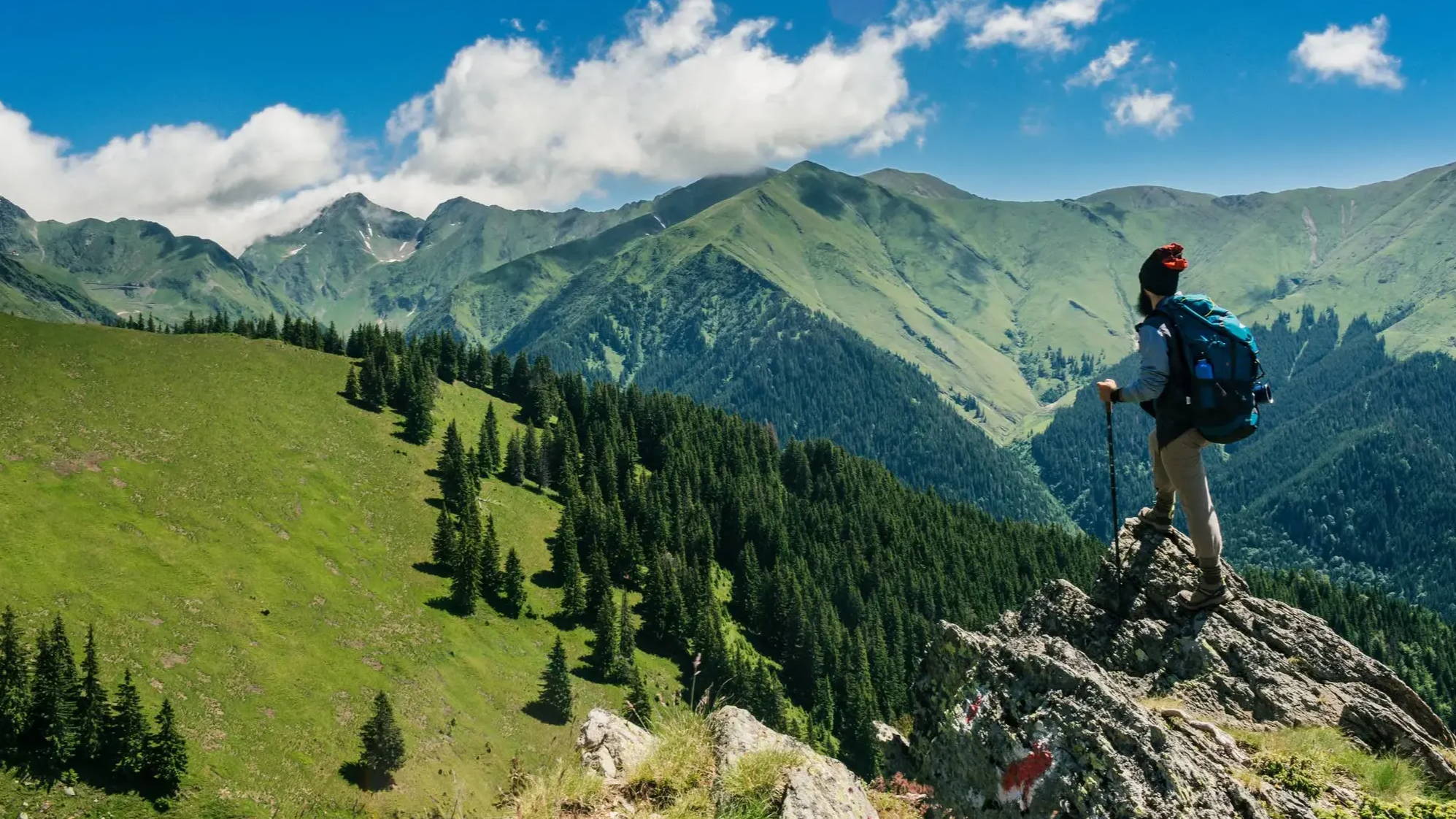 Layering
Clothes that can be layered and worn all at once for optimum warmth - or paired down for optimal breathability - are essential for a well-dressed hiker.
Tops, bottoms, headwear, jackets - and even gloves - should all work together to produce an outfit that meets your demands in the current circumstances. Layers are your friends.
Embrace The Grime
Some parts of your clothing will be worn for the entire journey, so they'll almost certainly pick up some dirt.
But being filthy and stinky is part of the backpacking experience, right?
So, embrace it - and look forward to a relaxing shower at the end of your journey!
If you want to keep the pounds down, leave out any "duplicate items" - unless they're necessary. Socks and underwear are the only items hikers bring in multiples, and they clean, dry, and cycle between them for the duration of their hikes.
Materials
Because we're continuously exposed to moisture while hiking, be it due to sweat, rain, snow, or water crossings, it's critical that our clothing dries rapidly.
Fabrics that stay wet (such as cotton) trap moisture against the skin and can cause issues such as hypothermia, chafing, blisters, and rashes.
Therefore, it's better to avoid them entirely.
Polyester and nylon, for example, are great when it comes to wicking moisture away from the skin. They're somewhat resilient, light, inexpensive, and dry rapidly, too. However, synthetics have the disadvantage of holding scents longer than natural fibers.
Natural fibers, such as wool, are renowned for their power to keep you warm - and retain your body heat even when wet. Fine merino wool is particularly good for thermoregulation in hot temperatures and is naturally antibacterial, too. So, odor accumulation remains low on multi-day travels.
Wool has the disadvantages of being scratchy (for some people), pricey, and less resilient than synthetics, though.
Hiking Clothes For Men 101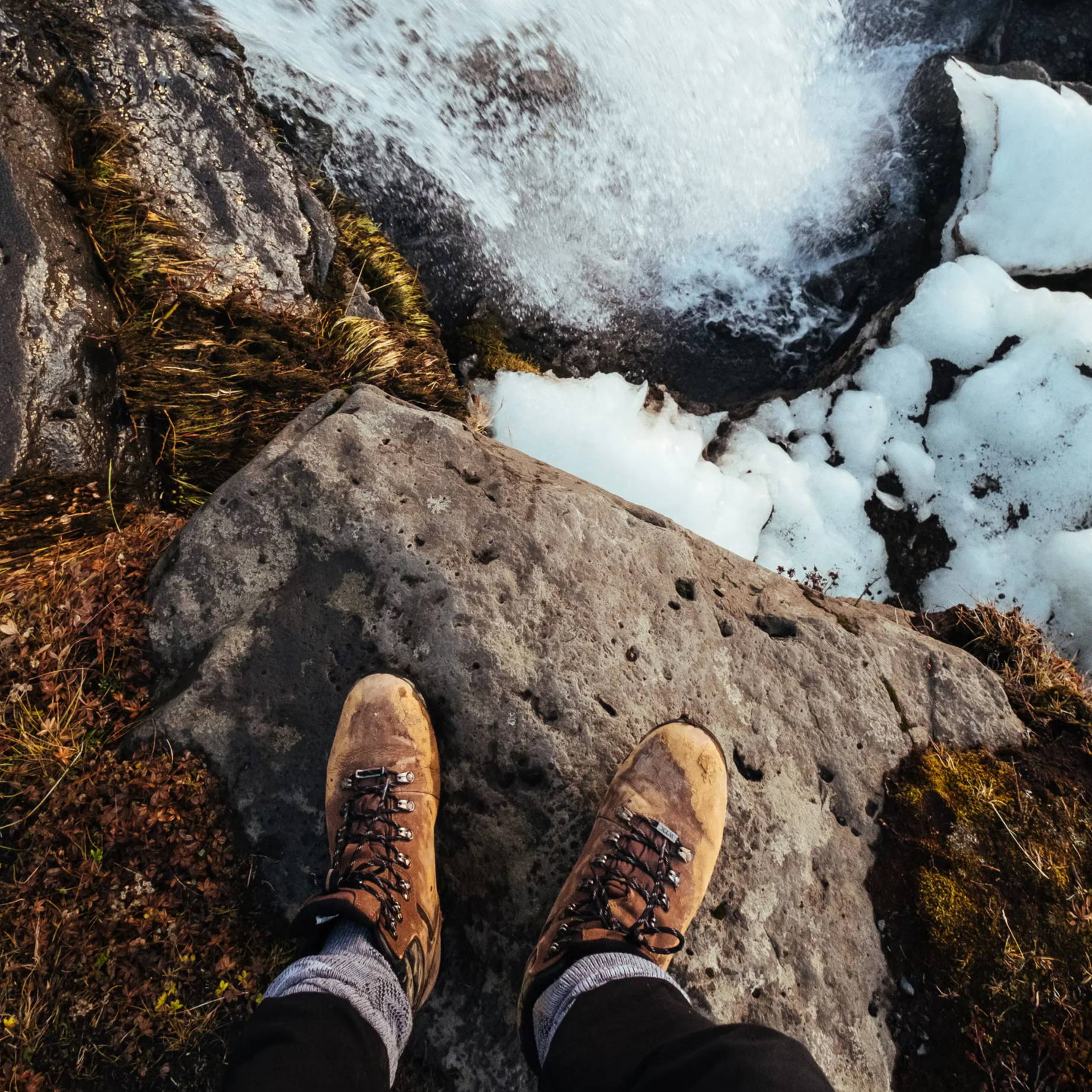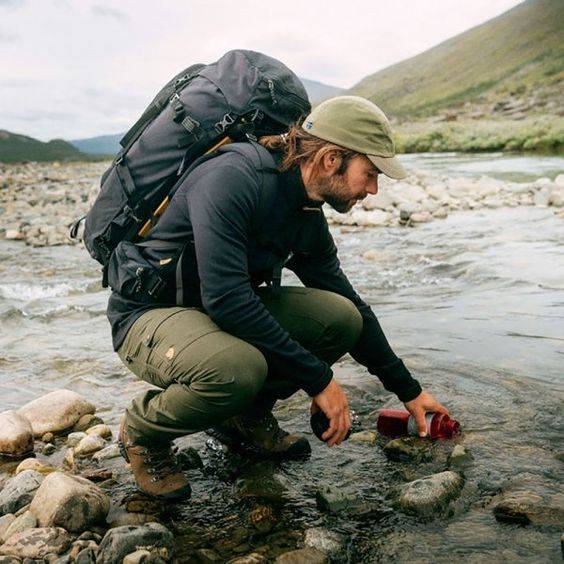 There are some crucial variables to consider while creating the perfect what-to-wear-hiking checklist. Here's what you need to know!
Sweat Wicking Underwear
The clothing that sits directly next to your skin - namely your underwear - is possibly the most vital to consider for your comfort. Yet, it frequently gets overlooked in hiking gear lists.
We propose sweat-wicking, breathable underwear for men that can be worn under shorts or pants for long days of hiking.
Of course, moisture-wicking features should be present in any hiking undergarments. Cotton underwear should be avoided at all costs! Instead, browse for underwear made of synthetic or natural fibers that'll keep your nether regions cool and avoid chafing.
Wear nothing that rubs you the wrong way; it'll irritate your skin. In other words, your hiking clothing, including undergarments, has to fit perfectly - not too tight but not too loose either.
If you're preparing for a long day on the trail, you must realize it's not going to be like running errands - hiking trails require you to put some thought into finding the best hiking clothes.
What are you waiting for? It's time to shop for some new and exciting men's hiking clothes!
High-Quality Shirt
Choose appropriate materials for your base layer; they'll be directly on your skin.
Cotton is generally a popular fabric - but not when it comes to hiking clothes. Avoid it at all costs; it retains moisture, making you feel chilly as the temperature drops. Instead, choose a long sleeve shirt that's quick-drying and sweat-wicking.
These performance characteristics can be found in polyester blends and merino wool. The latter is more expensive - but well worth it.
Merino wool is a lightweight fabric that has the incredible ability to regulate body temperature, keeping you warm or cool as needed. As such, it's ideal for both hot weather and hiking through the snow.
One of the crucial items of hiking equipment is a quick-drying, moisture-wicking hiking long-sleeve shirt.
Of course, the season and weather conditions will influence the type of clothing you want.
Choose a cotton-free long-sleeve shirt or tank top as your hiking base layer during the warmer months. You probably won't need much else - especially for hot-weather hikes. When it comes to base layers, polyester blends are frequently the best option - but the breathable merino wool is the ultimate choice.
Consider long sleeves or a heavier base layer for trails where the weather is cold, or there is a lot of snow.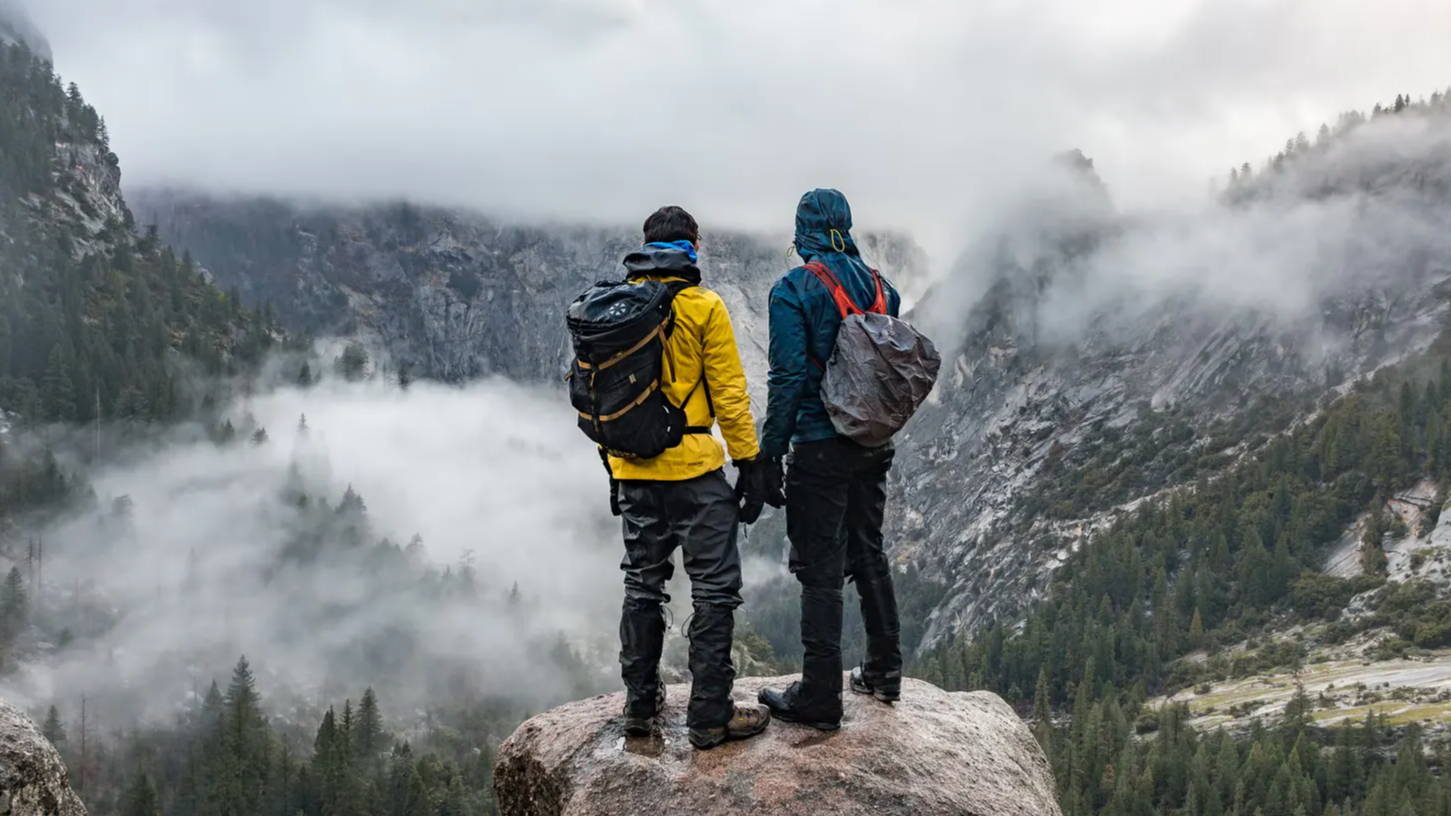 Expert Advice: Merino wool and polyester blends are excellent materials for anything that will come into contact with your skin - not just shirts. If you can afford it, avoid cotton and go for merino wool; you won't be disappointed.
Lightweight Mid-Layer
Did the trail conditions change, and did the temperature go down? Do you need additional sun protection or another layer?
Remember to pack a lightweight hoodie or mid-layer with you when hiking, and you'll be all set.
If you expect it to rain while hiking, pack a rain shell instead - or both, depending on how much you'd like to carry. Seriously, for spring or cold evenings, a softshell layer is ideal.
It should drain moisture away from your skin while also regulating your body heat and keeping you warm.
Having an additional lightweight mid-layer and then layering that with an insulating layer on top of that is an alternative to a single hefty layer of clothes.
That's your best bet if it'll be extremely cold or there will be a lot of snow. Why?
It adds a layer of warmth and versatility, allowing you to modify your outfit as the day goes on. Of course, how much you want to invest - and how much you want to carry - will influence your decision, too.
If you plan a long backpacking trip and every ounce of weight in your luggage counts, you want to bring as little clothes as possible.
Choosing The Right Outer Layers
Remember that your clothing will be determined by the weather and the difficulty of the trail you're hiking.
Will it be raining or snowing all the time? Then weatherproofing is a must. 
Do you intend to have a jacket in your backpack in case of an emergency? Look at choices that are light and compact.
If there's going to be wind, a puffer jacket might be the way to go. Many of them have unique coatings that protect the wearer from rain and wind.
In mildly cold weather, vests can help you maintain body heat. The breeze will flow in all the correct places - and you'll feel less burdened throughout your arms.
Expect wind at higher elevations - and bring a jacket and accessories made for windy weather. On a similar note, anticipate and prepare for rainy conditions if the forecast calls for rain - and pack a rain jacket.
Whatever the weather forecast calls for, make sure you've dressed appropriately.
If you're going on a cold-weather day hike, a down-insulated jacket is a better option. It will be highly compressible for easy storage - and it will provide more warmth than any other material.
Plus, since down jackets are normally made with down within a shell material, they can also be used as a rain jacket, as they are wind and water-resistant.
Oh, and another thing to search for in your full-zip jacket is that it has pockets. These are really useful in cold weather.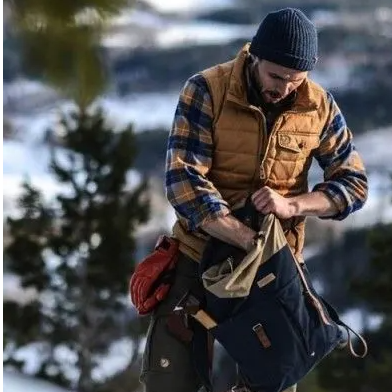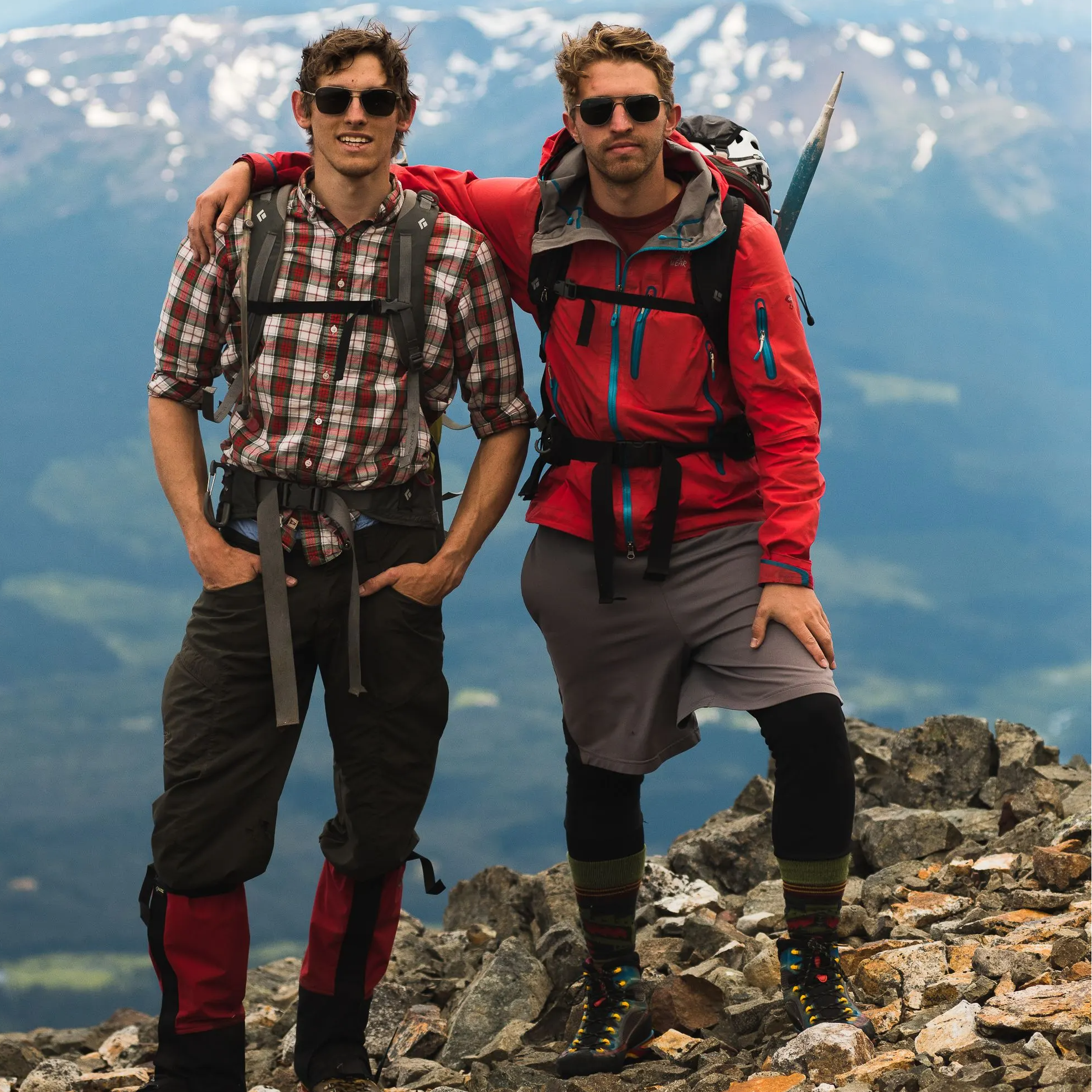 Hiking Pants
When looking for hiking pants, take note of the following four factors - flexibility, durability, breathability, and versatility.
Men's jogging sets are currently in style - which is fortunate for you. Today's designs are made of high-performance materials and have a sleek shape, making them excellent choices for low-impact hikes.
The less restricting the garment, the better.
Compact pants allow for more freedom of movement. Nobody wants to look like a stumbling toddler, right?
Long pants, especially if tucked into socks, protect your legs and ankles from ticks, mosquitoes, poison oak, and ivy. But when the weather on the trail changes and it gets warm, you can't go without a pair of hiking shorts.
That's why convertible pants are an excellent choice for hiking on trails with the possibility of weather changes. Their zip-off legs allow you to quickly transition from pants to shorts!
There's another essential component to consider while planning your hiking outfit:
To avoid limiting your range of motion on different trails and terrain, search for hiking shorts that are wicking, breathable, and flexible. Instead of shorts, you can always wear a pair of long hiking pants, especially in cooler weather. It's up to you.
Luckily, men's hiking clothing features a wide range of options, from accessories, camping and hiking gear, lightweight fabrics, and not to mention, a wide assortment of brands to shop from in the process.
Merino Wool Hiking Socks
What features does one look for in a pair of hiking socks?
First and foremost, there is the fabric. We've said it before - and we'll say it again:
Merino wool is the way to go.
Socks made of merino wool are a dream. The best part is that thinner socks are available for warmer weather - and for colder weather, you have thicker socks.
Ideal Hiking Shoes
When going on a hike, the boots or shoes you select are vital. They make a difference between having and not having blisters and sore feet at the end of a trail.
The terrain of the hike has a role in determining which hiking shoes to wear, too.
Ankle support and cushioned bottoms are essential features of a good pair of footwear. Even more so, they should feature a grippy rubber outsole to prevent slipping on roots, gravel, grass, and pebbles.
It's critical that your shoes support your foot and ankle - while providing traction on both wet and dry surfaces.
When the great outdoors calls your name, include "finding the perfect shoes" on your to-do list.
Trail sneakers are a popular choice among outdoor enthusiasts. They differ from road running shoes, though, and have a stronger midsole for extra stability on uneven terrain.
There'll be no slipping and sliding on our watch!
You don't have to limit yourself to trail runners. Hiking boots and water sandals work well in a variety of regions, trips, and weather conditions.
Finding the proper hiking boots can be a bit challenging, though. To begin with, you'll want to ensure a good fit and break them in:
Do you have a large hike planned? Then wear your boots around the home for a week or so to avoid blisters. Also, try on your new boots with the exact socks you intend to wear before you buy them. That'll guarantee a proper fit.
Neck Gaiter Or Scarf
Avoiding the cold by wrapping oneself in a neck gaiter or scarf is always a good idea. It'll protect you from wind stinging your face and blowing down your neck. Plus, you can use them during the summer, too, to prevent sunburn on your neck.
What exactly is a neck gaiter, though? 
It's a versatile, small piece of moisture-wicking microfiber cloth that wraps around your neck - somewhat like a sleeve.
It keeps your neck and chin warm during the winter and keeps your neck cool in the summer by wicking sweat and moisture away from your skin. When it comes to essentials and protecting your skin from the sun while in the great outdoors, a neck gaiter is what you need.
Men's Hiking Outfits For Different Seasons


Now, let's look at the best hiking clothes and accessories for different seasons. When it comes to planning men's hiking outfits, different seasons necessitate some tweaking. You can still add a dash of style, though - so stay tuned to learn how to go about it.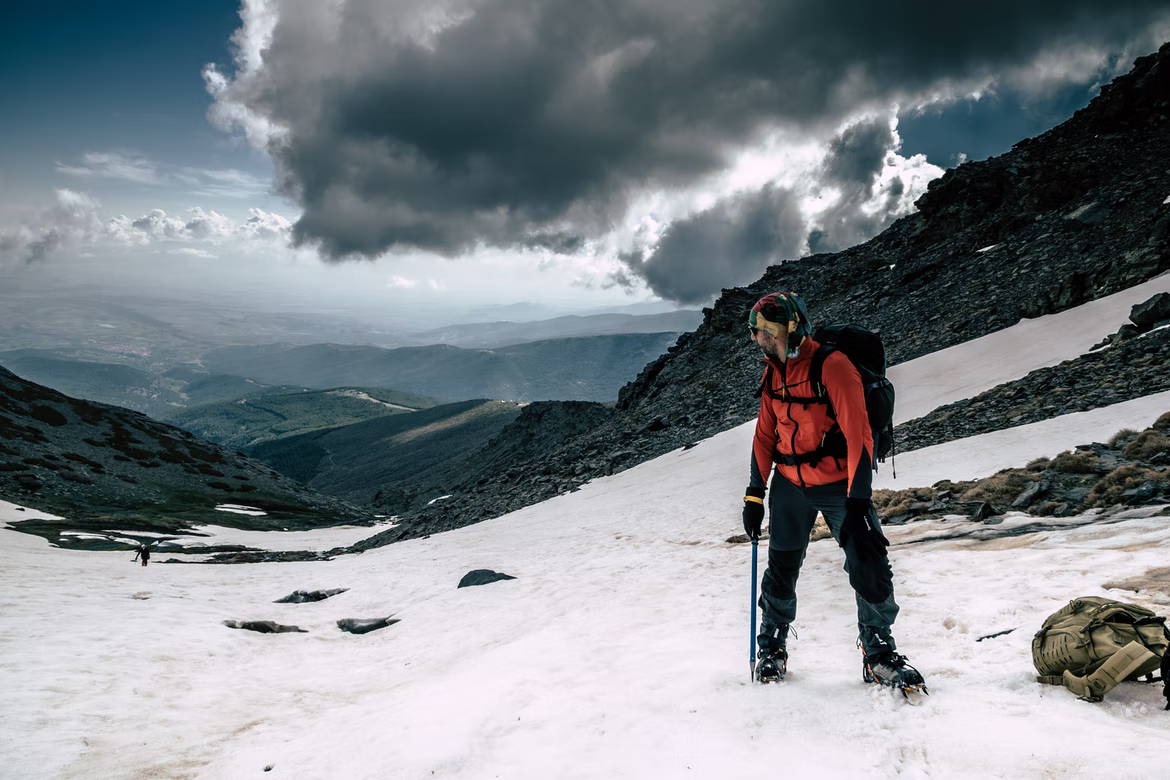 Preparing for an adventure in the great outdoors with your friends in frigid or harsh weather?
When deciding what to wear on hiking adventures in the winter, you'll need to be particularly cautious.
Begin by putting on a thermal base layer, which should include long underwear. If you plan on doing a lot of strenuous exercise, a lightweight pair will suffice. You'll break a sweat faster than you think.
Next, add fleeces, flannels, hoodies, and softshell jackets to your mid-layers.
It takes trial and error to figure out how many layers you want.
To keep your head warm and your hands and feet safe from frostbite, don't forget your beanie, gloves, and wool socks. These accessories can be real life-savers.
While winter adventures sound fun, finding ways to stay warm while mountaineering can be incredibly difficult - which is why winter essentials and accessories like gloves and beanies are key.
And what are your final top and bottom layers going to be?
You should remember the three W's:
Windproof, waterproof, and weatherproof.
For one, you need to shield yourself from the elements with waterproof outer layers that will keep you warm and dry.
Besides winter accessories, the cold outdoors environment demands warm clothes, like a heat-retaining jacket with big, warm pockets.
Hiking In Fall And Spring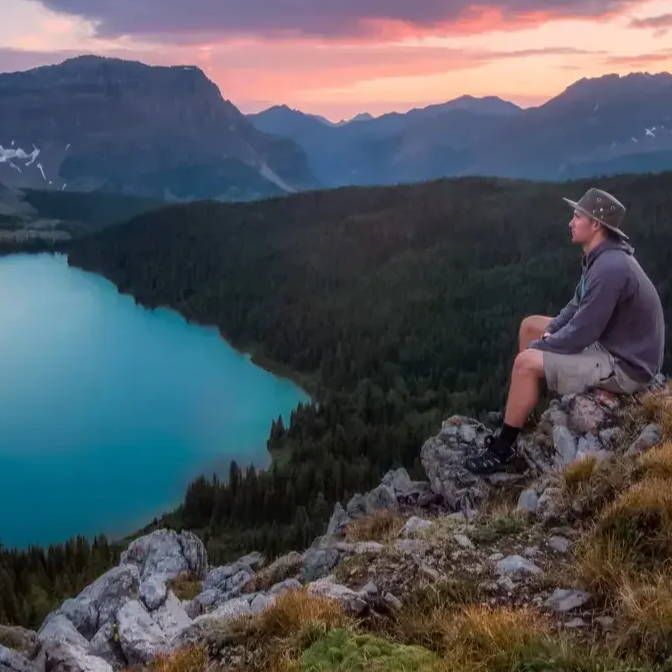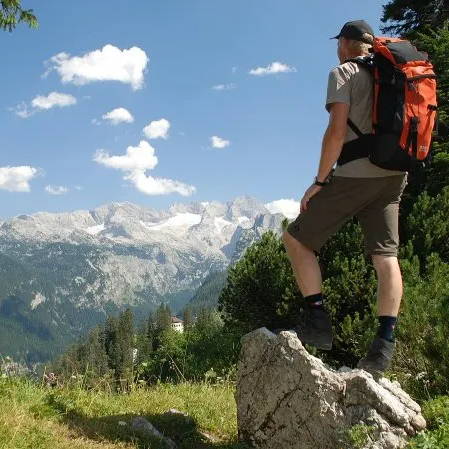 Are you looking forward to seeing the changing colors of the leaves in the autumn or the first blooming after a long winter?
There's no need to be concerned about how to dress when going hiking in the spring and fall; layers will be your best friend throughout all adventures during these seasons.
Mornings can be chilly - but afternoons can be hot. So, you'll want to be able to shed a layer or two. Consider wearing fitness leggings underneath your shorts. You can take these off (or put them on) depending on the weather.
Hiking pants will suffice in all other cases.
A lightweight jacket or a fleece middle layer is the way to go on these cool but not quite frigid days. They're available in light, breathable versions that keep you warm even when wet.
Oh, and packing a waterproof raincoat or rain jacket is always a good idea.
These seasons are great for longer hikes as they are ideal for camping or biking. If you're going to be camping, you'll have to go a step further when preparing to sleep outdoors. We're talking about high-quality sleeping bags and other gear necessary for camping here, of course.
What To Wear Hiking In Summer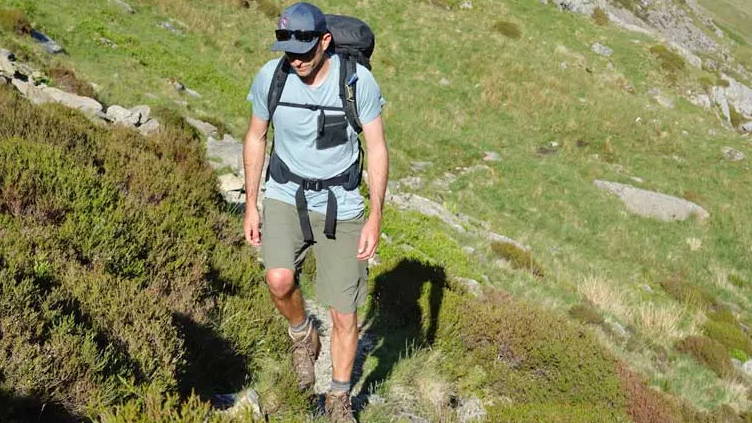 There's nothing like feeling the sun on your skin and getting a dose of Vitamin D, right? That said, sun protection becomes a top issue when deciding what to wear hiking in the summer.
Rule number one - keeping your head cool is essential. 
Broad-brimmed hats keep the sun off your face, while mesh-backed trucker versions allow for more airflow. To protect your eyes, pair your favorite hat with polarized sunglasses, and don't forget the sunscreen.
When it comes to clothing for warm weather, shorts are a no-brainer. And if you go for a post-hike swim, a pair of pants with a built-in liner will be your best friend.
If you want to avoid burning your shoulders, choose a short-sleeve shirt instead of a tank top. Many performance shirts are constructed with UPF protection to help shield you from the sun's damaging rays.
Remember:
The best hiking clothes for warm weather are those that are breathable and super comfortable - like a short-sleeve T-shirt and comfy shorts.
Hiking Gear & Clothes For Men - Conclusion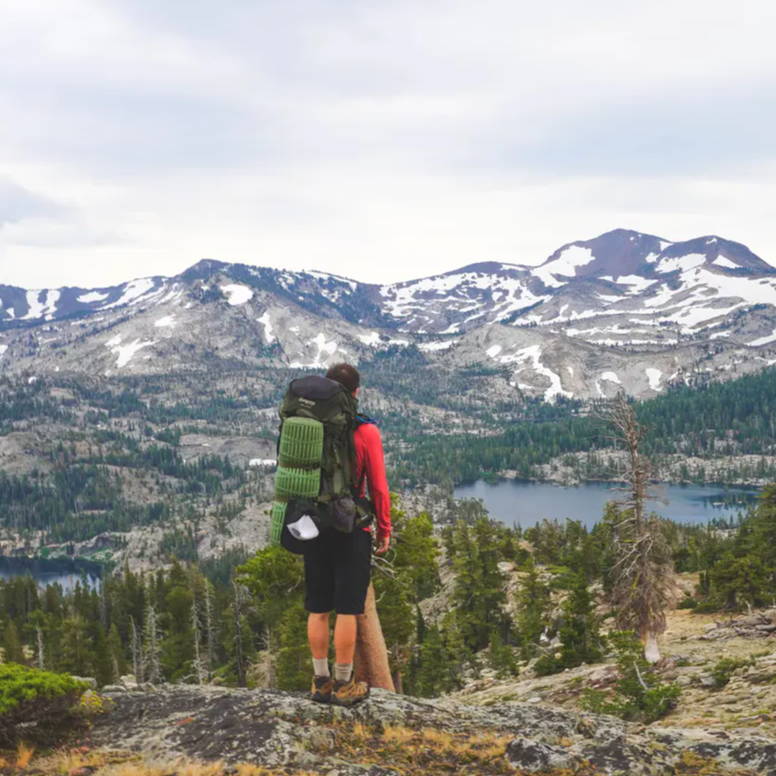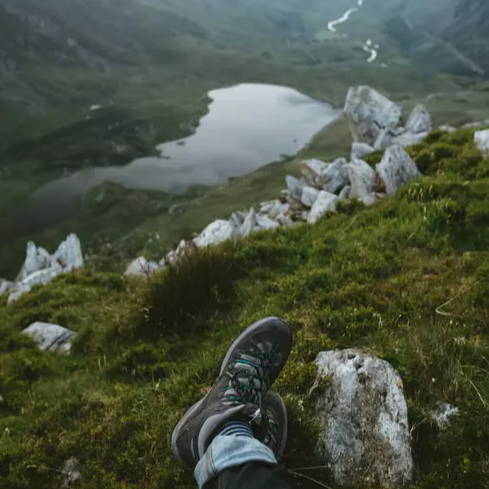 It seems you'll have to spend a bit more time, explore more than one shop, find the best brands for every single piece of your outfits and hiking or camping gear, and shop till you drop.
Jokes aside, ask any experienced hiker, and they'll tell you the same - being prepared for a hike is crucial.
Things like finding the right jacket with large pockets, the most suitable hiking and camping gear for where you're planning to hike, and prioritizing safety, comfort, and durability over style are essential.
A lot of thought goes into keeping your body heat at an optimal level during a hike. So, it's vital to think about every little detail - down to things like pockets - because they can make or break your hike.
---
---