Hiking Gifts For Her - How To Surprise Her With The Best Gifts For The Trail
Buying gifts for our partners, siblings, or friends can often be a stressful ordeal. Even though we know them well, it somehow always seems as though there isn't a perfect gift out there for them.
Would a piece of clothing do the job? Or maybe an accessory like a necklace or a bag? Perhaps a book? Something generic, like a gift card?
All of these are okay - and can totally work if it's something that you know your favorite lady wants in particular. But, buying generic gifts just for the sake of it isn't really what we would recommend.
Our advice here is to buy something that has to do with a hobby or a passion of theirs.
And if your loved one is an avid hiker and enjoys spending time outdoors, we might be able to help you make the right choice.
So, today, we are going to let you in on some of the best hiking gifts for her that are bound to put the biggest smile on any woman in your life that's a fan of hiking. We'll also give you some general info about the most useful and sought-after items in the hiking community so that you can combine the two into the perfect gift.
Furthermore, we'll briefly go over some handy tips on how to choose a perfect gift for any lady in your life - and make your gift shopping hassle-free and fool-proof.
Without further ado, let's jump right into it!
Gift Giving Tips: Find The Perfect Gift For Outdoorsy Women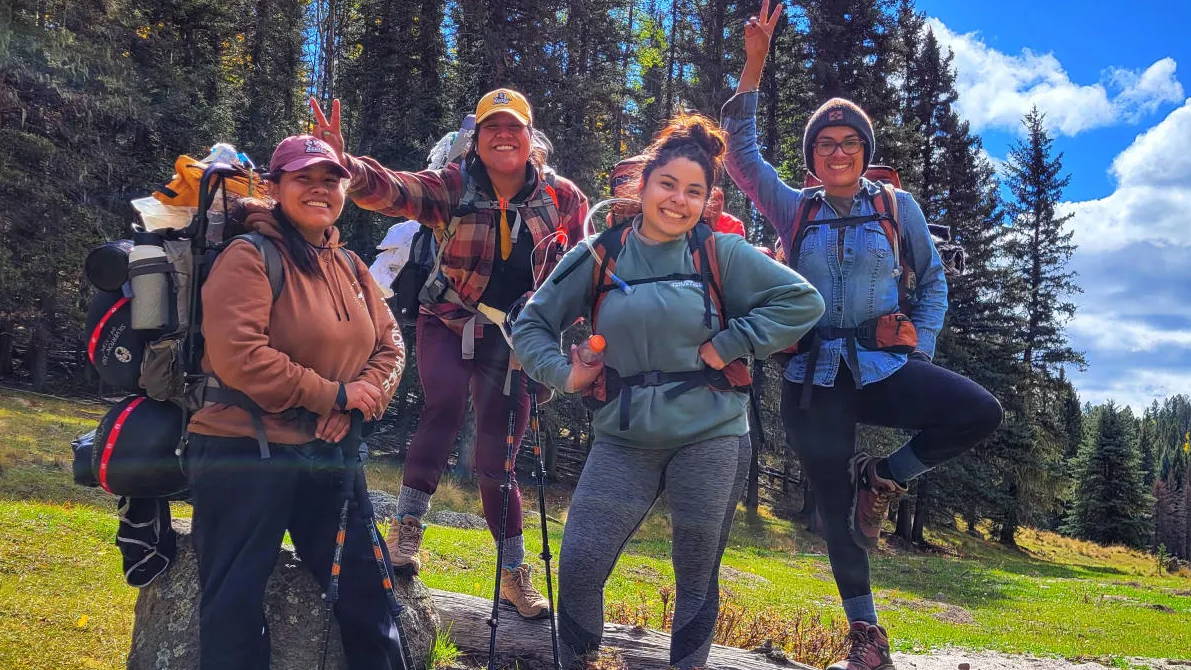 It may sound like a cliche, but women - and, well, people in general - like to know that you are paying attention. They want to feel seen and heard.
There are many ways to show that you care:
Ask them about something they had previously talked about, help them out with a task, or get them something that they had wanted for a really long time.
When it comes to the last option, it typically applies to birthdays or holidays, but you can also surprise them with a small, meaningful hiking gift without any specific occasion.
Whatever your reason for buying the best gifts for hikers may be, we are going to make it a bit easier for you - and ensure that you pick the most exciting gift that is bound to make your girl as happy as she can be.
And with that said, here's how to choose the best gifts for hikers!
Pay Attention To What She's Saying
This tip can be applied to any gender, not just women. Everyone likes to know that their loved ones are listening - and actually making an effort.
For instance, if your girl has already expressed an interest in a particular item - or mentioned that she needs something for a hobby of hers - the recipe for making her happy is simple:
Surprise her with just the thing that she talked about.
Of course, that doesn't mean that you should splurge on expensive stuff all the time. However, small acts of kindness will never go unnoticed, especially if they show that you're present and listening.
Get Interested
If you're still struggling to figure out what it is that you should get her, maybe it's time to pay closer attention to what she tells you in casual conversations.
If she's not the type to make it easy for you by dropping hints, you can try and get her to say it by asking questions.
If you know that she's taken up painting, dancing, or hiking as a hobby, sit down with her and inquire about what it is that she likes about it, what she finds most challenging - and what she feels could make her more successful at it.
Of course, don't be too obvious; you don't want her to get suspicious.
Your questions should always come from a place of general interest rather than feel forced. It's about more than just choosing a unique gift for this outdoor woman.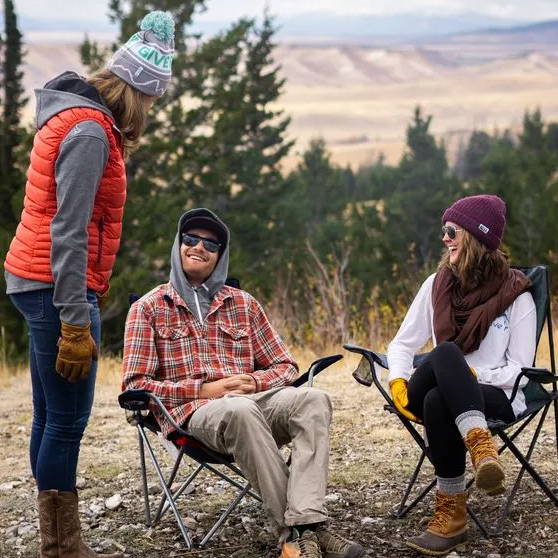 Talk To Her Friends
If your efforts to find out what your girl wants still go awry, consider talking to her girlfriends - and find out if she's shared some useful info with them.
Some see this as taking the easy road. But if you are really struggling in spite of trying to do it on your own, it's better to ask for help and get the right gift than to get something just for the sake of it.
Friends sometimes talk about things they want much more often and much more openly than they do with partners. Plus, girls tend to be a lot more perceptive - and more likely to catch an important piece of information, even when it's wrapped up in casual conversations.
In short, when in doubt, know that you'll likely get the much-needed insight from her friends.
Don't Focus Too Much On The Price
Most women don't care about the price tag of a gift; the thought behind it is what counts.
Sure, you could just splurge on something expensive and call it a day, but she will remember a thoughtful gift forever.
So, don't worry if a gift is on the more affordable side.
If you know that it's something she wants or needs, that's all that matters.
Gifts Aren't Only For Birthdays And Holidays
Some people's love language is gift-giving; it's that simple.
Now, some may assume that these people are shallow and materialistic - but that is a common misconception. The accent isn't even on the material goods - but rather on the fact that an act of affection is expressed through that gift.
So, if your significant other, friends, or family members love receiving gifts, don't just wait for those special once-a-year occasions to surprise them.
Make an effort to give them small, meaningful gifts more often; don't wait for a special reason. Do it because you simply care for her.
Best Hiking Gifts For Her: The Ultimate Gift Guide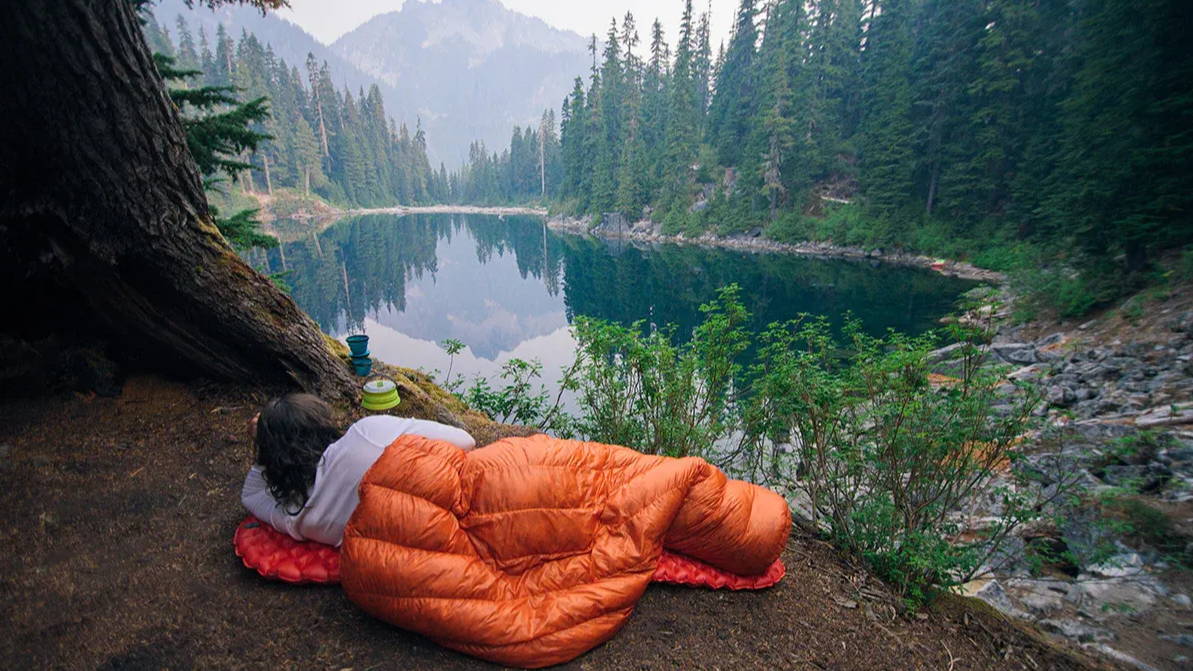 Now that you know the basics of picking meaningful gifts that make your special ladies happy, we can hone in on the main topic of this article - hiking gifts for her.
If your girl is a hiking fan and loves camping trips and the great outdoors, you simply can't go wrong by getting her something hiking-related.
Gift guides are filled with endless lists of items that hikers want - and your chances of getting it right and choosing an excellent gift are pretty high.
Sleeping Bag
If your girl falls into the category of long-distance hikers - or that's something she would like to dabble into in the near future - one of the best hiking gift ideas we would recommend here is a sleeping bag.
Since long-distance hiking trips usually take more than one day - and could even last several months, as is the case with the Appalachian Trail - a quality sleeping bag is essential.
However, we have to warn you that this may not be the best choice if you're on a budget. High-quality sleeping bags tend to be higher in price. Then again, getting a low-quality one won't do her much good.
So, it's always better to opt for a more affordable but good-quality gift. But if you're willing to spend a bit more, this is a great gift option:
Sleeping bags won't only serve her well if she's into long-distance hikes. They'll come in handy for camping trips and multi-day hikes, too - and even backpacking trips.
A Fun Hiking Trip
If your girl's been wanting to hike a specific trail for some time, one of the greatest gifts would definitely be organizing that trip - and taking it with her.
No, you don't have to accompany her if you aren't hiking savvy - but it would be a nice addition.
That said, when planning a trip, make sure that the trail is appropriate for her - and those who will be joining her. If she is a beginner, choosing a trail like the Appalachian Trail or the Pacific Crest Trail may be counterproductive; these trails aren't really beginner-friendly.
Another great option is a car camping trip:
It can be an alternative to the "traditional" backpacking trips - and just as great of an outdoor adventure.
REI Gift Card
If you can't choose from the wide variety of the best hiking gifts, you can always give her the option to make a choice for herself.
How?
By giving her a gift card!
REI features a bunch of hiking items on their website - but they also allow you to purchase a gift card, which you can then gift to your special lady.
That way, you'll show her that you want to gift her something related to an activity that she enjoys but also give her the opportunity to choose what she thinks will be of most use to her.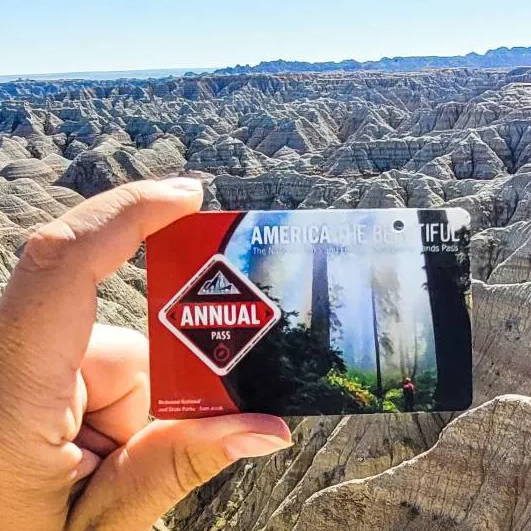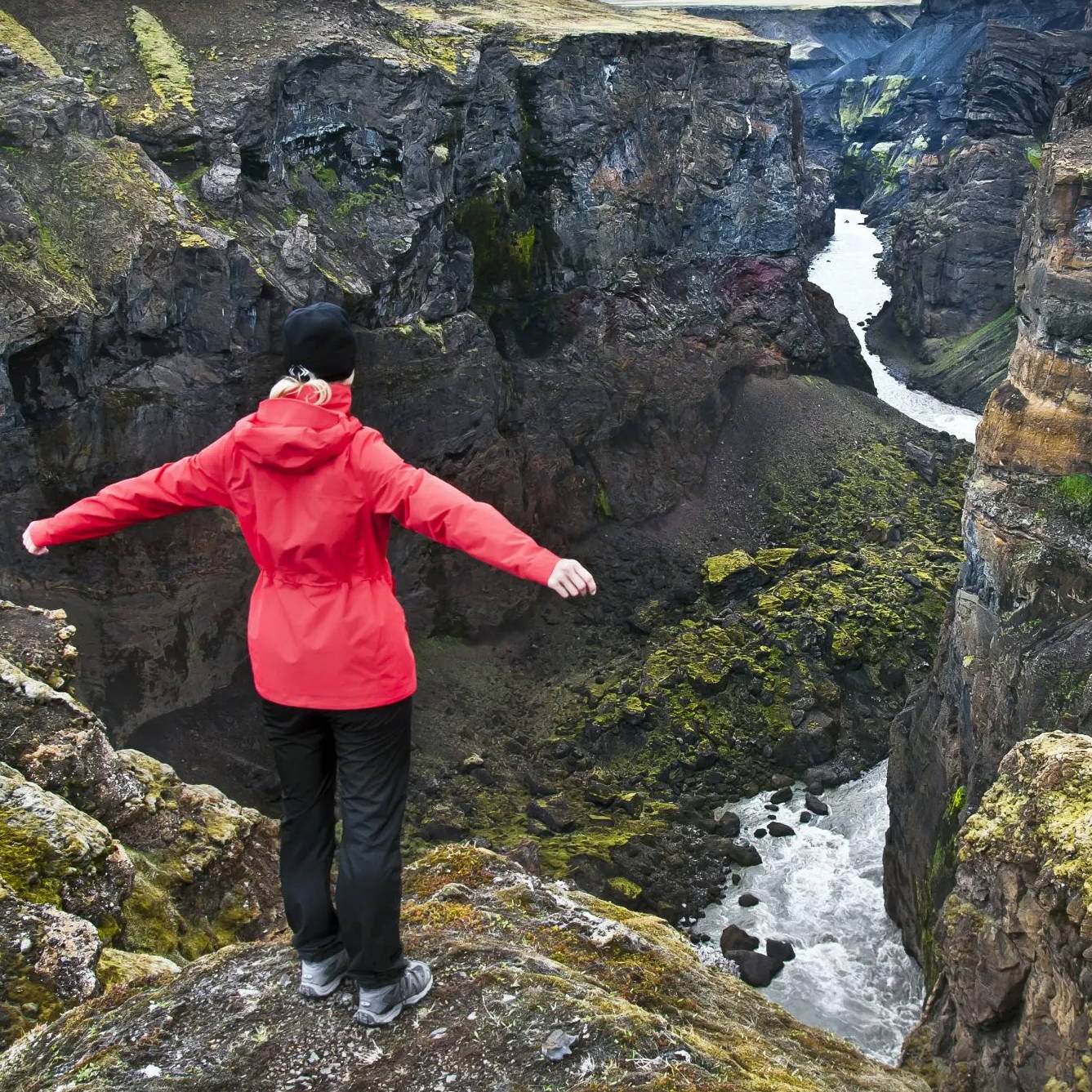 National Park Pass
Your girl wants to explore new trails, more national parks, and have more outdoor adventures - but she's not really sure where to start or how to do it.
That's where you step in:
By getting her a national park pass, you can ensure that she has access to not only different trails but also other fun and thrilling activities.
On the website of the National Park Service, you'll find different versions of the national park passes for different categories of citizens, so everyone's bound to get a good deal.
The annual pass is $80, which we consider a bargain since you get access to over 2,000 federal recreation sites.
That means that you're not only limited to a single national park. You get to discover different sites and trails together - and find ones that you like the best.
All in all, this gift is perfect for any hiking enthusiast - whether she is an experienced hiker or just starting out.
Rain Jacket
If you were leaning more towards practical gifts for hikers - hiking clothes, for example - know that a good jacket is always welcome.
These aren't the cheapest of gifts - be prepared for that - but they still cost less than sleeping bags. So, if your budget is somewhere in the middle, hiking jackets might be the right choice.
There are many reasons why jackets are useful:
They can be used in the cold weather - but also in warmer, more humid environments with lots of rain.
You could also opt for a perfect down jacket if you live in a colder climate since they are more layered and focused on providing warmth, as opposed to rain jackets, which are more focused on keeping the water out.
If you're willing to splurge a bit more, you with the Nano Puff Jacket:
It's wind-proof, waterproof, and warm, and made with innovative, highly effective technology - which ensures that it's durable and protective.
You can hardly go wrong with this versatile gift. Just get the style and color right - and you're all good!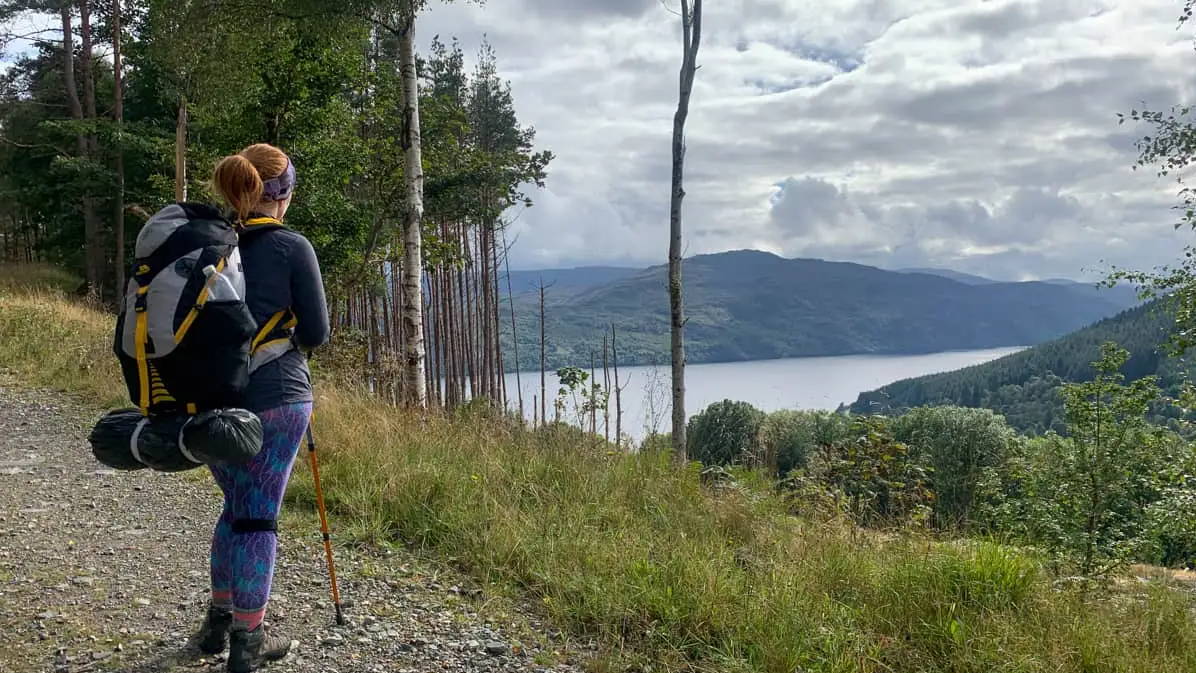 A hiking backpack is an essential part of any hiker's hiking gear - whether they are a beginner or a pro. So, if your lady doesn't have a proper hiking backpack, you can always buy her one to make all of her backpacking trips much easier.
Backpacks are perfect since they're both cute and practical gifts - which makes them ideal for any fashionable hiking enthusiast.
There are many different styles, sizes, and types of backpacks designed to fit anyone's hiking preferences. So, just make sure that you know what hers are - and buy one accordingly.
Here's a friendly reminder:
There are specific backpacks ergonomically made for women to ensure the ultimate comfort.
If you opt for this, your gift is bound to be a hit - and it will surely become an intrinsic part of every hiking trip she takes in the future.
Hiking Poles
If your girl has all of the basics of hiking and outdoor gear covered, you can elevate her hiking experience by getting her a pair of hiking poles.
No, they aren't essential per se - but they sure help when conquering a more challenging trail. And if she's struggling with upping her tempo or maintaining her shape, hiking poles can help with that, too.
First Aid Kit
A first aid kit should be a staple part of any hiker's hiking gear. Staying safe on the trail has to be a top priority for anyone, and having the right supplies to help if anything should go awry is a huge part of that.
There are pre-made kits available for purchase, but you can also build one for her so that it will cater to her personal health conditions.
It can be a fun thing to do - and a cute way to personalize a gift that will double as a safety kit.
Of course, don't fall for the "cute" part at the expense of safety:
Remember that the main purpose of a first aid kit is to provide all the necessary supplies in case an injury occurs on the trail.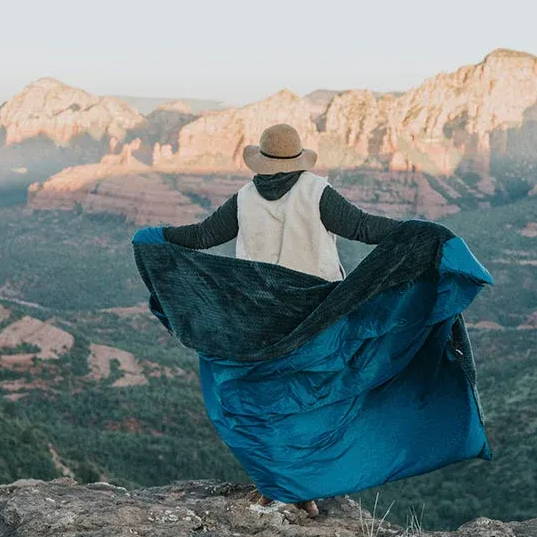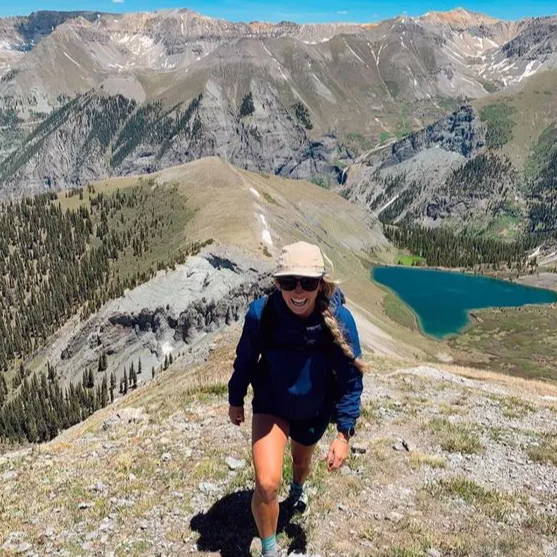 If your girl likes camping or longer, multi-day hikes, then this is the gift for her.
A high-quality camping blanket will keep her safe, protected, and warm - even in the worst of weather conditions.
Here's our advice:
The perfect camping blanket should provide a blend of cotton insulation that keeps you warm and comfy, coupled with a nylon shell to serve as a protective layer.
A soft and durable - and highly portable - blanket designed for all your outdoor adventures.
Sun Protection
Sun protection comes in many different forms - SPF, hats, sunglasses, and UPF clothing, to name a few. You can opt for a combination of these or get one that you think will serve her the best on her solo hike.
Sunscreen
The basic form of sun protection is sunscreen - we've all heard of these creams, but many get a bad rep.
In the past, the sunscreen-making technology wasn't as advanced - meaning the texture and the look often wasn't as pleasant. Things are looking a lot different these days, though. There are so many formulas that boast a weightless feel, don't leave a white cast, and are both sweat and waterproof.
Hats
While people tend to associate hats with accessories, their purpose is to provide protection from the sun to your face, neck, and chest.
Hats can be a great gift for a fashionable outdoorsy woman - but don't forget that they should be practical, above all.
You're not buying a glamourous beach hat, but one that will protect her on the trail - without distracting her in the process.
Sunglasses
Girls - and boys - don't only need protection for their skin but for their eyes, too. UV rays are harmful - so please don't forget to protect her eyes.
On that note, sunglasses are a great option. Buying her sunglasses won't only be useful to her on the trail but also off it - if you make the right stylistic choices, that is.
UPF Clothing
If your girl has fair or sensitive skin, she may need more protection than the average person - which is where UPF clothing comes in:
In essence, this is clothing that protects you from harmful UV rays.
UPF clothing is also a good choice for any girl who just isn't a fan of the feel of SPF lotions on the skin.
Another advantage of these clothes is the fact that they are durable and last long. So, once you invest in them, they'll last much longer than any SPF cream.
Plus, these clothes also give you a chance to show how attentive you are when it comes to her style!
Fanny Pack
Sometimes, backpacks can be too overwhelming - especially on shorter day hikes. Also, there are certain items that you want to have on hand while hiking, and having a separate space for them can be very practical.
Fanny packs are great gifts for women - and here's why:
They leave your hands free while still giving you the extra space and quick access to essential items on the trail - which is something that every woman wants.
Stocking Stuffers
You've probably heard about stocking stuffers - smaller gifts (additional gifts, if you will) that are usually paired with the "main," bigger ones.
A perfect gift for a hiker doesn't have to be a big or expensive one. Even smaller ones that have significance - or that will be useful in the future - will suffice.
So, here are some of our ideas for the best "stocking stuffers" and smaller gift ideas.
Reusable Hand Warmers
These little packets can be lifesavers in colder environments.
Any avid hiker who hikes in such conditions understands how wonderful it is to have a pair of gloves, coupled with hand warmers, in cold weather - on winter hikes, for example.
The fact that they're reusable is a welcome addition:
They're good for you - and for the environment.
Joshua Tree Lip Balm
Joshua Tree is a brand that's known for creating skincare products tailored to those who lead a more outdoorsy lifestyle. Case in point:
Their lip balms have the reputation of being some of the best - and have shown great results in more extreme weather conditions.
If you feel like your gift is missing some "oompf," adding this little (but powerful) lip balm will undoubtedly do the trick. Ask any female hikers - and we're sure they'll recommend the Joshua Tree lip balm!
MERINO Wool Socks
Remember the dread of unwrapping a Christmas present when you were a kid and finding a pair of socks hiding in there?
Well, people grow up - and, naturally, things change.
Avid hikers know the importance of good socks on all - especially long - hikes. In combination with a good pair of hiking boots, socks can make all the difference.
So, socks now fall into the category of the best gift ideas. Who would've thought, huh?
Choose high-quality merino wool socks, and your hiking-loving girl will be more than grateful - we guarantee that!
Outdoor Gear & Hiking Gifts For Her: Conclusion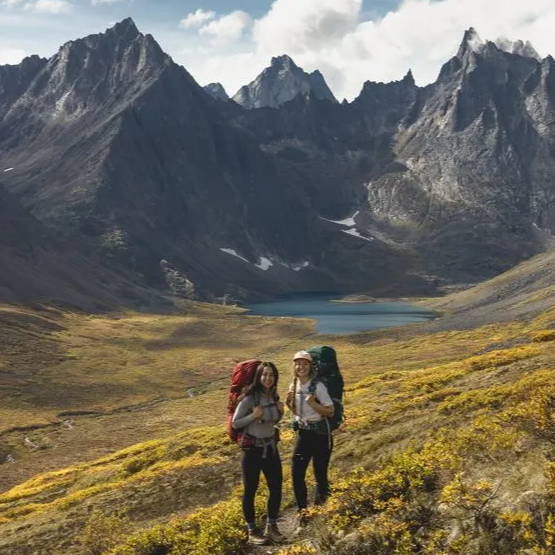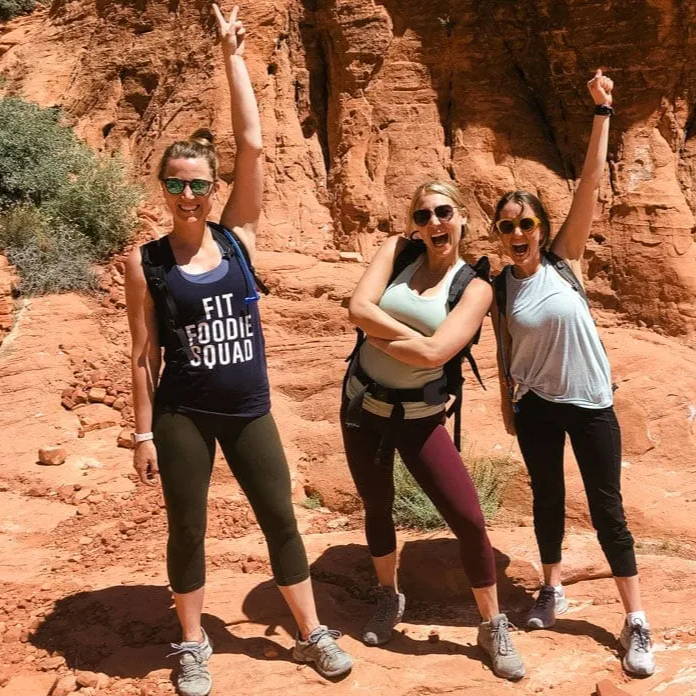 We get it; you're on the hunt for some of the best gifts for women - and we tried to give you some of the best gift ideas to help you make that decision.
We also shared some tips on choosing the right gifts for all those women in your life, no matter their hobbies and interests. And we hope you'll remember them the next time you're trying to figure out what to get for outdoorsy women.
When it comes to the best hiking gifts for her, you can go down many different routes.
For instance, you could opt for a piece of clothing to help keep your favorite hiker warm in her encounters with the great outdoors. Or you can choose a piece of hiking gear that would make her next outdoor adventure more practical and comfortable. Be prepared for the higher prices, though.
That said, a nice gift for your hiker friend doesn't necessarily have to be pricey. There are tons of smaller gifts for women that are worth considering, too.
Whatever you choose, you are guaranteed to elicit a great reaction with an exciting gift from this list. Be sure to personalize it, though:
There's no better gift than that of love, attention, and affection.
Well, there you have it - a list of the best hiking gift ideas for her. We hope they were useful - and that you now have a better idea of what to get for your special lady.
Let us know how it goes!
---