Hiking Gifts For Him - A Complete Gift Guide
We can all probably agree that it's much more difficult to come up with and get men presents than it is to get them for the ladies.
We have yet to come up with an answer as to why that is, but we have a few guesses:
Women are often much more vocal about what they want in terms of gifts, they express what they're passionate about more openly, and they'll often drop little hints as to what you should get them.
On the flip side, men don't seem to do these things - well, at least not so openly.
So, how do we know what to get them?
Well, if you and your significant other, friend, son, or brother - or anyone else, for that matter - share a love of hiking, you've got it easy!
You have this amazing, healthy outdoor activity in common, and you get to share these special hiking moments with one another. So, when it is time to choose a gift, it's to be expected that you would reach for something hiking-related.
We would agree:
There are plenty of hiking gifts for him that can put a smile on a hiker's face - and make him want to organize the next hiking trip as soon as possible.
How do you decide what exactly to get him?
As you know, there is a bunch of hiking equipment and hiking gear out there, and it's easy to get overwhelmed by it all.
Worry not - we're coming to the rescue!
This gift guide will be all about sharing some of our favorite hiking gift ideas with you, as well as some of our universal tips for buying the special men in your life the best gifts.
Let's jump right into it!
Gifts For Hikers: Tips For Giving The Perfect Gift On Any Occasion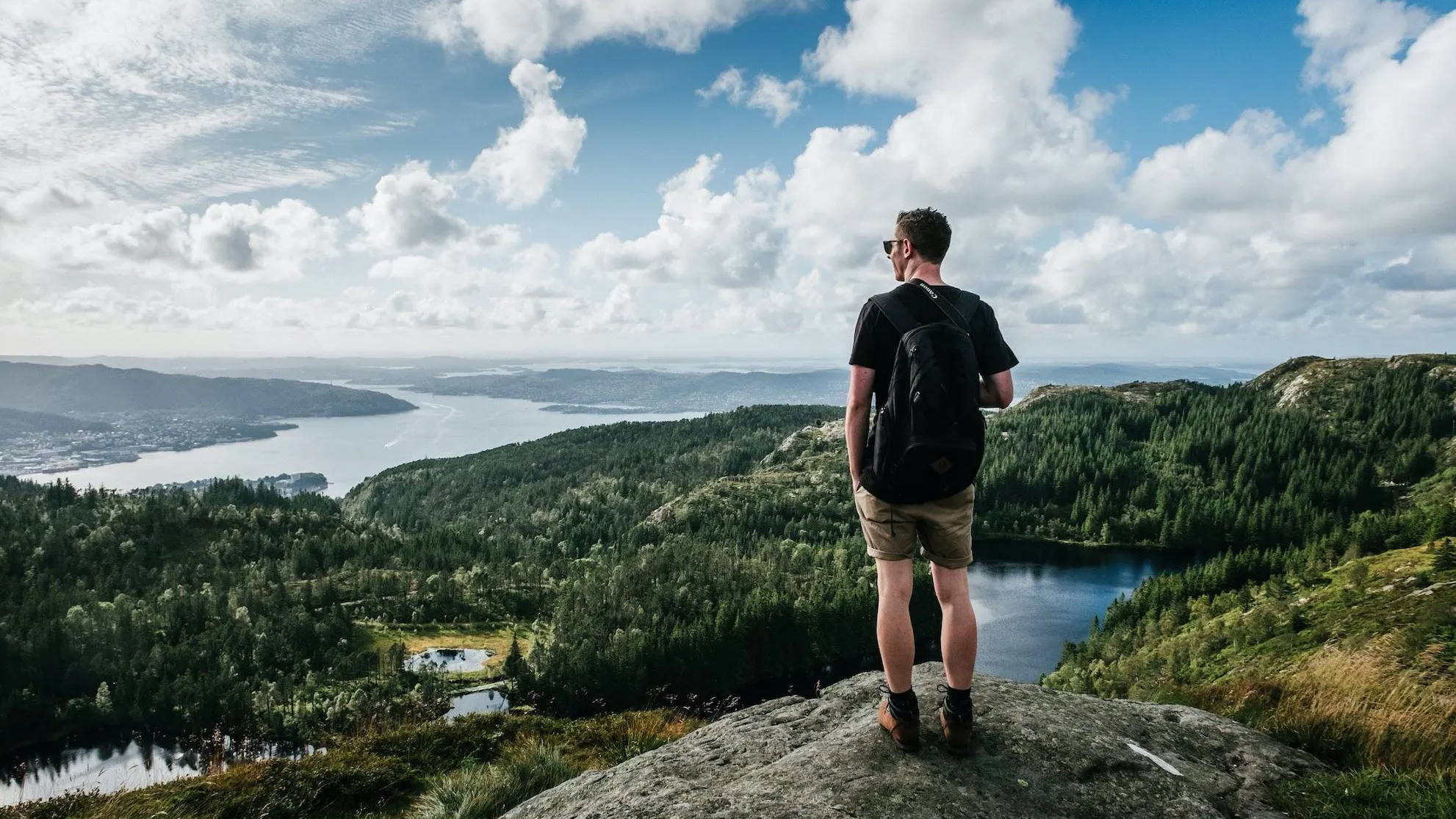 Before we get into specific ideas and suggest the best gifts for hikers, we want to ensure that you can do this on your own next time. You know what they say:
Give a man a fish - and you'll feed him for a day. Teach a man to fish - and you'll feed him for a lifetime.
On that note, here are our favorite tips to make your next gift-giving adventure successful, fun - and fool-proof.
Opt For Meaningful Gifts
We all love receiving gifts. It's a great token of affection and care, and it never fails to make us feel special and loved.
But sometimes, even the gifts given to us by those who love us deeply, such as family members and partners, can seem a bit... well, out of place. Some gifts - no matter their price point - tend to seem "shallow" and "meaningless."
To prevent that, you must always put some thought into the gift that you'll give to the person you love.
It's always good to put a personal touch into the gift. It will signal to the one on the receiving end that you didn't just walk into a random store and pick up the first thing you saw, but that you actually put time - and effort - into coming up with a meaningful gift.
That'll make your favorite hiker feel more special than receiving even the most expensive and luxurious of gifts.
What Does He Enjoy?
If you want to be successful at gift-giving, you need to find out what the person you're gifting likes - and what they're passionate about. Yes, it's that simple - and yet, it's not.
As we've said before, with men, that task is a bit more difficult - but it doesn't mean that you shouldn't bother doing it. If anything, it means you'll have to put more effort into it.
The good news is:
Men are generally simple creatures - they often have one or two important hobbies, and they stick to them almost religiously. You can use that to your advantage.
Your job is simple:
Find out what those hobbies are - and pick the best gift accordingly. That way, they will feel like you pay attention and care about their interests, and they'll get a great gift that they can hopefully use a lot in the future.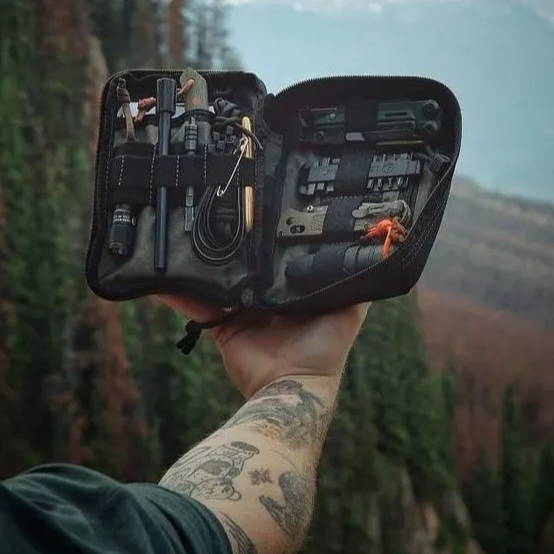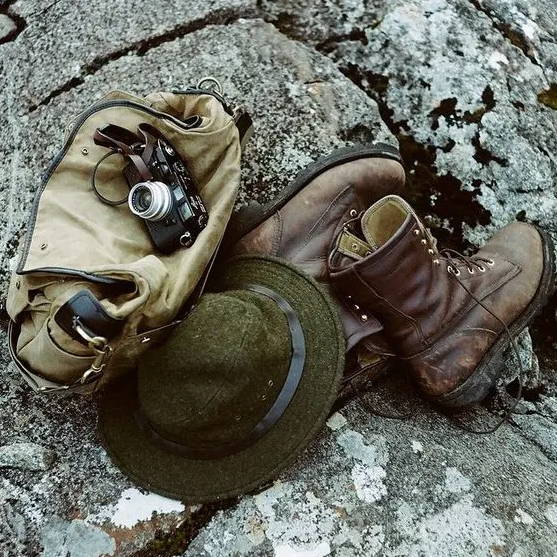 Quality Over Quantity
If you've caught yourself wondering if your gift is "enough," always go by this rule:
Instead of getting him a bunch of gifts that won't last very long (unless they're meaningful, of course), get him one or two gifts of better quality that he can use for years to come.
And no, that doesn't mean that you must go all out and splurge to get something good. There are plenty of high-quality gifts for hikers that won't break the bank - so don't worry about it.
Expensive Doesn't Always Mean Good
This one ties in with what we've talked about previously:
If you just walk into a jewelry store and get the most expensive piece without putting any real meaning or thought behind it, the person receiving the gift will know. Just trust us on that.
And let us tell you:
They may feel happy that they got such a great gift, but they might also feel like you just went the easy route and decided to go with the money instead of the meaning.
For most people, the material worth of gifts isn't at the forefront. What typically matters a lot more is how much thought you actually put into it - and that is not something money can buy.
So, whether it was worth $10 or $1000, it won't matter - as long as it was gifted with love.
Gifts Don't Equal Material Items
It's easy to limit yourself to physical things when deciding what to gift someone, but you don't have to. The truth is:
There are so many other unique gifts that you can give them - and in many other forms, too.
Depending on what they like, you can plan a trip to a different country, visit a nearby city or a national park, take them on a fishing trip - or go to a basketball game they have been dying to see.
You get the idea.
Even though these aren't material gifts, they can be so much more memorable and meaningful - and they'll cherish the memories made more than any item of clothing or a piece of jewelry.
Don't be scared to think "outside of the box" here - and gift your special man a special trip. You know he deserves it.
Hiking Gift Ideas: The Best Gifts For Hikers

Now that you are all caught up with some gift-giving advice, we can get to the core of this gift guide - the best hiking gifts for him.
We'll cover the most popular and the most useful gifts you can give to a man who loves hiking - whether they're an avid hiker or a beginner.
There will be a wide variety of ideas, ranging from larger, more expensive outdoor gear to cute stocking stuffers that are bound to make him smile.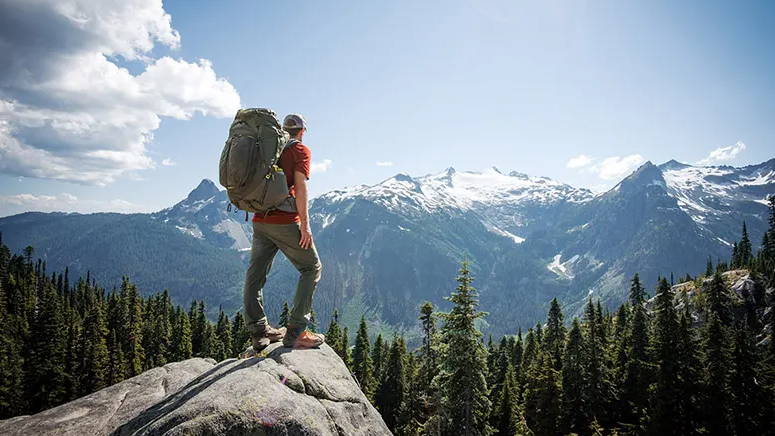 Hiking Boots
If you're willing to spend a bit more on his gift, be sure to look into some high-quality hiking boots.
Hiking boots fall into the category of essential hiking gear, meaning you can't go wrong with a good pair. These boots will be his best friend on the hiking trail for years to come.
We have to warn you and point out that boots are highly individual and have to fit correctly in order to be comfortable and useable.
That's why buying them for someone else can be a bit tricky. He won't be able to try the shoes on before you purchase them.
But there's a solution for that, too.
Most stores allow you to return shoes - as long as they weren't worn outside. So, even if he realizes that they don't fit or are uncomfortable, once he tries them on, you might be able to return them.
On a related note, be sure to save the receipt; they won't allow returns without it.
Hiking Backpack
One of the best hiking gifts you can get a hiker is a good, sturdy hiking backpack. The reason they are such a great gift is that they're absolutely essential for carrying their gear.
You can have the best hiking equipment, but if you don't have anything to pack it in, you may as well leave it at home.
We want to remind you that not every backpack will do the trick.
Sure, for day hikers that don't often embark on long, treacherous trekking expeditions in the great outdoors, they can be useful. However, for someone who likes longer, more challenging hikes that require more equipment, it's an absolute must.
There are several factors you should keep in mind when choosing the perfect gift - in the form of a hiking backpack, that is:
Size

Depending on what his hiking preferences are, you should find him a backpack that will be able to fit all of his necessities. For longer hikes, he will need a large enough backpack to fit the surplus of recreational equipment required for them.

On the other hand, if he's still a beginner hiker, or he simply prefers hiking with minimal equipment, then a smaller, more compact backpack will suffice.

A backpack that's too big can be as counterproductive as one that's too small. So, keep in mind what his hiking needs are size-wise - and shop accordingly.

Comfort

Not only is it important that a backpack is a right size, but that it's comfortable enough to carry on your back through strenuous hikes, too.

As you're likely aware, different brands of backpacks offer different amounts of padding and support. If you aren't sure which would be the right choice, you can always read the reviews of other hikers - and see what they tend to gravitate towards the most.

When talking about comfort, there are a couple of factors you should consider, including the straps, the part of the backpack that goes against his back, and the material.

There are also ergonomic backpacks that are made to fit the body perfectly and cause the least amount of discomfort. However, they are usually higher in price - and if you are on a budget, perhaps it's better to look for the more "basic" ones.

Storage Space

Regardless of the backpack's size, it should feature enough compartments and pockets to make it easy to organize the outdoor gear properly.

On that note, a good backpack should have internal compartments that divide the bigger equipment and pockets for smaller items. Aside from that, there should be one - or more - pockets on the outside, where he'll be able to keep all the essentials handy.

Good organization can save so much time on the trail. He won't have to rummage through it in search of an item that seems to have vanished into thin air.

Material

Last but not least, what the backpack is made of should play a major role in your decision-making process.

It's vital that his hiking backpack is waterproof. That's not just important for the fall or winter hiking season, though. It's a must throughout the year - whenever he comes into contact with water during the hike.

Aside from that, the straps and the section that goes against his back should be made of a sweat-proof material and comfortable enough to prevent chafing and irritation.

Granted, he'll most likely wear some sort of clothing garment to cover those parts of his skin. But what if he takes his shirt off or prefers to hike in a tank top? That's what makes this an important consideration.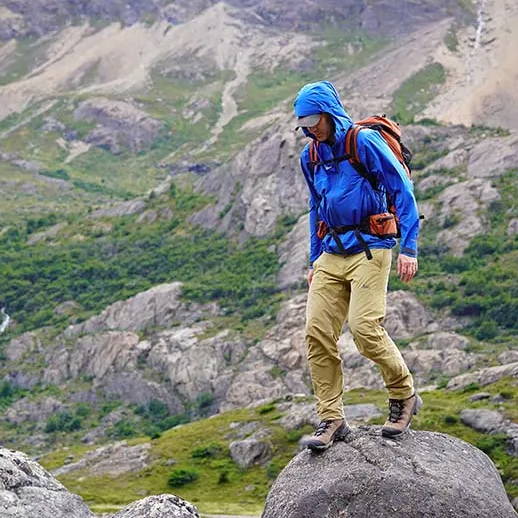 Rain jackets also fall into the "more expensive hiking gifts" category, but that's not to say that they're not well worth the money.
Rain jackets are a wonderful investment since they are versatile and can be used practically all year long - and especially in cold weather.
When we think of jackets, our minds typically drift to the fall and winter months - but that is not the case here. Depending on the climate, a rain jacket can come in handy year-round.
There's nothing worse than when the rain catches you unprepared mid-hike - and you have to complete the rest of it soaking wet.
You can save him the hassle of going through that by getting him the perfect gift in the form of a rain jacket.
Down Jackets
While we're on the topic of jackets, we'd like to give you another idea - down jackets.
Depending on what type of climate your special man lives in and where he prefers to hike, you can also consider getting him a down jacket. The difference is primarily apparent in the water-resistance aspect:
While a rain jacket is waterproof and, as such, good in wet environments, down jackets are the complete opposite. They aren't made to protect you from the rain or snow but rather keep you warm in dry, windy conditions.
The perfect down jacket will be light enough that you don't feel weighed down by it - but still protective enough so as not to let the wind get to you.
Hiking Pants
Sticking to the theme of clothing items, we'll also add hiking pants to the list of the best gifts for hiking you can give him.
It doesn't matter if your man prefers summer or winter hiking; a pair of hiking pants would be useful to him, either way.
Many trails - especially those that are more rural - can get pretty hazardous, and there is often plenty of flora and fauna that could be potentially harmful.
That's part of the reason why a good pair of pants is a must-have when it comes to hiking gear.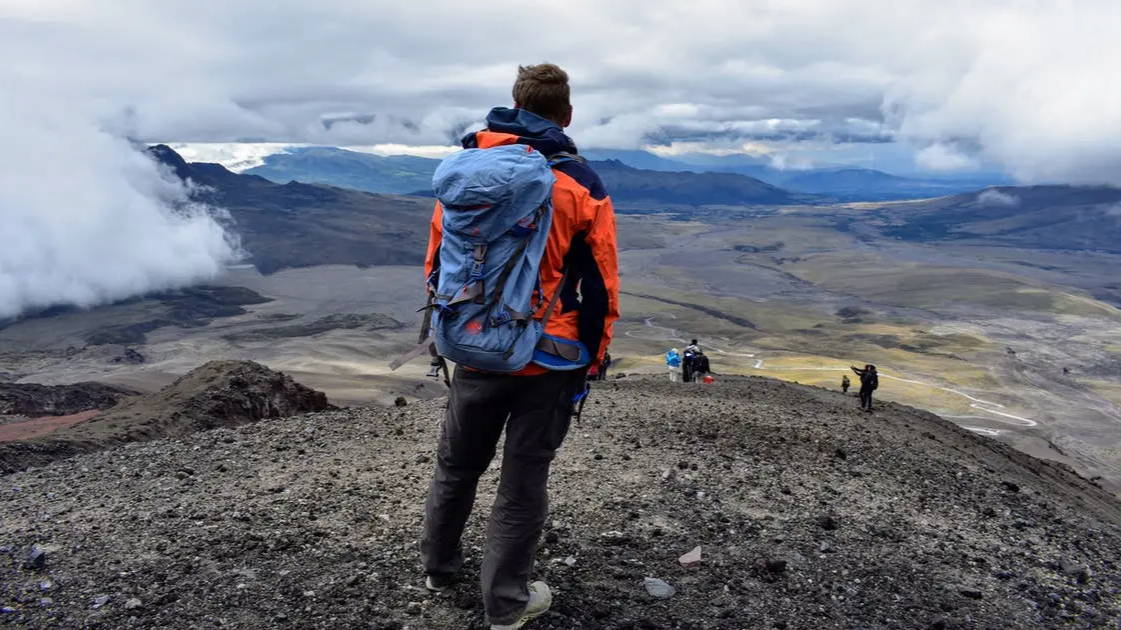 There are several things to take note of when picking pants for hiking:
Material

The material of the pants must be durable, breathable, and tear-proof. If the pants you are looking at lack any of these characteristics, our advice is to keep searching.

The only way your investment will pay off is if he is able to wear them for years to come - and that's not possible with poorly-made pants.

Length

There are many options when it comes to the length of the hiking pants - and that choice is entirely up to you.

Whether you go with shorts, Bermuda shorts, or full-length pants, be sure that it is what he would normally choose himself.

People have their own preferences regarding hiking clothes - and you should strive to cater to and consider those preferences when you're buying hiking gifts.

Pockets

Ask any hiker, and they'll tell you that you can never have enough pockets! That's why we recommend opting for pants that feature at least a few pockets. These will be beyond useful to him on the trail.

He'll be able to have all of his essentials close and accessible - which is a huge advantage.

Oh, and you can get creative here and use the pockets to hide small gifts inside. That way, he'll have more than one surprise waiting for him!

Comfort

Again, we can't forget about comfort. Without it, the other useful features won't matter much - if at all.

On that note, choose the size wisely and keep in mind that some hiking brands may have different sizing options than "regular" retailers.

Obviously, the pants shouldn't be too tight - nor too loose - at the hips or around the legs.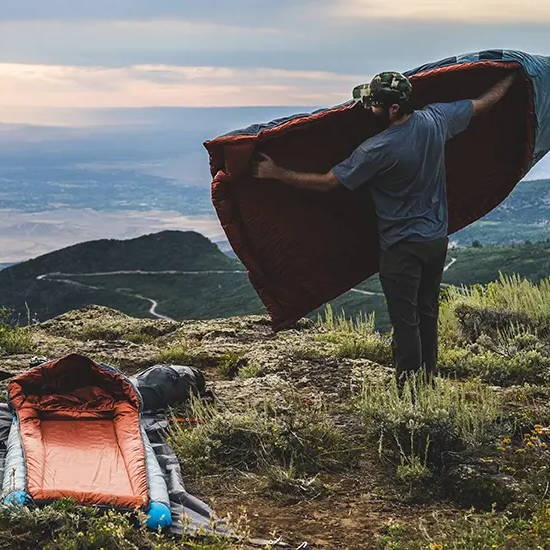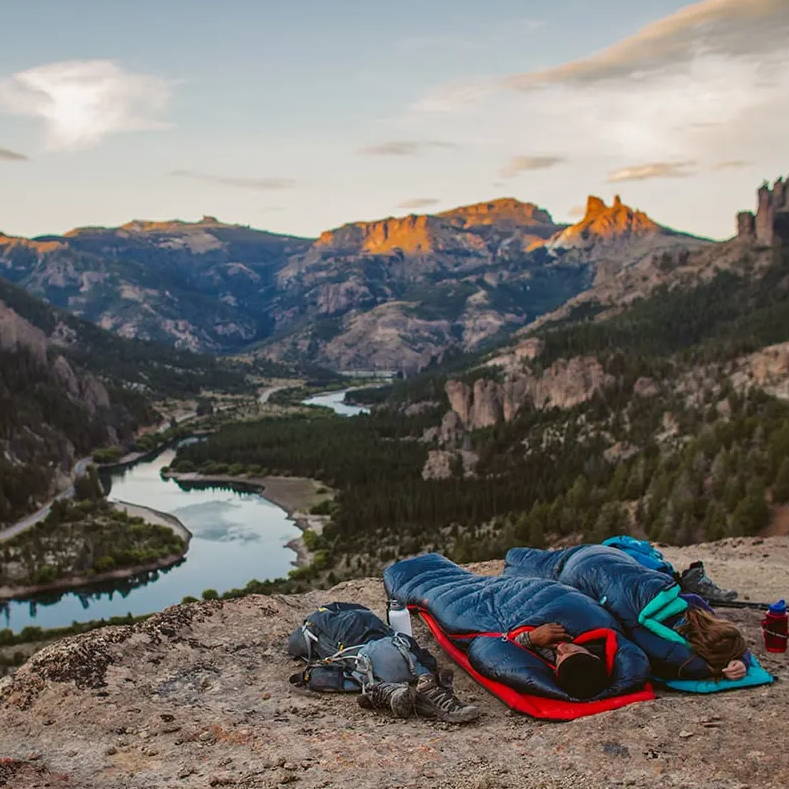 If your man's a fan of backpacking trips, then sleeping bags are an absolute must-have. So, you definitely can't go wrong if you decide to get him one.
Granted, this gift falls into the category of more expensive ones - but this "investment" always pays off in the long run.
Sleeping bags must be of higher quality since their role is multi-faceted:
Sleeping Surface

A sleeping bag should give you some sort of base to sleep on. Since he will be sleeping on the ground and not on a comfy mattress, the sleeping bag will have to play the part of a makeshift bed.

You shouldn't expect anything extraordinary in terms of padding. So, instead, you should place your attention on the sleeping bag's ability to separate you from the ground and its coldness.

Protection

A sleeping bag should provide you with protection from the elements, as well as flora and fauna. That's why they need to be tear-proof, exceptionally durable, and waterproof.

Warmth

Even in freezing cold weather, sleeping bags should provide enough warmth to keep you safe from getting frost bites and experiencing severe body temperature drops.
REI Gift Card
If you're not quite sure what to get for your man, don't know him that well, or just don't want to get it wrong and want to play it safe, gift cards are always an option.
You may think that this is an impersonal and low-effort gift choice - but it doesn't have to be.
The fact that you got him a gift card for hiking equipment means that you know what he likes - but still want to give him the opportunity to make the final choice himself.
If you want to make this gift a bit more "personal," share your ideas with him about the plans you have for your hiking trips in the future. That way, you can assist him in choosing what he wants while tying in your future shared experiences - a win-win!
Since you're already here, we'd like to add that REI might be the best place to purchase the gift card from:
REI is a well-known retailer of outdoor gear. The store carries a bunch of brands of hiking gear and loads of different equipment - ranging from clothes to tents.
You can buy a gift card worth anywhere between $10 and $1,000. Whichever you go with, rest assured that he'll be able to find something he likes on REI's website.
Alternatively, a gift card can be a great stocking stuffer, in addition to non-hiking-related gifts.
What if you're shopping for someone who's already well equipped with all sorts of hiking gear, and you're struggling to find something he doesn't have?
We may have found you the perfect gift: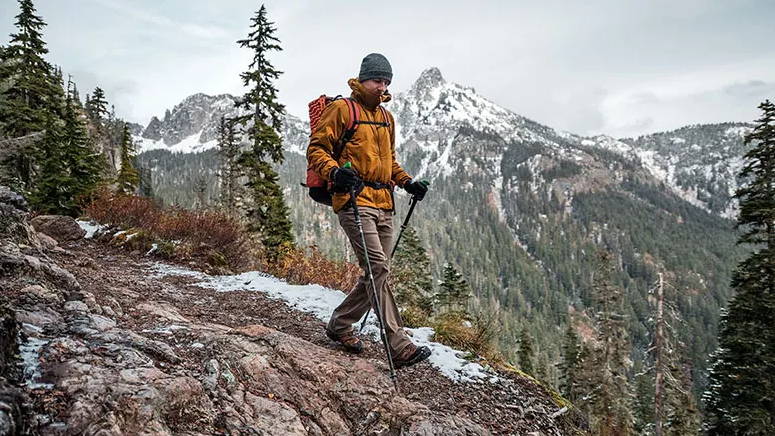 Hiking poles are extremely useful and practical - especially on more challenging hikes, higher inclines, and more hazardous terrains.
If he shared his intention to transition to some more difficult hiking expeditions, you could help him make that plan a reality by getting him these little "helpers."
Many people believe that they don't need trekking poles - but trust us, he'll be thankful. Once you've discovered the wonders of hiking poles, you'll never want to go back.
Just be wary of the fact that hiking poles can't be purchased "generically," though. They should fit the person perfectly to do their job - otherwise, there's no point.
National Parks Pass
Some people may get stuck in their ways - at times, quite literally. It's easy to always hike on the same trails - usually the ones that are the most convenient, familiar, and closest to home.
But why not get outside of our comfort zone a bit?
A great way to encourage a hiker to do that is to get him a national parks pass.
What does he get with this? Simply put - he gets plenty.
Allow us to elaborate:
With that pass, he would get access to all national parks across the country for a year - at the cost of $80. In other words, he gets to explore a bunch of hiking trails in any national park his heart desires.
Now, that's what we call a bargain!
There are other variations of the pass that the National Park Service offers for military, kids, and senior citizens, by the way. So, if the man you're buying the gift for falls into either of the two adult categories, you can get an even better deal.
And if he decides to return the favor for your birthday, you can enjoy the wonders that these national parks have to offer together. Perfect, right?
First Aid Kit
It might not be conventional - but it sure is one of the best gifts you can get for any outdoor enthusiast.
We all want our loved ones to stay safe on their outdoor adventures. Getting them something that will essentially help keep them safe is undoubtedly a plus.
Now, there's a risk of them feeling a bit underwhelmed by such a simple gift - but don't worry, we know a way to prevent that:
There are many pre-made kits you can buy. But you can also build a first aid kit specifically for him and cater to his medical needs and preferences - which is a great indicator of the care and affection that went into it.
Pocket Blanket
Wait, a Pocket Blanket? That doesn't even sound like a real thing - but it is. And it can be the perfect gift for hikers, male or female.
We've come up with a way to make a blanket that is compact, practical, waterproof - and able to keep you warm in different weather conditions.
It's bound to protect your man from the elements and prevent any unpleasant surprises, such as rain and strong winds. Plus, it's much smaller than a regular blanket - which means that it requires less space in the backpack, which is something we, as hikers, always appreciate.
Besides, it's not a "conventional" gift, so he definitely won't be expecting it - and he'll surely be thrilled that you thought of it!
Puncture-proof, waterproof, and compact, with an elastic carry bag, this Pocket Blanket is the perfect companion for all outdoor adventures.
Stocking Stuffers & Small Gifts For Hikers

Maybe you've already decided what to get him, and it has nothing to do with hiking - but you still want to include a small gift that's tied to this adventurous hobby.
That's where a great stocking stuffer comes into play.
And again, you have more than a few fantastic options here - which makes it easier to choose the perfect gift.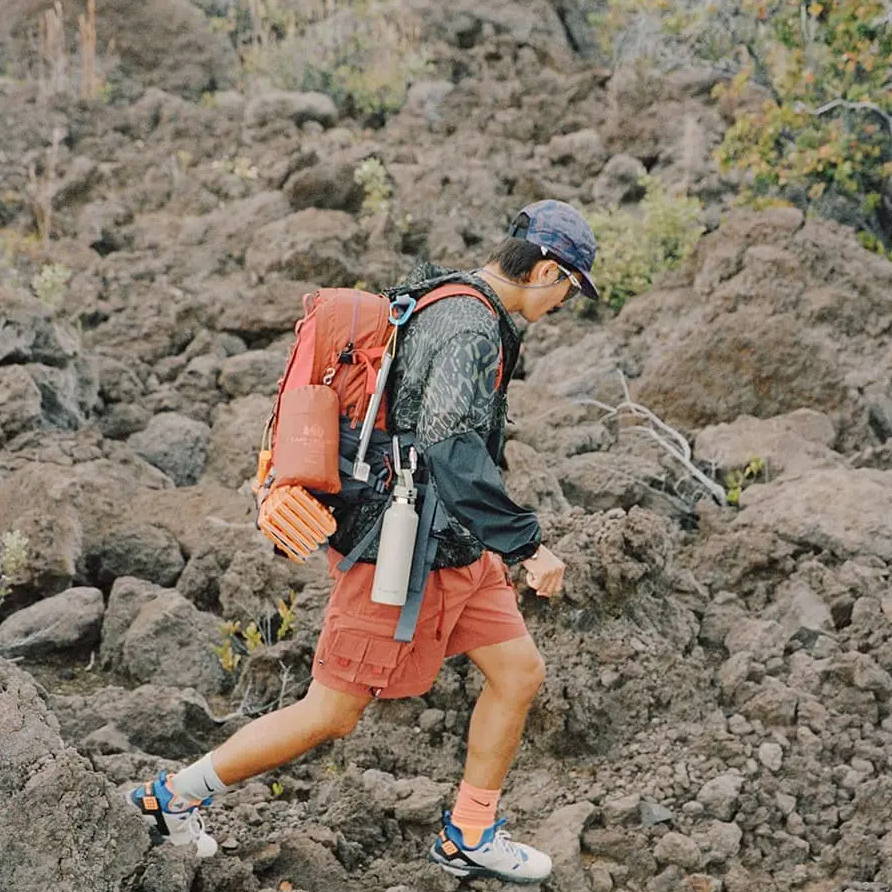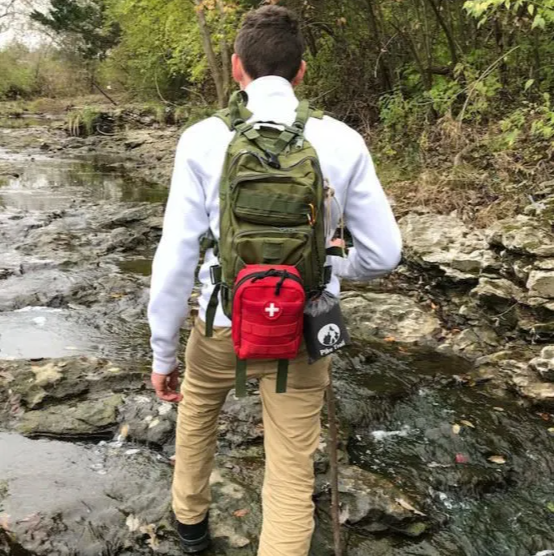 Wool Socks
You might've not been thrilled to get socks as a gift when you were a kid - but, as we all know, as we grow up, our preferences, tastes, and expectations change.
Perhaps the most surprising change of all is the fact that many of us love getting socks as gifts now!
So, if your man falls into this category - or you just know he's had the same pair for years now - getting him a quality pair of hiking wool socks as a stocking stuffer might just be a hit.
Merino wool should be your go-to choice here because it boasts moisture-wicking abilities, it's comfortable, and it is quite durable. This gift is basically fool-proof.
And unlike some of the other gifts we've discussed, socks are pretty easy to choose size-wise - so there's virtually no risk of getting it wrong.
Besides, wool socks can easily double as a fun gift. There are plenty of brands that make hiking socks with funny, interesting patterns.
And who doesn't love wacky socks, right?
Fanny Pack
A fanny pack might not be seen as a "traditional" stocking stuffer - but it sure can become one.
Practicality is critical when it comes to hiking; most outdoor enthusiasts will agree with us on that.
And, well, a fanny pack will certainly help in that department:
If you get your man one, it will allow him to have his essentials on hand during his hike while unloading some of the weight off of his back. And on a long hike, that's a life-saver.
Trail running is another example of outdoor activity that calls for lightweight equipment - but sufficient storage for the necessities. And, as you might have guessed, this balance can also be accomplished with the help of a fanny pack.
Power Bank
A power bank is one of the best gifts for hikers. And yes, that's true for male and female hikers alike.
If you are planning a long hike, multi-day hikes, or a car camping trip, you will need a way to charge your phone. It can be very unnerving to be left with a dead battery mid-trail in a large national park with seemingly no one around.
Sounds like the worst-case scenario, huh?
Well, to prevent that from happening - whether we're talking about a family member or your significant other - you can get him a portable phone battery charger.
Another reason why this gift is so great is that he can use it both on and off-trail, which makes it that much more universal.
Water Bottle
We should all do our part in protecting the planet - and that usually starts with some smaller, everyday things.
Plastic water bottles are widely used - and they play a huge role in pollution and plastic waste. So, to encourage sustainability - and ensure that your man has enough water on the trail - you should consider getting him a water bottle.
Oh, and you can always throw a bottle opener into the mix, too!
Hydration Pack
This idea ties in with the previous one - but it's a bit different.
A hydration pack is a more nuanced version that has slowly but surely made its way into avid hikers' equipment. But if you haven't used one before, here's a quick summary:
It's sort of built into the backpack and features a straw-like addition that you can use to drink water without actually grabbing the bottle at all.
And if you're looking for something that will add a "fancy" touch to his hiking equipment, this may be the thing.
Best Hiking Gift For Men: Conclusion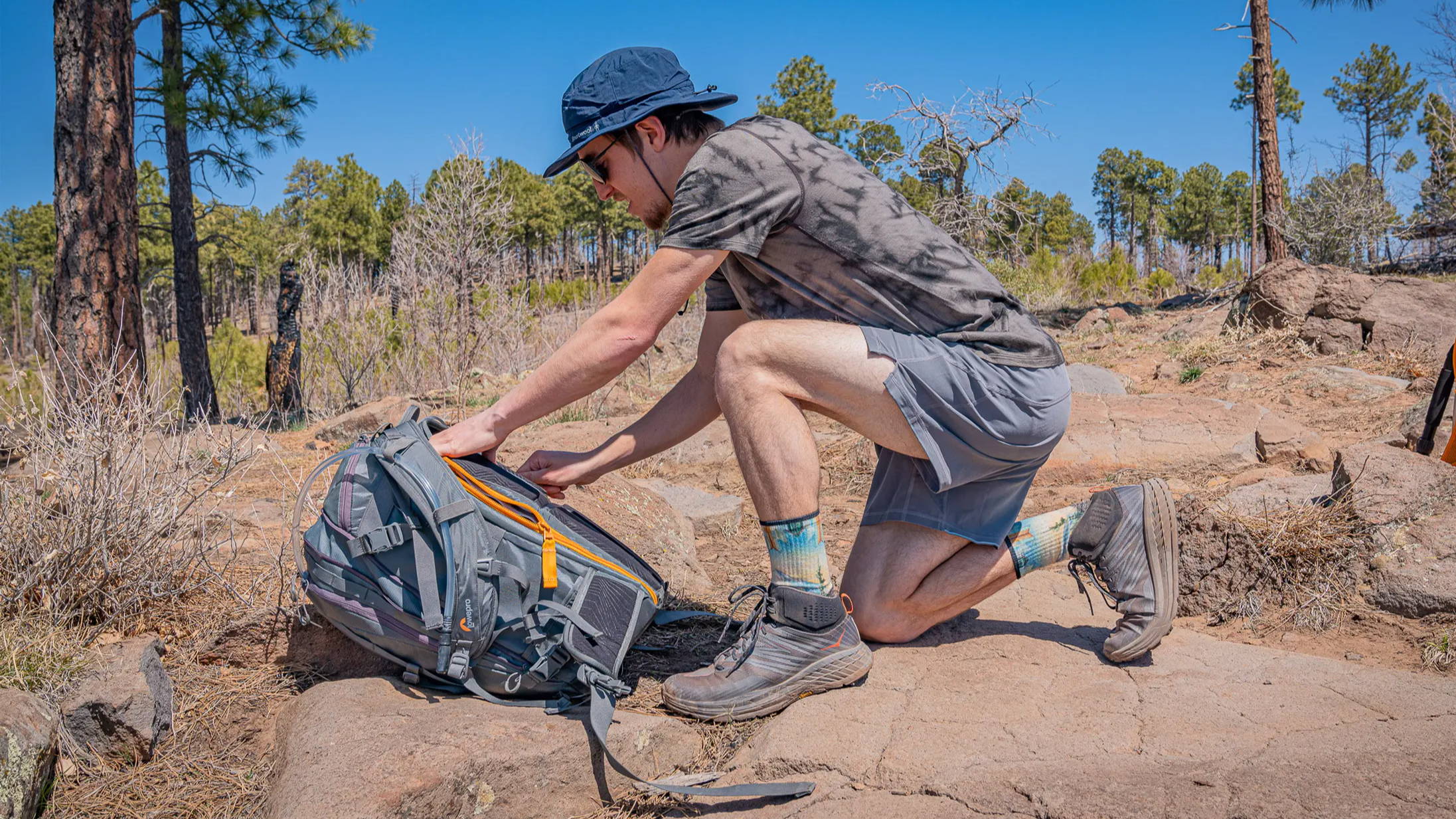 We've reached the end of this gift guide - so we hope we were able to help you decide what the best hiking gifts for him are and that you'll have an easier time shopping for one.
To sum up, we'll briefly go over the key points we've made.
When deciding what to buy for a special man in your life, keep his interests, hobbies, and passions in mind. It's virtually impossible to pick the wrong gift if you consider these things.
That said, don't fall into the trap of overpriced items, but rather focus on the meaning - those gifts will always be more appreciated than the ones with a higher price tag.
As for the actual gift ideas for him, you definitely have a range of options. It can be a piece of clothing - such as a down jacket, hiking boots, or pants - as well as some essential equipment like a hiking backpack, trekking poles, or an incredibly lightweight sleeping bag.
A seemingly "low-effort" gift - but actually very practical - is an REI gift card, which is great if you want to give him the option to choose himself.
And finally, there are plenty of options when it comes to stocking stuffers - like socks, power banks, and reusable water bottles.
All in all, the choices are many. It's just a matter of preference - and knowing what your man wants in terms of hiking gifts.
We'll let you get to shopping now. We have no doubt that you will choose an excellent gift for the special man in your life.
Happy gifting!
---