Kids Hiking Gear - Ultimate List Of Hiking Gear For Kids
All of us passionate hikers know that packing the right gear for your hike is key to having a successful venture:
If you ever find yourself hitting the trail and realize that you're missing the most important piece of gear, your whole trip could be ruined.
Now, if you add kids into the mix of forgetting hiking gear, you're in for... well, the opposite of a treat.
So, to save you the trouble of all of this, we've decided to compile a helpful list of the best kids hiking gear and ensure that your family is prepared for an outdoor adventure, both safety- and comfort-wise.
Let's get right into it!
Family-Friendly Hikes: Tips For Hiking With Kids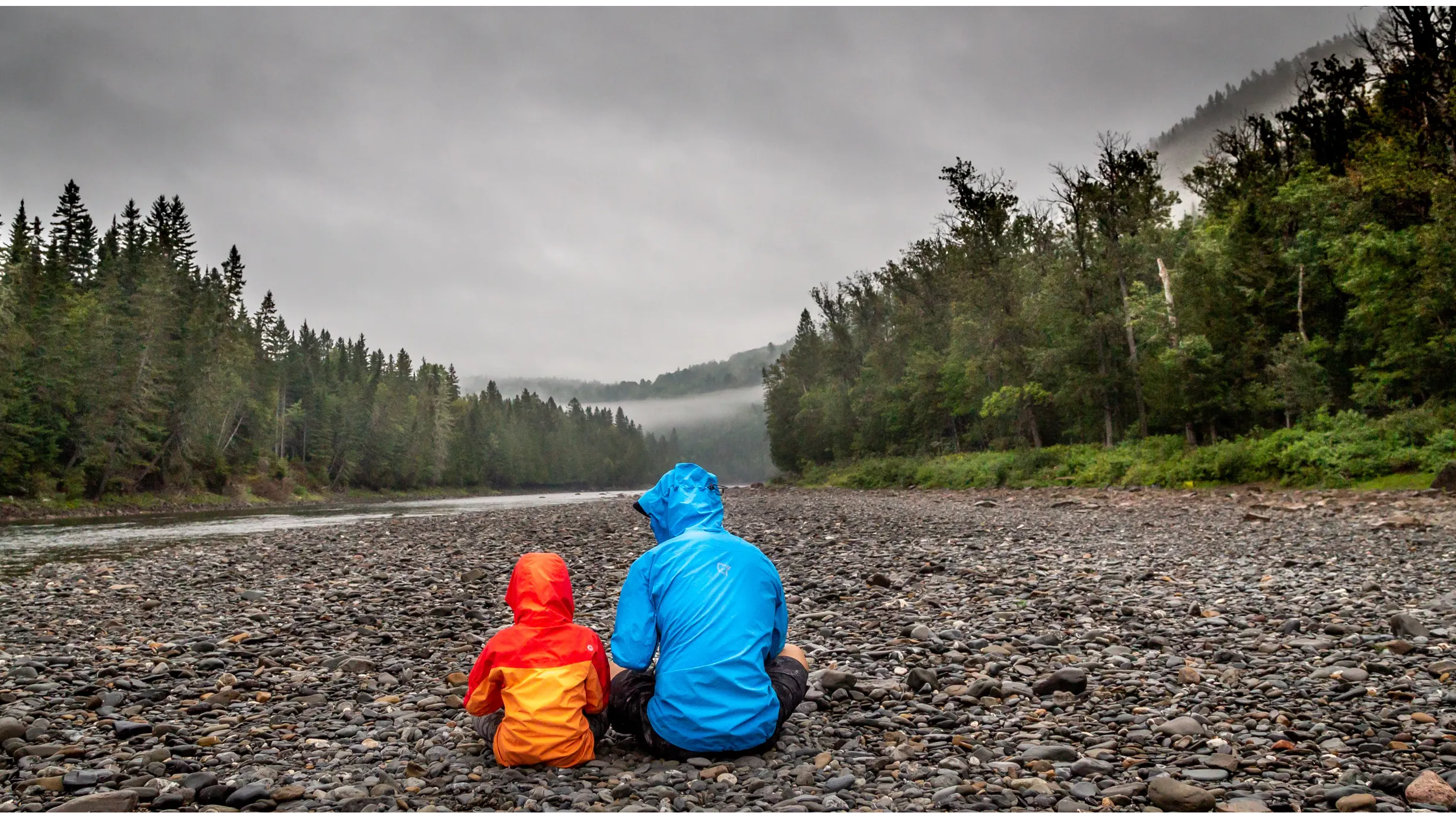 Before we get into our list of hiking gear for kids, let's briefly go over some of the basic tips that will help both you and your kids have the most enjoyable - and comfortable - hiking experience.
Go At Their Pace
While kids are known to be little balls of energy, you, as the adult, have to remember that it is short-lived and that their stamina is still pretty low.
On that note, the first thing you'll need to pack is your patience.
Be prepared for frequent breaks, a slower tempo - and at times, even running after them. Follow their lead when it comes to the pace, no matter what.
Trust us on this one:
The last thing you want is your child being grumpy and tired in the middle of a trail. That'll ruin both of your experiences - and you can forget about convincing your kid to come along on another hike.
Choose The Right Trail
This one goes hand in hand with our previous advice. When choosing a trail, make sure that it isn't too long and that the terrain won't be too hazardous for kids.
Another important thing to keep in mind here is that kids need mental stimulation. Otherwise, they'll get bored - fast. So, always make sure that the trail you choose has an abundance of different flora and fauna that'll interest your kids.
Play Games Along The Way
Depending on your kids' ages, you can make up interesting games on your way. An added bonus is that this can be a learning opportunity for kids - and we all know that learning through play is the best way for young kids to learn.
Our recommendation is that you play a hiking scavenger hunt, which is bound to make your kids have the best time on the trail.
Don't Forget Snacks
Aside from them being good energy boosters, snacks can serve as a great incentive. Kids love snacks, especially sweets - and you can use that to your advantage.
If you see your child getting bored or unmotivated, pick a point in the hike at which they'll get their favorite treat. In addition to being beneficial in terms of nourishment, it'll also teach the kids about delayed gratification - which is a great plus.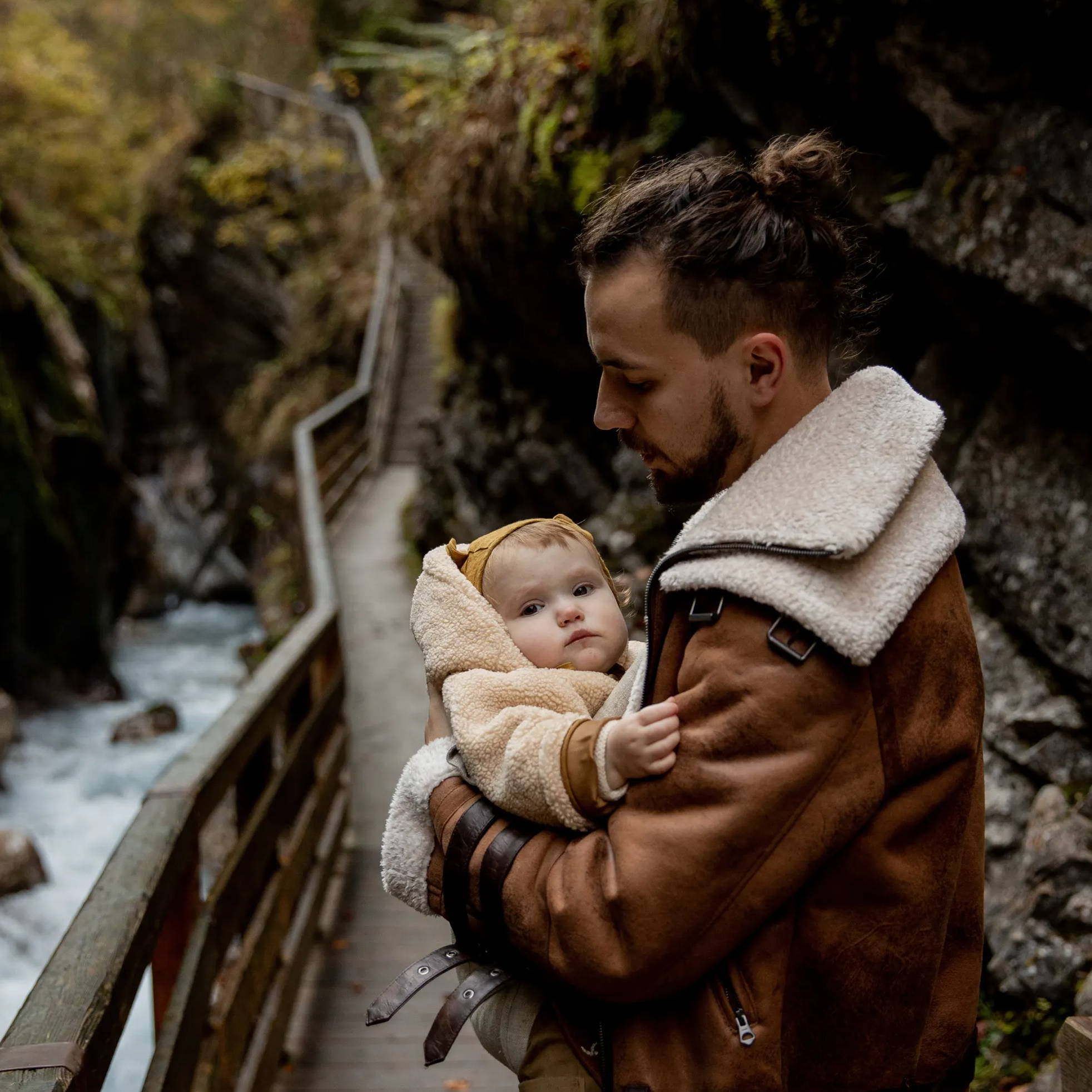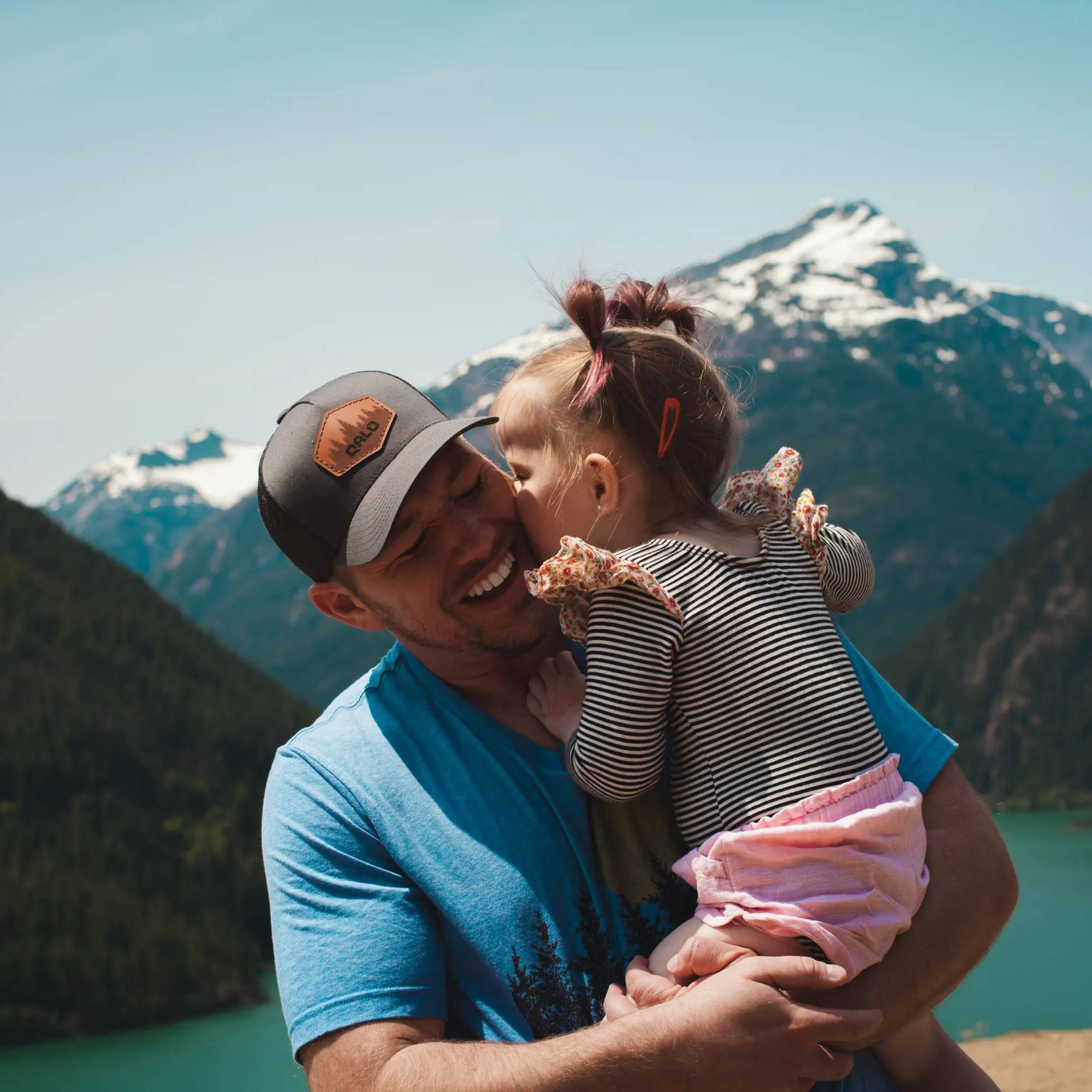 Best Hiking Gear For Kids

Now that you know the basics for a successful hike with your kids, we can get into what we're here for - the best hiking gear for kids.
We've compiled all the necessary hiking gear to make your outdoor venture as enjoyable as possible - so, be sure to keep on scrolling!
#1 Kids Hiking Boots/Hiking Shoes
This one's pretty obvious - and it goes both for you and your kids. When hiking, you need your feet to be supported and protected properly.
Depending on the kind of terrain you'll be exploring, you need the best hiking shoes for the situation. That doesn't mean that you need multiple pairs of hiking boots - we don't want you to break the bank - but rather pick ones that fit your favorite hiking trails.
Regardless of the terrain and the weather, kids should never hike in sandals - not even hiking sandals. Kids like to wander around, and there are many animals and plants that could be potentially hazardous if they got in touch with your little one's bare skin.
Your kids don't always have to wear hiking boots, though. Easier terrain allows both you and your kids to hike in your sneakers - but again, no sandals. Others require you to have a bit firmer, sturdier type of shoe.
And that's where hiking shoes come in.
Here are a few characteristics you'll want to look for when purchasing hiking boots for your kids:
Lightweight - The shoes shouldn't be a burden but rather help them enjoy the hike comfortably.
Waterproof - You might encounter bodies of water, it could rain, and other unpredictable things might happen. So, waterproof hiking boots will be your kids' best friends on the trail.
Good Grips - Support is crucial to prevent injury - especially on more challenging trails.
#2 Kids Backpacks
Depending on what age your kids are, you could get them their own backpacks and pack accordingly.
That doesn't mean that you should load up your kids' backpack and leave your bag lightweight - even though it might sound tempting at times. You can add some of their favorite stuff in their backpacks and have them carry it, though.
That could be fun for the kids since they love feeling like grown-ups sometimes. And having a sense of responsibility can be great - and stimulating - for children.
Be careful, though:
If they get tired, you'll have to carry ALL the backpacks - so, don't overpack.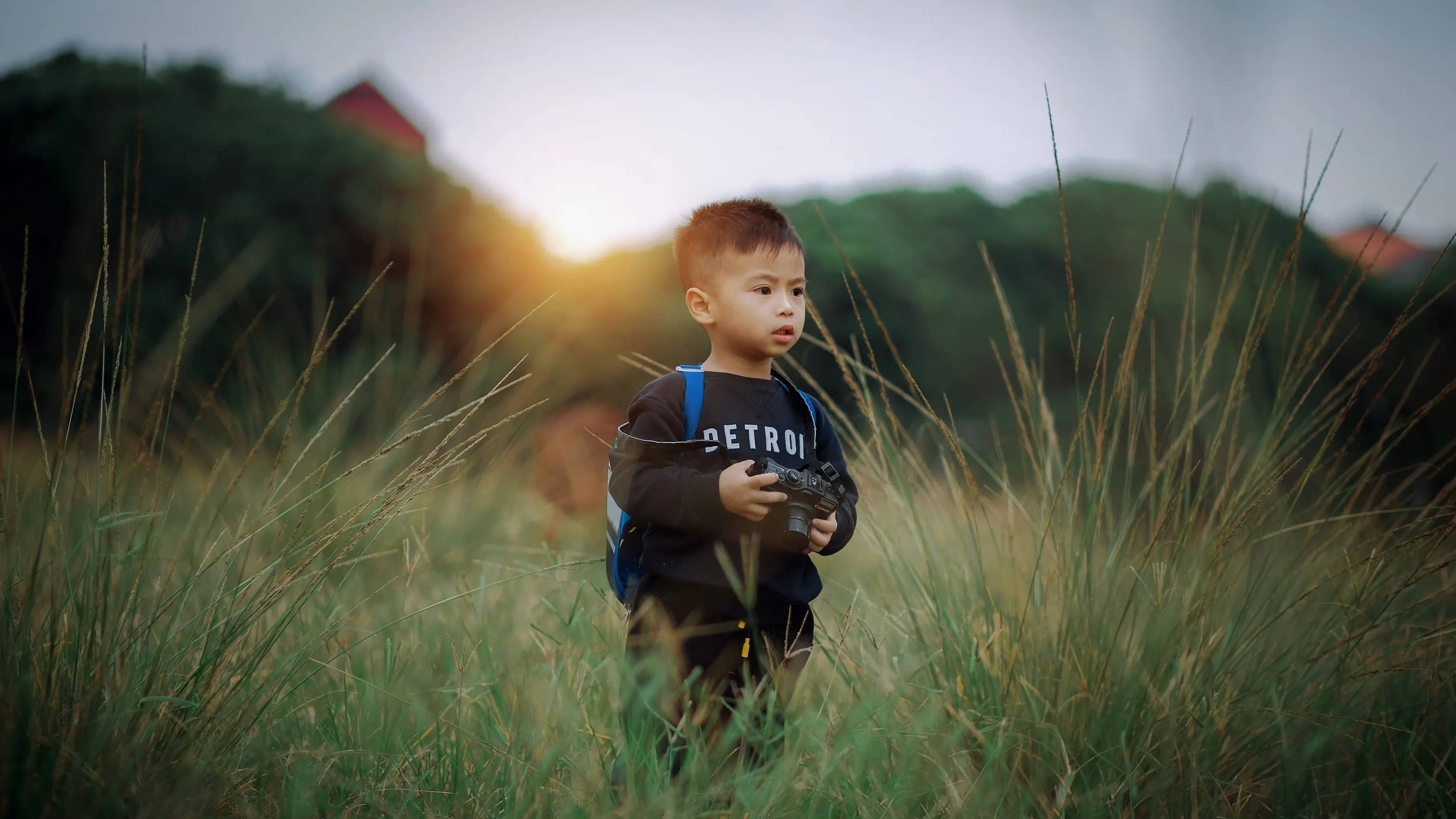 #3 Day Pack
You might be wondering what the difference between a day pack and a backpack is. Well, technically, a day pack is a type of backpack - but it's suitable for shorter, lighter day hikes.
These are lightweight, very practical, and they allow you to pack a couple of smaller but essential items on your hike.
On that note, you don't always have to carry a full-blown, heavy hiking backpack. Instead, tailor your backpack to your needs.
#4 Raincoats
Weather can be unpredictable - and you don't want to be unpleasantly surprised in the midst of your hike. To make sure that doesn't happen, bring a water-resistant raincoat with you - both for your kids and for yourself.
The great thing about raincoats is that they're pretty lightweight and can be folded so that they don't take up too much room. That could be one of the things you pack in your kids' backpack, for example.
#5 Hiking Clothes
Depending on the weather, you need to make sure that your child's dressed properly. Here are a couple of items they'll need to wear based on the weather conditions:
Quick-Dry Pants (Or Shorts)
Nothing's worse than wearing wet clothes, right?
Well, you never know what you and your kids might come across along your way - and you need to be prepared.
Even if your child gets wet along the way, quick-drying pants will ensure that they are comfortable and protected for the rest of the hike.
These are even more essential for hikes during the spring and fall months - when the weather tends to be a bit unpredictable.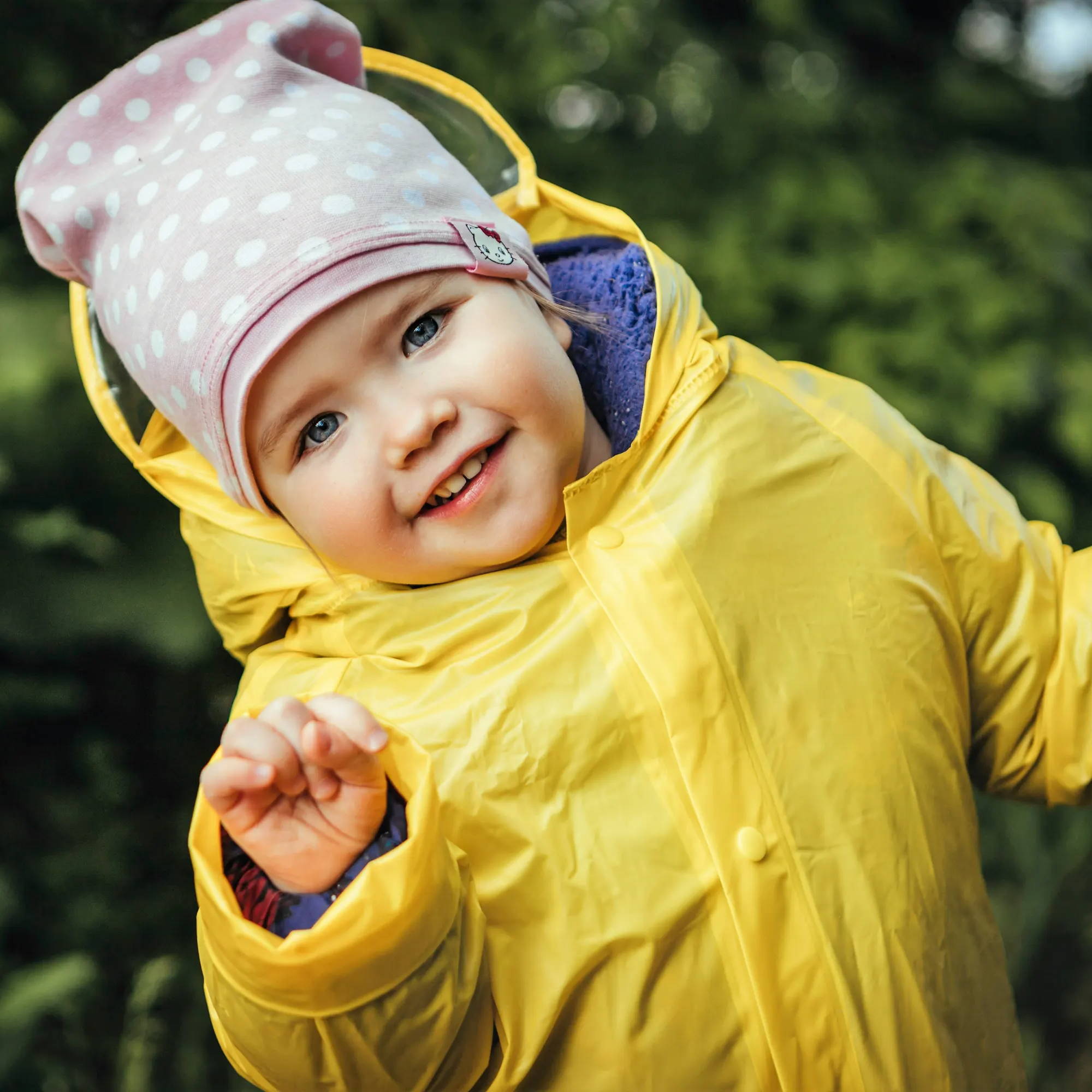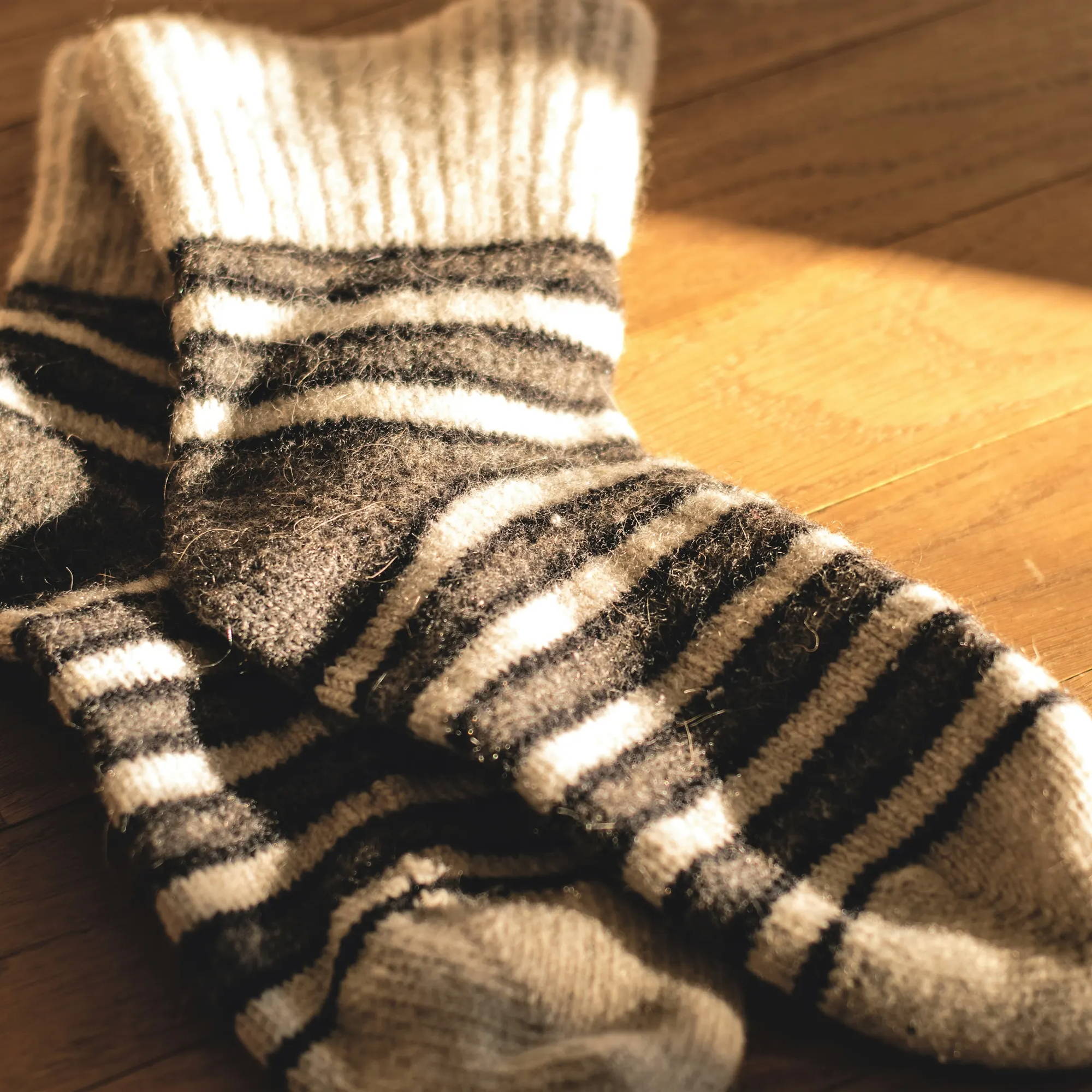 Hiking Socks
We've mentioned hiking shoes - but these are essential, too. They may not be the most glamorous part of your kids' hiking gear, but they're certainly among the most useful.
Your kids' feet and toes need to be kept warm - especially in cold climates. Hiking socks are bulkier and thicker than regular socks, so they'll do a great job providing warmth.
Here's our advice:
Buy the socks first and choose the hiking shoes accordingly. Your kids will wear these as a combo - so, make sure they fit well.
Hiking Hats
Who doesn't love sunny days? Sure, they're seen as ideal for many hikers - but they also require extra precautionary steps to ensure that both you and your kids are safe from the sun.
Lots of trails don't have too many trees along the way that would create a comfortable shade. And that means that you'll have to provide protection for yourself.
Hiking hats are a necessary part of kids' hiking gear for preventing sunstrokes - caused by prolonged sun exposure on hot days. Additionally, they provide a layer of protection, covering the neck and eyes, which is crucial when hiking on high altitudes - where the UV index is higher.
Hiking Jacket
Even though it might not rain while you're on the trail, that doesn't mean other weather conditions won't try to sabotage your family fun. The wind is known to be one of the most exasperating things that weather brings, and it can certainly spoil your outing.
Well, we have a solution:
Hiking jackets will provide you with the best protection against the annoying wind that occupies mountain peaks at the top of your trail.
These shouldn't only be part of your kids' hiking gear but of your own, too. Wear these, and you won't even notice that there's any wind!
UV Protective Clothing
While you should always be using sunscreen, sometimes it might not be enough - or might not be the most convenient to reapply. UV protective clothing offers a solution - and should always be a part of your kids' hiking gear.
We all know that it's not always easy to get kids under control, especially when they're outside. Getting them to calm down so that you can slather them in sunscreen can sometimes be mission impossible.
Worry not, though. There is a wide range of clothes that protect your kid's skin from harmful UV rays. Your kids will be able to choose their favorite style - while you get to choose the price range that works for your pocket.
Everyone wins!
Base Layer Top
On winter hikes, you want your kids to be warm and protected from the cold - which is why you need a quality base layer top.
Whatever you decide to have your children wear as a top layer will be enhanced by this fantastic piece of hiking gear for kids - and you won't have to worry about them being cold while on the trail.
The bonus here is that these are usually very durable. Invest once - and know that your kids will stay warm on your future hikes!
Explorer Vest
This piece of kids' hiking gear is an amazing marriage between "useful" and "fun."
They're thick and sturdy, making for a great protective item. In addition to that, they usually also have a lot of zippered pockets - which means that kids can store little souvenirs from their hikes in them.
How great is that?
#6 Headlamp
Kids aren't known for paying attention during hikes; they can get a bit too excited and overlook certain obstacles. To make sure that they're safe - especially in darker parts of the trail - get them a headlamp.
These nifty accessories are a firm favorite among kids - apparently, headlamps are cool now - and they improve overall safety by ensuring that they don't trip and fall. It's a win-win.
#7 Sun Protection
We've already discussed UV protective clothing and hats - but that's not where that discussion ends.
Sunscreen
One of the most crucial items you could carry in your kids' hiking packs is sunscreen.
Sunburns are no fun. You need to be extra careful and prevent them to the best of your abilities.
Kids' skin is sensitive and burns easily, so you want to make sure that you coat them in a thick layer of sun-protective lotion roughly 2o minutes before heading out in the sun. Oh, and it's essential that you reapply sunscreen every two hours since you'll be outdoors and exposed to UV rays.
And yes, that applies to mountain hikes, too. Whether it's hot or cold outside, this is a must.
Sunglasses
Our eyes need to be protected, too!
Everything we discussed regarding sun exposure goes for the eyes, as well. Eyes can also be damaged by the UV rays - so, don't play around, especially not on hot summer days.
Make sunglasses a staple piece of your kids' hiking gear, and you won't regret it. They can also serve as a fashion statement - which will make wearing them even more fun.
Also, you get to enjoy their adorable faces with the little sunglasses on - it's a win-win situation!
#8 Baby Carrier
You can take your toddler or older kids hiking - but can you take your baby along for the ride, too?
Definitely! You don't need to wait for your child to turn a certain age before you introduce them to the wonders of quality time spent in nature. But, before you do that, you'll need a few important pieces of hiking gear for kids.
And number one on that list is a baby carrier.
Every parent knows what a baby carrier is, so we won't spend too much time on this one. But, we want to emphasize that you will definitely regret not carrying it with you.
If you opt for the stroller, you've set yourself up for failure. So, save yourself the trouble, grab a carrier - and carry your young adventurer into the great outdoors!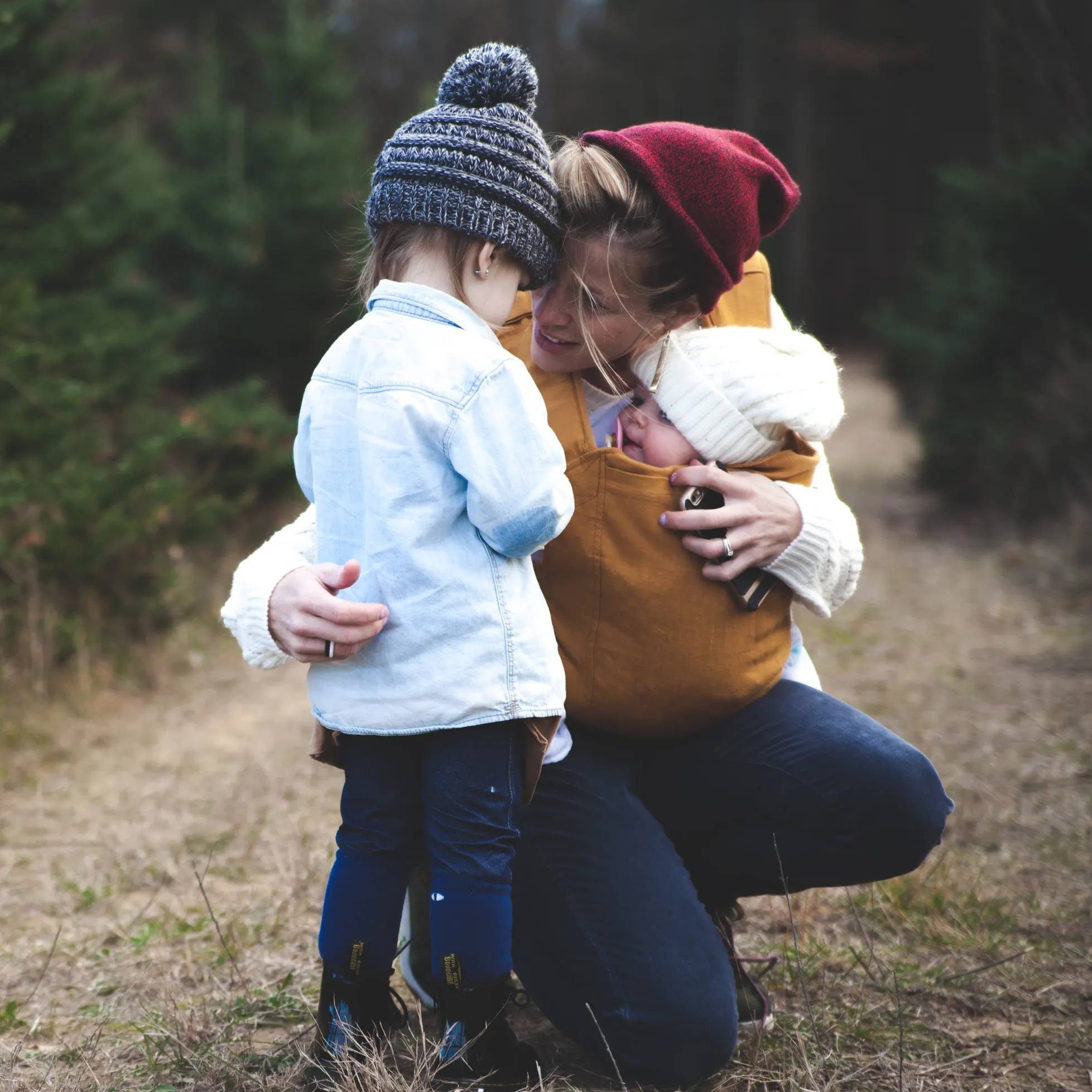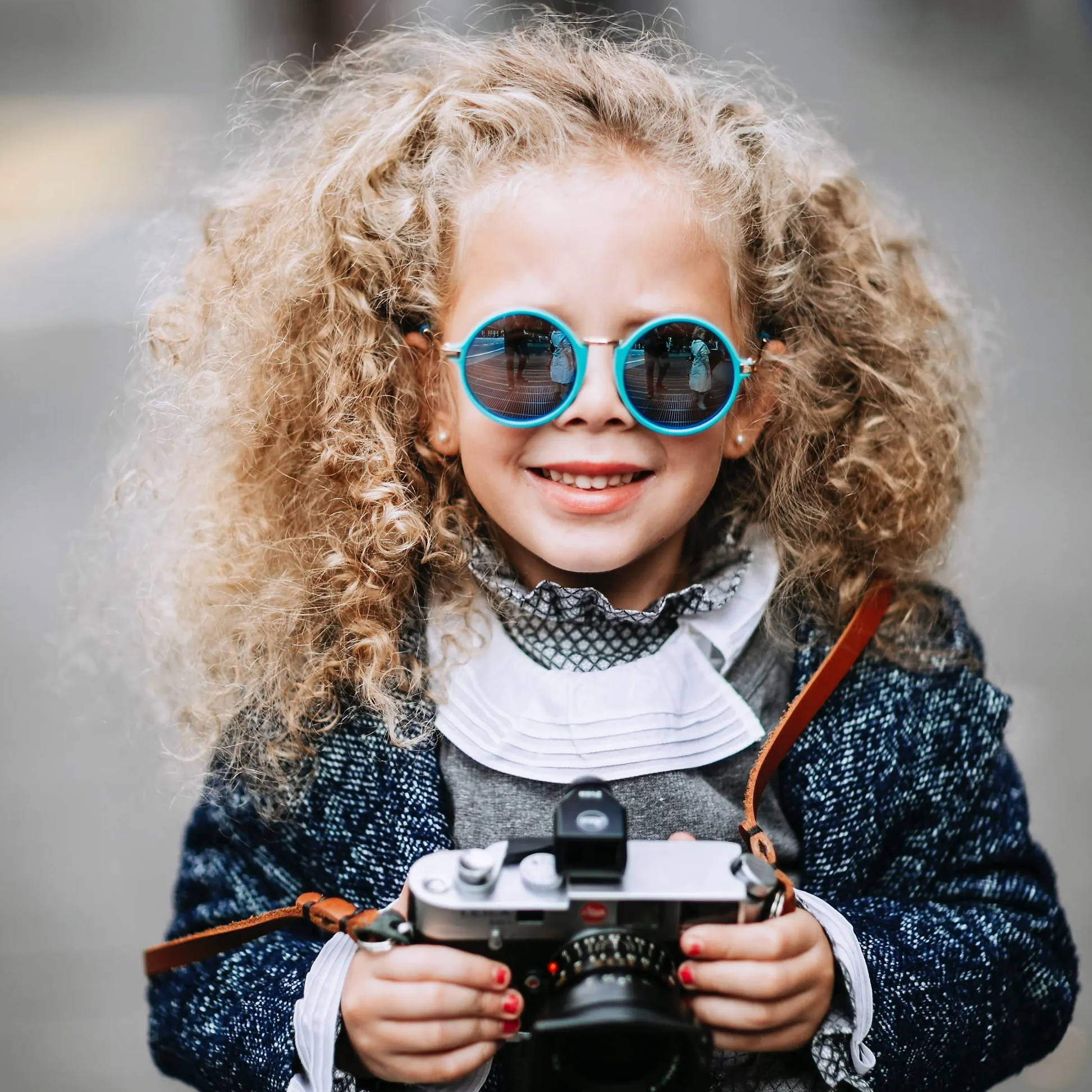 #9 Water Bottles
Even though it might seem obvious to you, you'd be surprised by how many people oversee this oh-so-essential item.
Now, our advice here is to get a reusable water bottle with a self-cooling system. Yes, that's a thing - and yes, you need it during the summer months.
Drinking lukewarm water is my favorite - said no one, ever.
Don't forget to calculate how much water you'll need to bring for you and your kids so that you neither overpack nor under-pack.
#10 Binoculars
If you want to carry a piece of hiking gear for kids that'll add fun to the whole thing, then don't forget binoculars!
They'll allow kids to get acquainted with the wildlife and flora that's outside of the trail, which will add excitement to your little adventure.
Don't forget - learning through play is the best way!
You could do some research on the area you'll be visiting, read up on the wildlife found there, and then share some of this information with your kids while on the trail.
Also, these will be a great tool to assist you in the scavenger hunt we've recommended earlier!
Kids Hiking Gear: Conclusion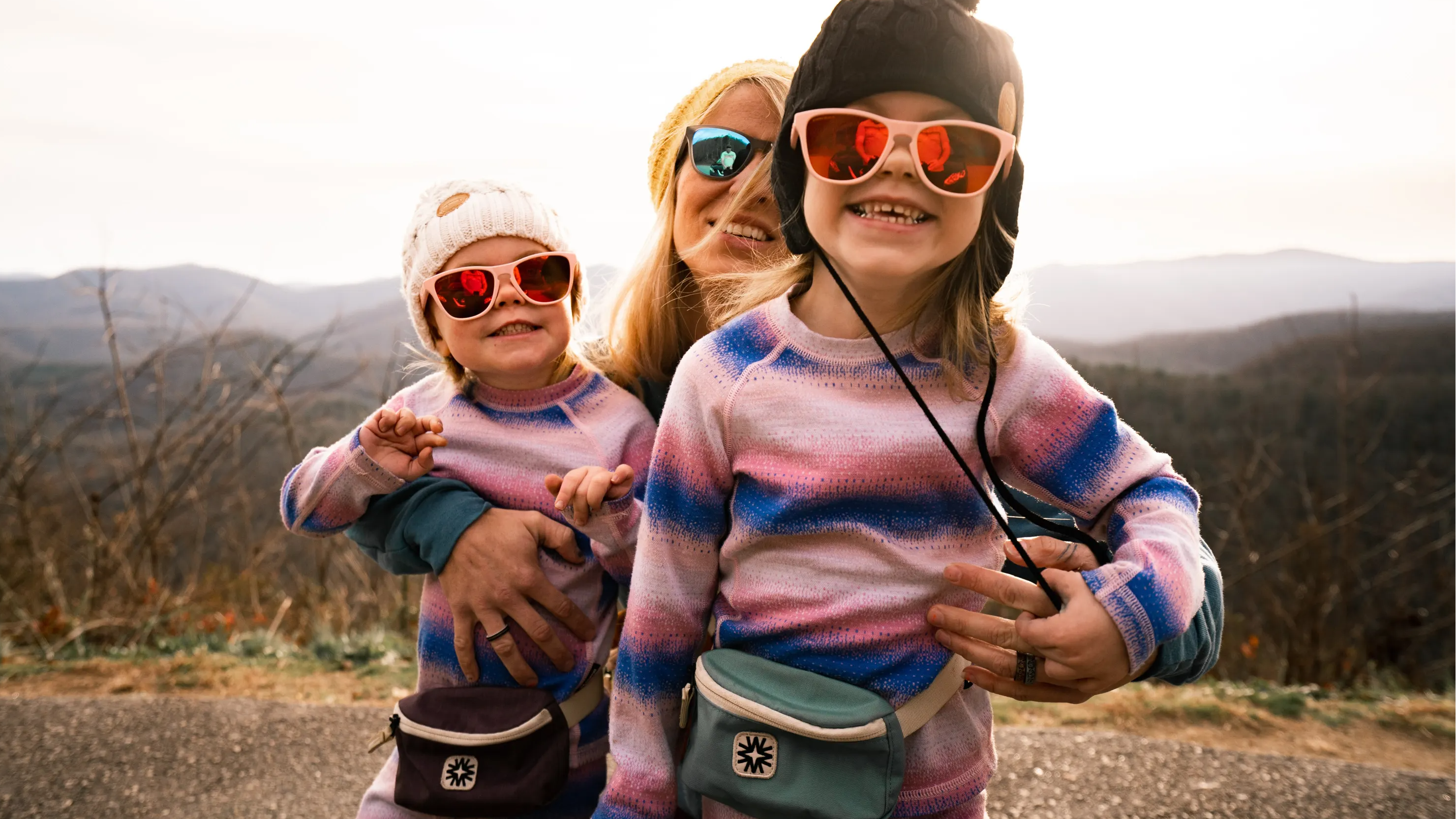 Well, that wasn't as overwhelming as you thought, was it?
We tried to give you the best ideas for hiking gear for kids that you can take on your next adventure in nature, and hopefully, you've found something that caught your eye.
We'll briefly go over it once more to make it easier to keep track of everything you'll need to carry:
Kids Hiking Tips - Before actually hitting the trail with your toddler, keep in mind that you'll need to follow their pace and choose a trail that's suitable for their abilities. Snacks will be your best friend on these outdoor adventures, too - both as an incentive and an energy boost.
Hiking Clothes - As far as kids hiking gear goes, there are a few pieces of clothing that will be appreciated by your kid - such as the base layer shirt, quick-drying pants, hiking socks, hiking hat, etc. These pieces of hiking gear for kids will keep the little ones comfortable and safe while hiking.
Bonus Items - Items such as binoculars and a headlamp are both helpful and practical - albeit optional - gear. On the other hand, water bottles are nonnegotiable on trips like these.
Hiking Shoes - High-quality hiking shoes are a staple of kids hiking gear, both comfort- and safety-wise. Your kid's feet need to be comfortable to complete any hike, so wearing the best hiking shoes is a must.
Sun Protection - There always must be room for sun protection in your hiking backpack pockets; it's an integral part of hiking gear for kids.
Baby Carrier - If you plan on taking your baby hiking, the best way to do it is to wear them - in a baby carrier, of course!
Now that you have this list, you can start packing your hiking backpack - and take your kids hiking. No doubt, it will be an adventure you'll all remember and cherish as a family forever.
Have fun!
---