Summer Hiking Outfits - Best Hiking Outfits For 2022
Us hiking enthusiasts have opinions on everything hiking-related. Just ask anyone in our lives - and they'll tell you that we become the most talkative people ever if asked about anything that has to do with hiking.
That's because hiking is an activity we take personally. It requires lots of preparations, trial and error, and putting together your list of hiking essentials.
You probably have your all-time favorites when it comes to gear. Once you find an item that makes your hiking trips as enjoyable and comfortable as possible, it becomes a must-have.
The same thing goes for clothes:
Aside from backpacks, hiking clothes are one of the most important factors for any successful hiking trip.
An unforeseen weather change could quickly ruin your trek if you aren't properly prepared. Or, you might underestimate the weather conditions that await on the trail and end up with a bad sunburn - or freezing halfway through.
To ensure that your summer hiking trip goes as smoothly as possible, we're here to share some of our favorite summer hiking tips - and help you choose the best summer hiking outfits.
So, strap in, grab a pen and paper - and start putting together your shopping/packing list. Let's get into it!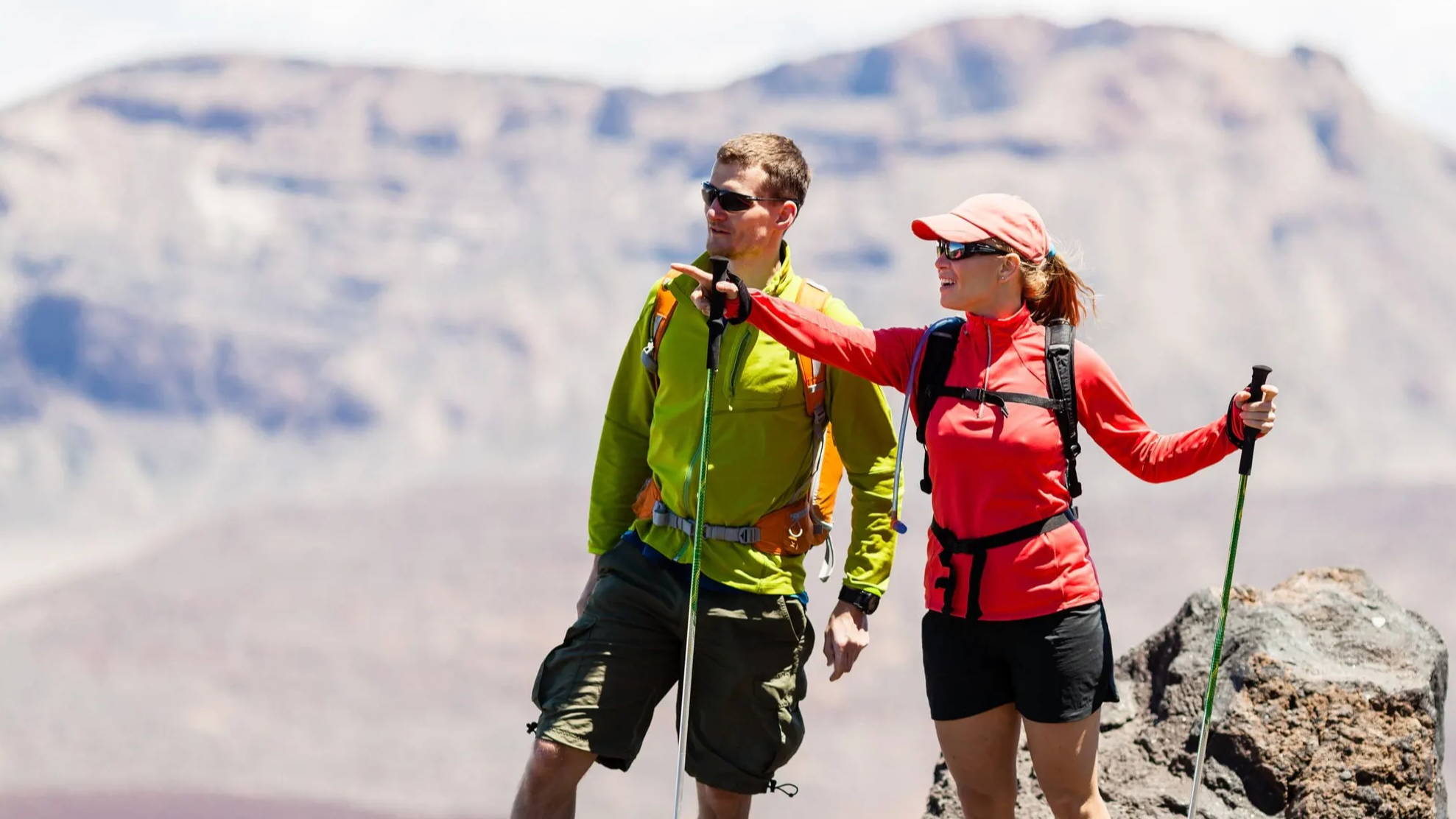 Some people might think that hiking during the summer months is probably the most hassle-free thing ever - but it certainly has its challenges.
We're here to lift this weight off your shoulders, though. So, let's prepare you for a successful summer hike - starting with the basics!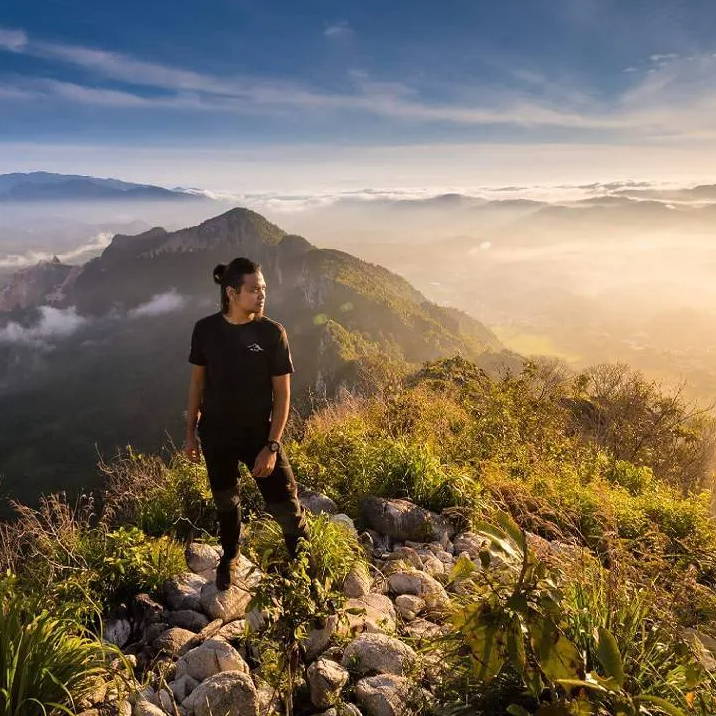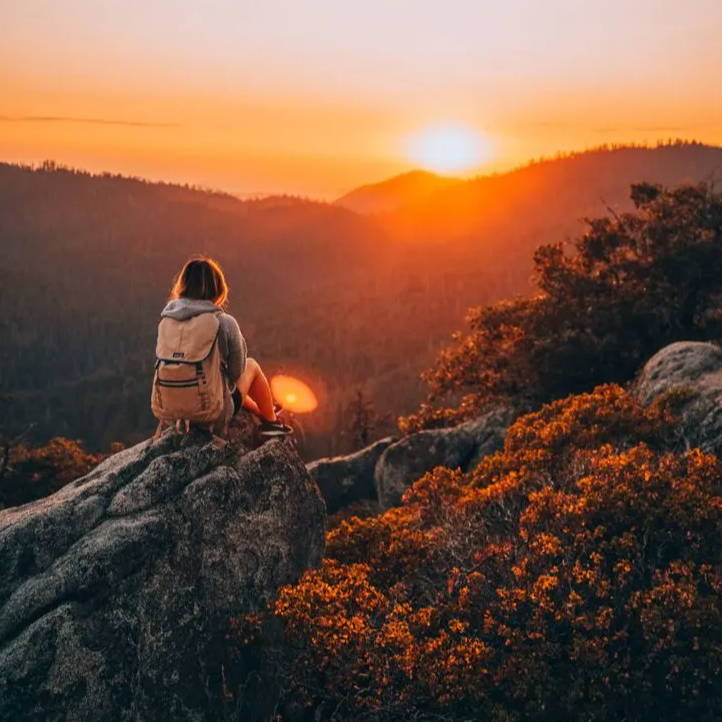 If you've ever been outside in the middle of a July or August day, you know that it's a mistake. A huge mistake. Nothing but an air conditioner can make such circumstances better.
The same thing goes for hiking:
Ending up in the middle of a trail, dripping in sweat, and without a tree that you could hide under anywhere is the last thing you want.
To avoid the scorching heat, start your hikes earlier in the morning so that you're done by the time the hottest hours arrive. Or, you could opt for an afternoon hike - once the heat has subsided. In that case, be sure to check the sunset time so that you're not caught off guard by the dark.
Even if you enjoy warm weather and being outside, don't take things too lightly. Hiking trails are a different environment than your normal day-to-day whereabouts - which means higher temperatures carry a much bigger risk.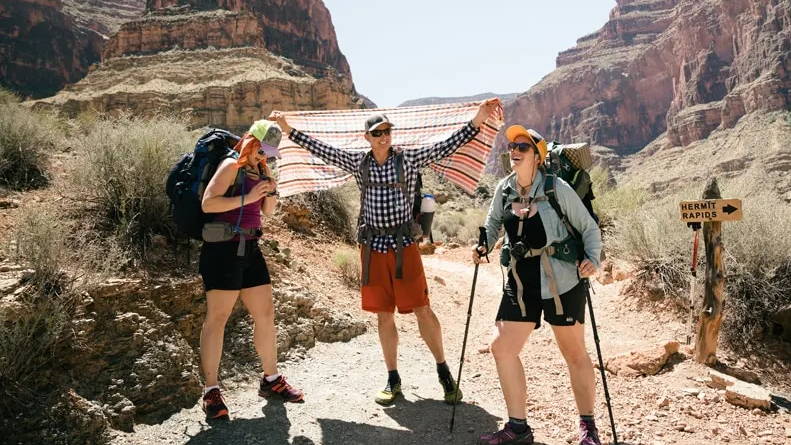 We cannot stress this one enough:
You must protect yourself from the sun.
There are many ways to do that - including:
Using sunscreen

Wearing a hat

Wearing UPF clothing

Wearing sunglasses
We'll discuss clothing later on; for now, let's focus on other possible options.
Sunscreen
Sunscreen is the mother of all sun protection methods. There are areas of your body you cannot protect otherwise - and that's where sunscreen can help. Luckily, there are incredible sunscreen formulas available to suit every skin type and different types of outdoor activities.
When choosing a good SPF cream to pack in your backpack, make sure it's sweat-resistant but lets your skin breathe. You don't want to feel like your skin is suffocating under a thick layer of sunscreen and sweat, do you?
Sunglasses
When it comes to sunglasses, it's entirely up to your personal preference whether you'll wear your regular, fancy ones - or have at least a pair strictly for hiking.
How they look doesn't matter. What matters, though, is that you take them with you.
Much like the rest of our body, our eyes can get damaged by UV rays, so always make sure you have your sunglasses with you on sunny days.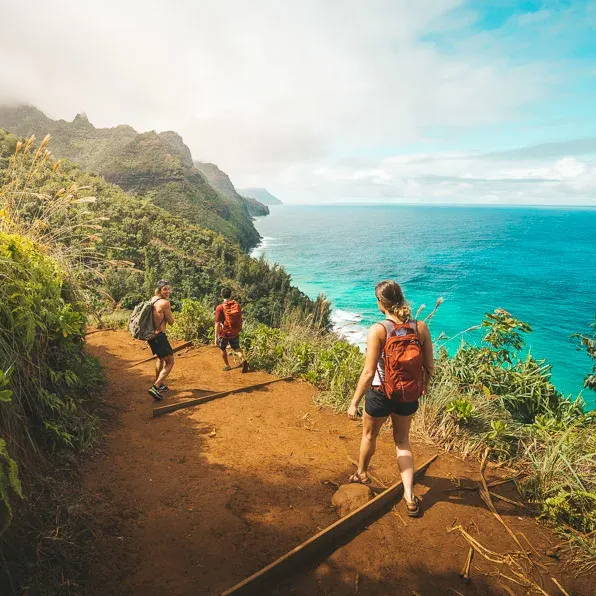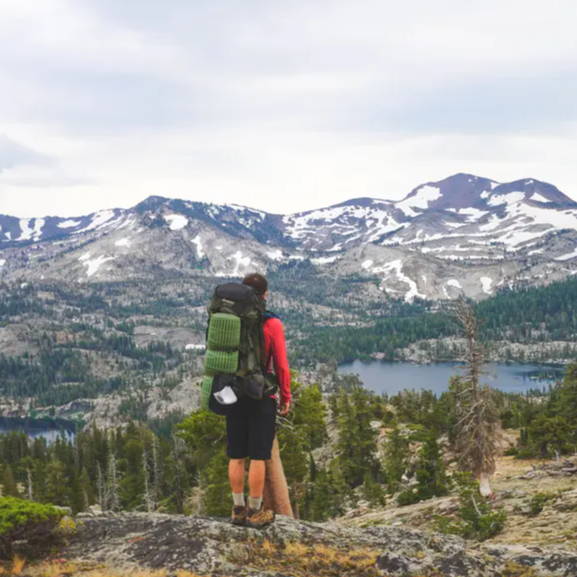 During the planning stage, allocate a part of your time to deciding which trail you'll take - and how long the hike will be. That'll significantly affect your preparation process since your needs will differ depending on how much time you'll spend on the trail.
Shorter Hikes
Shorter hikes usually mean that you won't have to haul as much stuff with you. However, don't underestimate them, either; the terrain on short hikes can be every bit as challenging.
The good news is:
You generally don't need to bring as many backup clothing options, food, or gear with you. Yay!
Longer Hikes
Long hikes, on the other hand, require much more planning, much more preparation, and much more equipment.
If you'll be spending the night on the trail, you'll need extra layers and warmer clothes to keep you cozy once the temperatures drop in the evening. Plus, the weather could change from day to day, so it's recommended to have a range of clothing options to ensure that you're covered in different conditions.
Hydrate (And Then Hydrate Some More)
This one almost goes without saying - but it's so important that we'll say it anyway:
Hydration is crucial.
Always have enough water with you to have you covered throughout the entirety of your hike. Some trails have checkpoints where it's possible to refill your water bottle, meaning you don't have to carry huge amounts of water with you.
However, always check if that's the case so that you don't end up waterless mid-trail.
Oh, and one more thing:
The thrill of breathtaking sights can make you forget to hydrate and nurture your body. So, if you're the type to get distracted easily, consider setting a reminder on your phone.
Choose Your Path Wisely
Choosing the most appropriate trail for the weather conditions is an essential part of ensuring that you have the best hiking experience possible.
If you're going for a summer hike, choose a trail that abounds in trees that will provide some much-needed shade on a hot summer day. Places that have more trees will also be less hot and therefore make it easier for you to complete your hike.
Also, trails near water can be a great summer hiking idea. That way, even if there's not much shade, the gentle sea or lake breeze will help you cool off. If you're passing a river, you can dip your hat or bandana in occasionally and drape them over your body to keep you cool.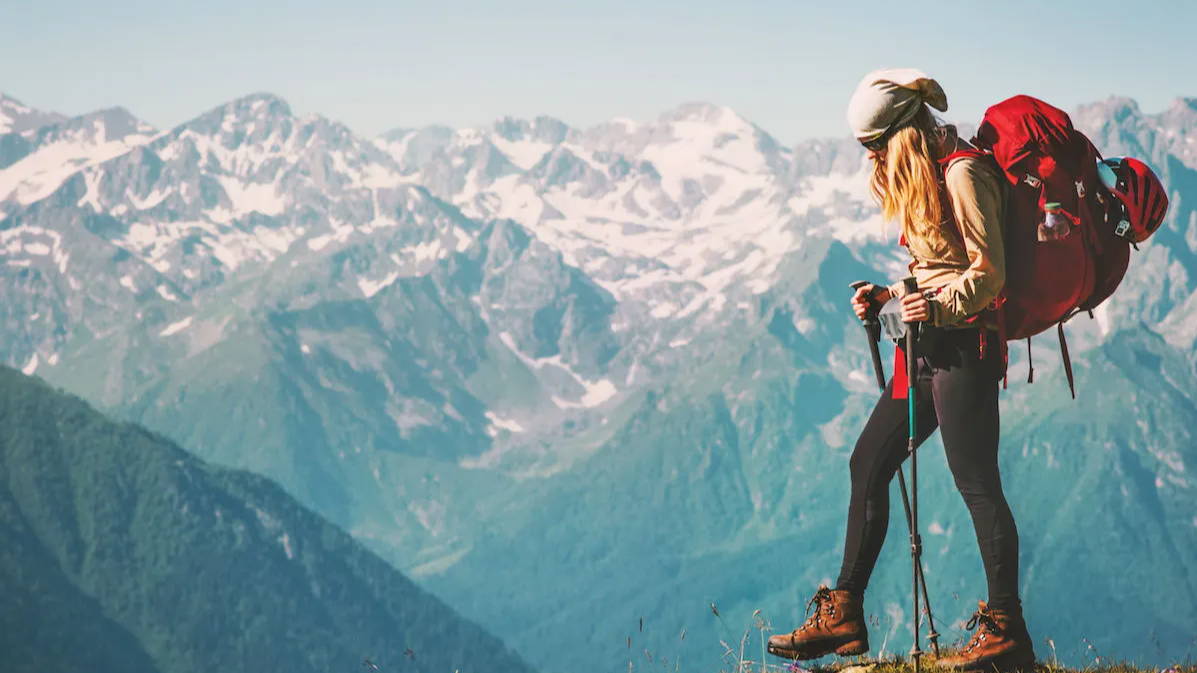 We'll cover this topic more in-depth later, but now we want to give you a few tips - and tricks - when it comes to any type of summer hiking clothes.
Opt For Lighter Colors
You probably know that dark colors attract the sun, right? So, it's wise to stay away from dark colors when planning your summer hiking outfit.
Instead, allow yourself to play around and choose lighter ones that won't attract any additional heat. That way, you'll have both playful and useful outfits.
An added benefit to these types of summer hiking clothes is that you'll be able to keep track of your hiking buddies on the trail easier. Bright colors mean better visibility!
Choose Light, Breathable Hiking Clothes
When hiking in hot weather, you generally want to keep things light and breathable. The last thing you want is to feel like you're trapped in a plastic bag.
So, yes, you have to choose what to wear hiking wisely.
The good news is that there are lots of brands that make the best summer hiking clothes - from a simple T-shirt to hiking shorts and yoga pants - using lightweight materials. We are confident you won't have much trouble finding something.
Cotton?
You are probably aware of cotton's infamous reputation in the hiking community. If you aren't, you should know that cotton absorbs moisture easily but dries slowly - a detrimental combo on strenuous hikes on cool days.
What about the summer, though? If there's no wind, cotton might not be such a bad option. If you're a fan of natural materials - cotton, in particular - you can find some great hiking clothes.
Make sure you're fine with the feel of wet cotton sticking to your body while hiking, though.
You Should Cover Up
We've talked about sun protection already - and it also applies here:
Shirts with long sleeves (preferably one with a flip-up collar for neck protection) and long but breathable hiking pants - or hiking leggings - could save you the trouble of dealing with nasty sunburns.
UPF Clothing
If you hate the feel of sunscreen, UPF clothing will be your best friend. These clothes are made to prevent sun rays from reaching your skin.
A word of caution, though:
Not every piece of UPF hiking clothing will provide you with the necessary protection. Always look for at least a 30 UPF rating - although 50+ would be ideal.
Summer Hiking Outfits: What To Wear Hiking In The Summer?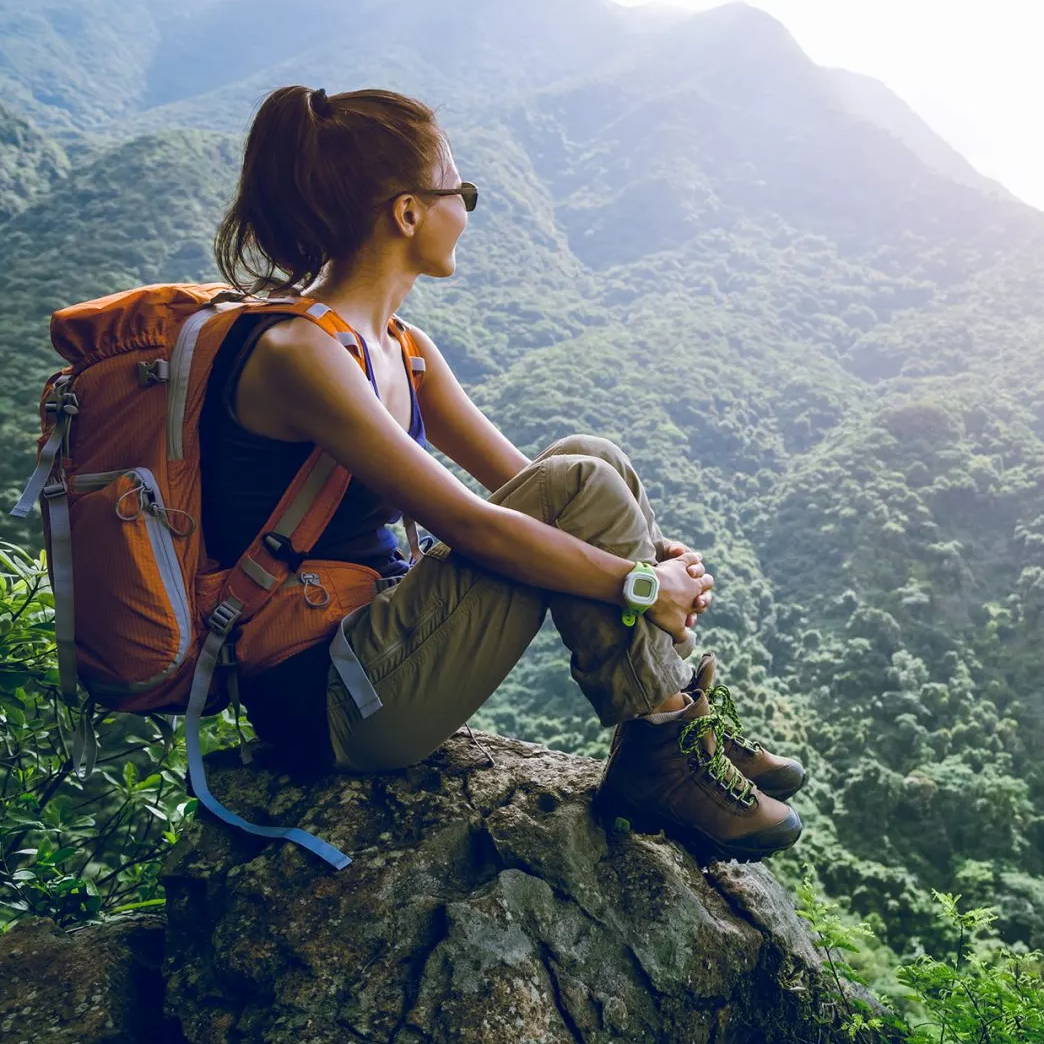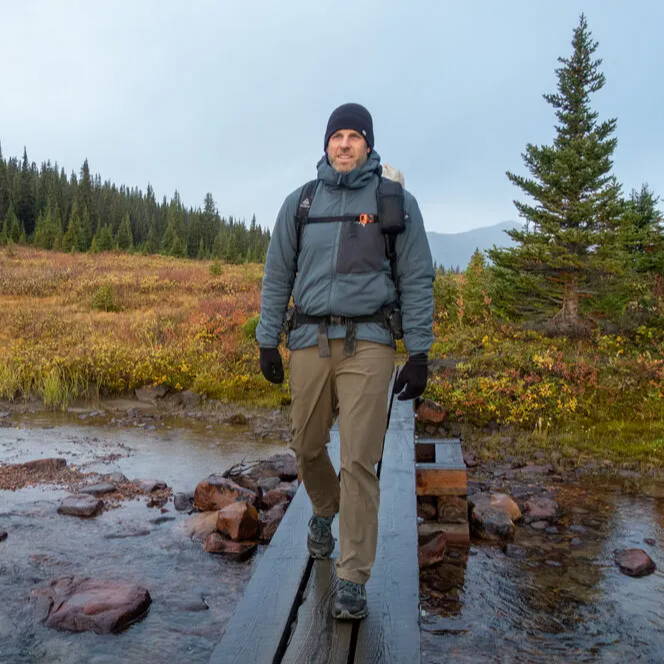 And now, for the main part of this article - helping you decide what to wear hiking in hot weather. There are many things to consider when choosing a hiking outfit; we'll explain everything below.
Clothes To Wear Hiking: What To Look For?
When searching for ideal hiking attire for hot weather, you should look for the following characteristics:
UV protection

Moisture-wicking abilities

Trail debris protection

Bug protection

Weather protection
But, the question is:
Can a rain jacket, a T-shirt, some hiking boots, and hiking socks look cute AND serve their purpose?
We know that looks aren't the most important thing ever. But if you can combine the best of both worlds, why not?
You're in luck because fashionable and functional hiking clothes - and hiking accessories - are widely available these days.
So, you can put together the best hiking outfit without too much hassle!
Hiking Pants
Hiking pants have come a long way. So, whether you prioritize protection, comfort, or fashion, you'll certainly have your options.
Generally speaking, hiking pants are a great option for more challenging terrains and trails that abound in wildlife. Unlike hiking shorts, pants will protect your legs from the potential dangers - and keep you comfortable.
Look for light, quick-drying materials such as merino wool or synthetic materials like nylon or polyester. It'd be great if the pants were tear-resistant, too, so that even if you fall, your clothes stay unscathed. Oh, and don't forget about the UPF rating.
Steer clear of fleece pants in the summer. They're a great fit for severe cold or wet conditions - but not so much for warm weather.
Cargo pants can also be a great hiking companion since they're made of suitable materials and have loads of pockets for storing items you'll need on hand.
As for rain pants, they'll keep you protected from the elements and wind - which can affect you even in the midst of summer.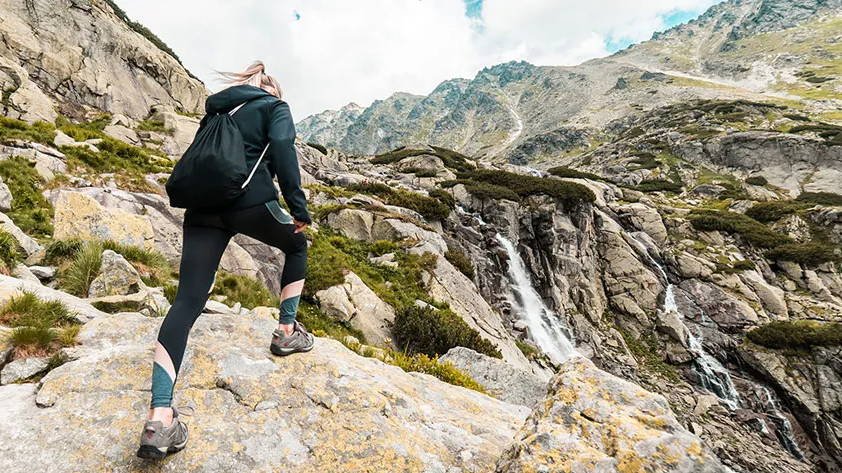 For those who prefer a fitted look and feel, leggings are the way to go. The same things we have told you regarding pants apply to leggings, as well.
Stretchy tights can be an extremely comfortable choice. As long as you get the right fit, you will hardly even feel them on you.
One downside of leggings is that you can't roll them up if you get too hot. Then again, leggings come in different lengths, so you can find ones that work for you.
Sports Bra
Women need proper support to remain comfortable while being physically active. The good news?
There are a number of sports bras made to fit a wide variety of body types; any woman can find the right one.
Once again, look for materials that dry quickly and are chafe-free, that are both heavy-duty and durable enough to last a long time - but also keep you comfortable and secure on the trail.
It might seem like a lot, but they do exist.
Some even feature extra stash pockets! Seriously, you can never have too many pockets while on the trail.
Hiking Shirts
When it comes to hiking shirts, there's such a wide variety of styles to choose from - and it can get a bit overwhelming, right?
Do you just go with a sports bra to minimize the layers? Do you add a cotton tank top over it? A regular old T-shirt, maybe? Or do you buy a full-on hiking shirt?
There's no universal answer, to be frank. It's mostly a matter of personal preference. But as with most hiking-related matters, it's best to dress in layers. That way, you can adjust your clothing based on your needs.
Base Layers
While you might think that base layer hiking clothes are only necessary for the winter, you're wrong. Even on a sun-drenched day, in the summer heat, you still need a base layer - although for completely different reasons than you would during colder months.
In the summertime, base layers have the task of pulling sweat off your skin and drying quickly.
They should be lightweight, stretchy, and be versatile enough to protect you if the temperature suddenly drops. Merino wool is a great choice here - but it can also be blended with a synthetic material, such as polyester.
Mid-Layer
Even on the hottest of summer afternoons, once you get to the summit, conditions will inevitably turn windy - and that's where your mid-layer comes in.
They offer "breathable warmth" by trapping heat - and wicking away the sweat your base layer pulls from your skin. Lightweight fleece is an excellent choice because it's water-resistant and dries quickly, providing you with comfort and much-needed warmth.
T-Shirts/Tank Tops
While not our personal favorites, they can work for some. As we've mentioned before, cotton is not the most moisture-wicking fabric - so it may not be as comfortable on a long and strenuous hike.
However, if you're not a regular hiker - or you're just starting out - these could work in the hot summer weather.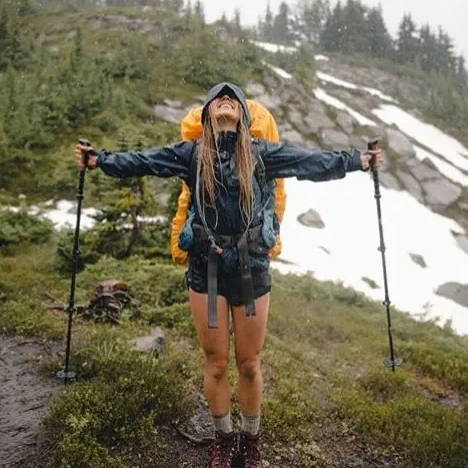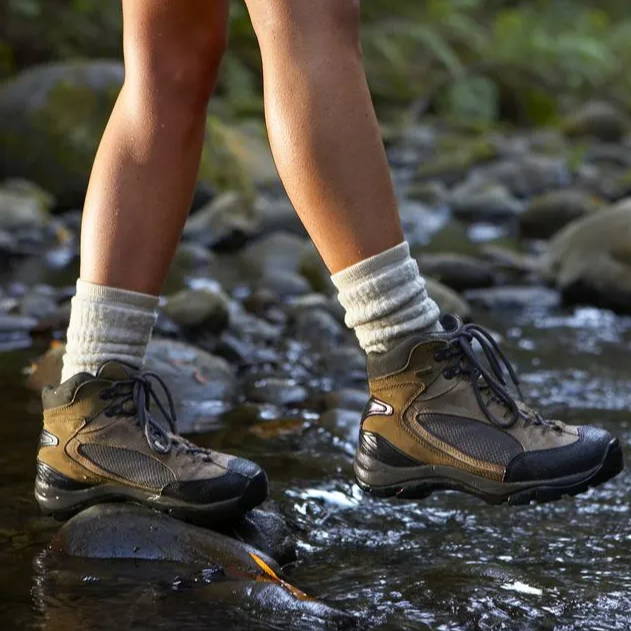 Sure, it's summer - but you have to be prepared for unpredictable weather conditions. Having a rain jacket (and maybe some rain paints) in your backpack will be a game-changer.
Obviously, you want a waterproof jacket to protect you from the wind and keep you warm - but you want it to remain lightweight enough to carry with you on your backpacking trip.
That's why a packable rain jacket is an excellent idea. It doesn't take up much space - but should you need it, it's right there with you.
These jackets should be able to block rain and stop you from getting your other layers wet, but also be breathable enough to not make you perspire more.
A lightweight puffy jacket - or a fleece jacket in milder conditions - can also serve you right on chillier summer days.
Hiking Footwear
When it comes to footwear, hiking is pretty specific. Some will tell you that you can just throw on your favorite pair of running shoes and hit the trail, especially during summer. We're telling you - don't.
Well, not unless you want a twisted ankle, that is.
If you're searching for the right pair of hiking boots or hiking shoes, there are several things you should pay attention to - the first one being ankle support.
Trails can vary in terms of the terrain and possible hazards - and having something to protect your feet and ankles is essential.
Hiking Boots/Hiking Shoes
If you're thinking about investing in any hiking clothing or equipment, let it be this. The right pair of hiking boots or hiking shoes - even a decent pair of trail runners would do - will change your trekking experience forever.
To put it in short, good shoes - think waterproof boots, for example - are essential.
And the wrong choice of hiking footwear could ruin this activity and your time on the trail.
What's the deal with the best hiking shoes? What makes them so special? Well, they offer the following:
Extra ankle support

Suitable for wet and dry surfaces

Waterproof materials

Reinforced extra padding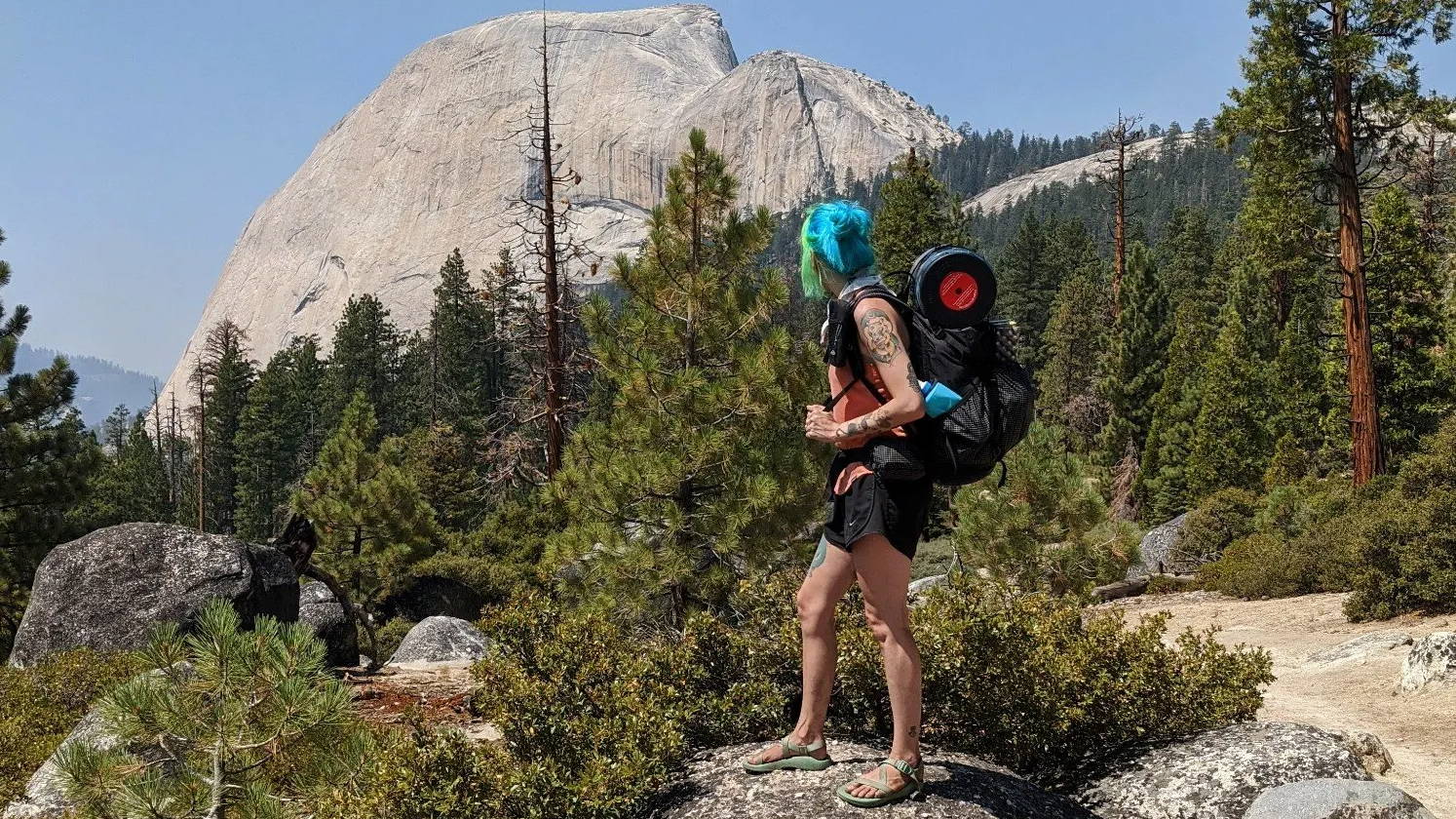 Hiking Sandals
We'll be upfront with you here - we're not fans of hiking sandals. However, we can't deny some benefits they have or the fact that they can come in handy in certain conditions.
Some people love hiking in sandals and will rave about their practicality. They might forget to tell you about their drawbacks, though.
Pros
As far as the benefits go, they can be practical for wet terrains and whenever you have to cross bodies of water on the trail. And if you're hiking near a beach and want to dip your toes into the water, you'll be happy you went with sandals.
Most importantly, they will allow your feet to breathe - unlike most other hiking footwear.
Cons
Sandals generally lack the essential ankle support and padding that boots and shoes have. They also don't protect you from flora and fauna that you might encounter along the way.
Hiking Socks
You might be thinking, "Do I need special socks, too?" Well, sort of.
It's not like you can't go hiking without them, but if you want to amp up your outfit, you ought to think about getting yourself a pair or two. Hiking socks mean less sweating and, in turn, dry feet. Plus, they provide extra protection and cushioning.
Darn tough socks are a fan favorite among the hikers in the community precisely because they have all of the abovementioned characteristics. They're also made from merino wool, which you already know is an incredible material for hiking.
If you top these off with your favorite pair of hiking boots, you'll have the winning combo.
Best Hiking Accessories For Summer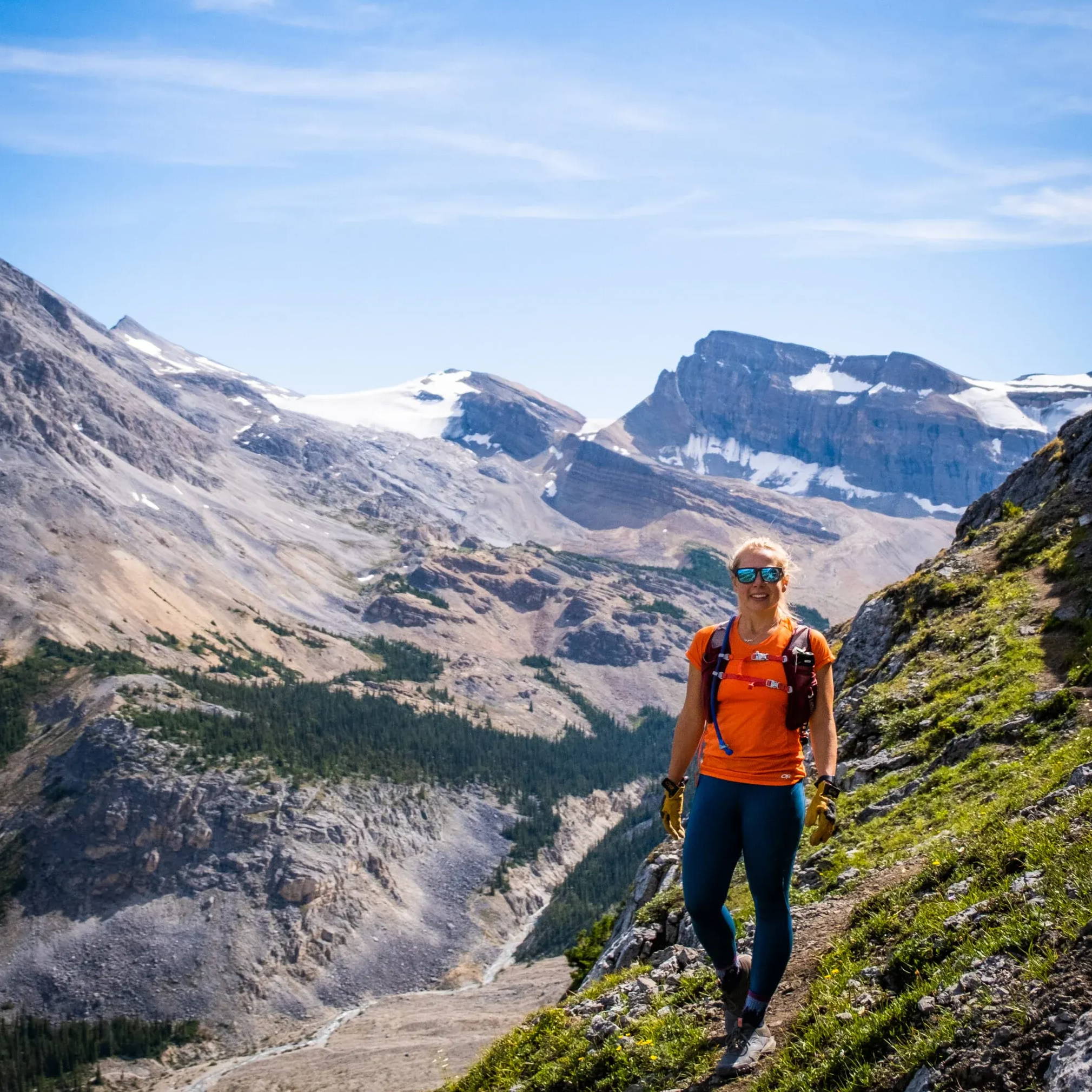 Lastly, we've come to the so-called accessories. We don't view them as decorations, though, but as highly practical additions to your hiking outfit.
Waterproof Gloves
Gloves? In the summer? What the hell are you talking about?
We know, we know, it's not what you were expecting. But, believe it or not, there are trails on which you'll be happy you have them.
Starting with sun-protecting abilities, gloves will provide you with the necessary blocking of UV rays while high up on the trail. We often forget about protecting our hands from the Sun's harmful rays - which is a mistake.
Plus, they'll protect your hands if you fall - and we all know that those scrapes can get nasty.
Hat
Yes, we've circled back to sun protection once again. Surprise, surprise.
If you choose to wear a hat while hiking, you're not only protecting your skin but preventing yourself from getting sunstroke, too. And trust us, these are not a joke.
Just find a nice hat that you like; you'll thank us later.
What To Wear Hiking In Summer: Final Thoughts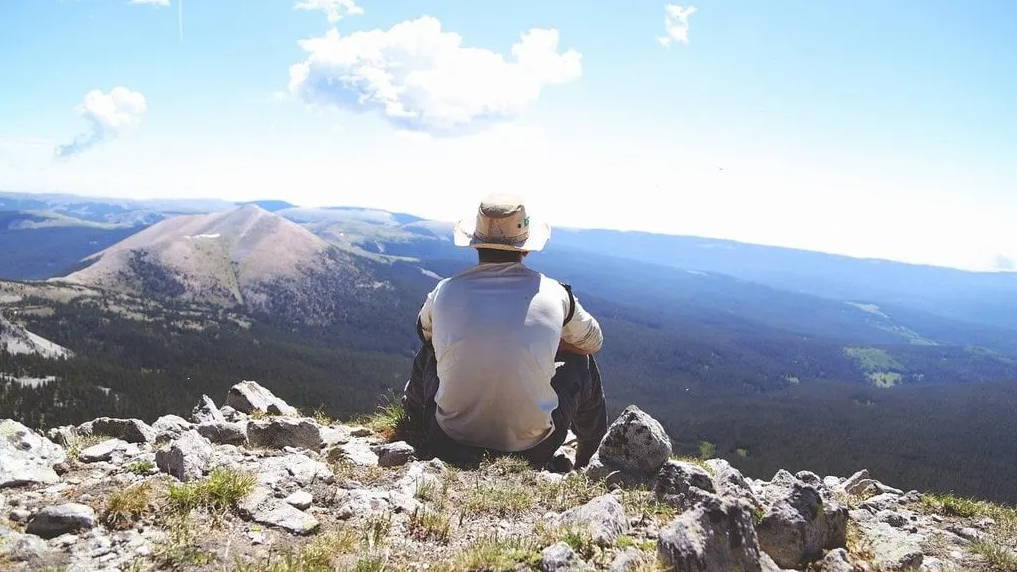 You came here wondering what to wear hiking in warm weather, what the best hiking clothes were, and what you should invest your money into when it comes to summer hiking outfits. We tried to give you the necessary info and ensure you're well equipped the next time you hit the trail.
Now, here's a quick recap:
Hiking during the summer months requires sun protection, hydration, and planning. These are the three most important things.
As for the best hiking clothing, it goes without saying that it should be breathable, lightweight, moisture-wicking, and quick-drying.
Layering is always a great idea; proper base layers will save you lots of trouble. More coverage grants you better protection from the UV rays. So, if you can, wear a long sleeve shirt and long pants.
Always have a jacket in your backpack. Trust us; winds are present - even on the hottest of days.
And a solid pair of hiking boots - or shoes - will save you from wet and achy feet - two enemies of an enjoyable hike.
Now, throw in some gloves and hats - and you've got yourself the perfect summer hiking outfit.
We hope you've learned something useful today. Now, set off to your favorite trail and have the expedition of your life.
Happy hiking!
---