What To Wear On A Hiking Date: Ideas For Hiking Dates
Dinner and a movie, going to the museum, a walk on the beach - we have all been on dates like these. And while they do have their perks, they're somewhat "generic."
So, you're wondering what other options are out there. Well, you're in luck; we have the perfect idea for you:
Take your date hiking! If you both like hiking, that is.
Now, you've got the place - but what about the attire? What's the perfect outfit for your hiking date? Should you even go full casual, or do you still have to put in some effort, regardless of the activity?
The truth is, a date is a date. You have to make an effort - and look your hiking best on the trail with your date.
But, how good can you look in a T-shirt and sweatpants or yoga pants?
Pretty darn good, if you ask us! Just find the right fit and the right color for you - and you'll be looking as stylish as ever when you hit the trail.
We're here to help you pick the perfect outfit for your hiking dates so that you can enjoy them to the fullest, knowing that you look fashionable and fit while doing so.
Now, without further ado, let's get right into it!

Hiking Date Tips For Your First Date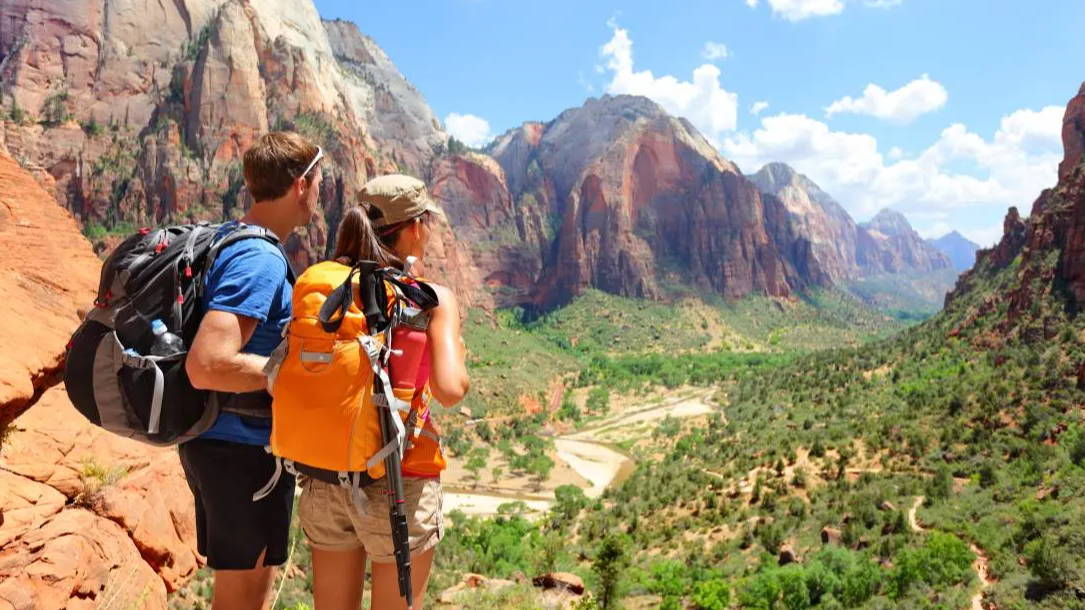 Before we jump into discussing hiking outfits and hiking gear for dates, we want to share some of our favorite tips to ensure that your hiking date goes as smoothly as possible.
Think about it:
You can wear the cutest outfit, but if the date goes awry, it won't make it any better, right?
Choose The Trail Wisely
Trail difficulty varies from trail to trail, meaning that you have to select one for the occasion appropriately.
You should keep in mind both your own hiking abilities, as well as your date's. Neither of you will be having much fun if one of you realizes they can't continue mid-trail due to exhaustion.
So, be sure to ask your date what their athletic abilities are and what their previous experience with hiking is so that you can choose the right trail for the two of you.
Also, don't forget that this is a date and that you two should still be able to enjoy each other's company and talk throughout it. And that means that the trail shouldn't be so difficult that you two can't catch your breaths or focus on one another because you have to watch your step every two seconds.
That's why you should choose a relatively simple, hassle-free trail that will allow you to focus primarily on the date at hand - while simultaneously enjoying the scenic views.
Make Sure They're A Hiking Person
While we agree on the fact that hiking is an ideal activity for a date, believe it or not, there are people that might not think the same.
So, before you make an elaborate plan to take your date on your favorite trail, be sure to check if they're just as enthusiastic about hiking as you are.
Take It Easy
It may be tempting to just go all out on the first hiking date and show your hiking abilities immediately - but we would advise you to tone it down in the beginning.
At the end of the day, you're not there to show your athletic prowess but rather to enjoy your date while doing something you both love.
That's why easy hikes are a great choice for the occasion; the more challenging or longer hikes are better off in the future when both of you are a bit more familiar with each other.
Dress Smart
Even though this is a date, and you are probably inclined to want to dress nicely and look all cute and whatnot, you have to bear in mind the fact that we are talking about a hiking date, after all.
That means that you need to think about practicality, comfort, and safety above all else.
If you opt for a super fashionable outfit that's horribly impractical or uncomfortable, neither you nor your date will have a fun time.
So, don't overlook the hiking essentials; stick to what you know fulfills all these requirements. Oh, and don't forget to share your hiking clothes knowledge with your date to ensure that they, too, are prepared for the experience.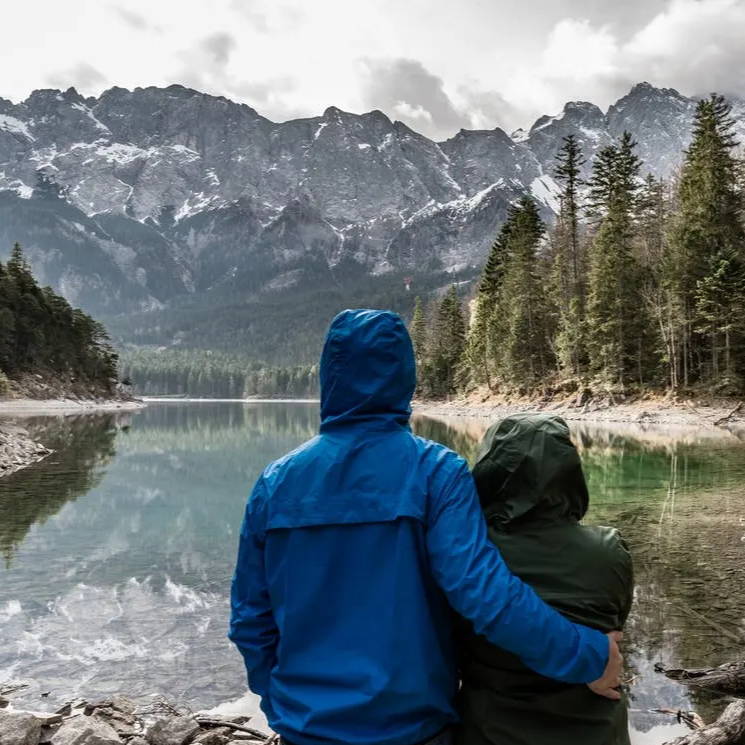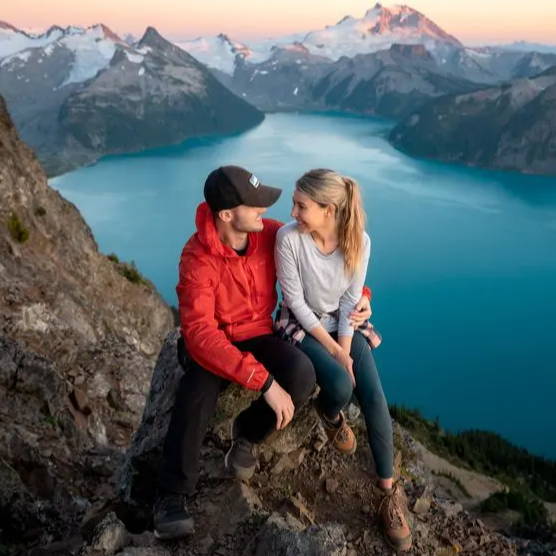 What To Wear On A Hiking Date

Moving on to the real deal and the reason you're here - what makes the best hiking date outfit.
There are several facets to the perfect hiking outfit, regardless of whether you will wear it on a date - or just on a casual weekly hike.
However, we cannot ignore the importance of a good date outfit wherever the date in question is taking place. We'll do our best to help you merge the best of both worlds and find a lovely balance between practical and stylish.
Let's go!
Hiking Pants
Starting off easy, we'll discuss some of the best hiking pants options. You can choose from a wide array of styles and types - depending on the type of terrain, the weather conditions, and the season, as well as your personal preferences.
Thick Hiking Pants
If you're unsure what to wear on a hiking date during the colder months, thick hiking pants should be your go-to choice.
You want something that'll protect you from the elements and the potential hazards of the trail but that will also be comfortable and stylish enough to serve as a date outfit.
Well, you're in luck; there are many brands out there that cater to all of these requirements. You're bound to find something that'll suit your taste and preferences.
Just ensure that whatever you choose, it's made out of a moisture-wicking material that is also durable, waterproof, and lightweight - and you'll have the winning combo.
Cargo Pants
If you want to wear pants on your date but don't quite need full-on hiking ones, you can opt for cargo pants that are much more lightweight and breathable but still provide you with the right amount of comfort, coverage, and protection on your hiking date.
Plus, they're great for styling and can take your hiking date outfit to another level. They go well with a cute tank top, a T-shirt, a cute base layer shirt - or anything in between.
So, you're all good.
They're also a good choice if you aren't a fan of man-made synthetic materials and want cotton pants. Even though the synthetic materials have better moisture-wicking abilities, some people just prefer cotton - and that's ok.
Just know that cotton gets wet easier and also dries a lot slower than polyester, merino wool, or other synthetic materials.
Cargo pants may not be good for cold weather since they aren't as proficient at protecting you from the wind, so bear that in mind when choosing your outfit in the colder seasons. It may be better to leave these pants for spring.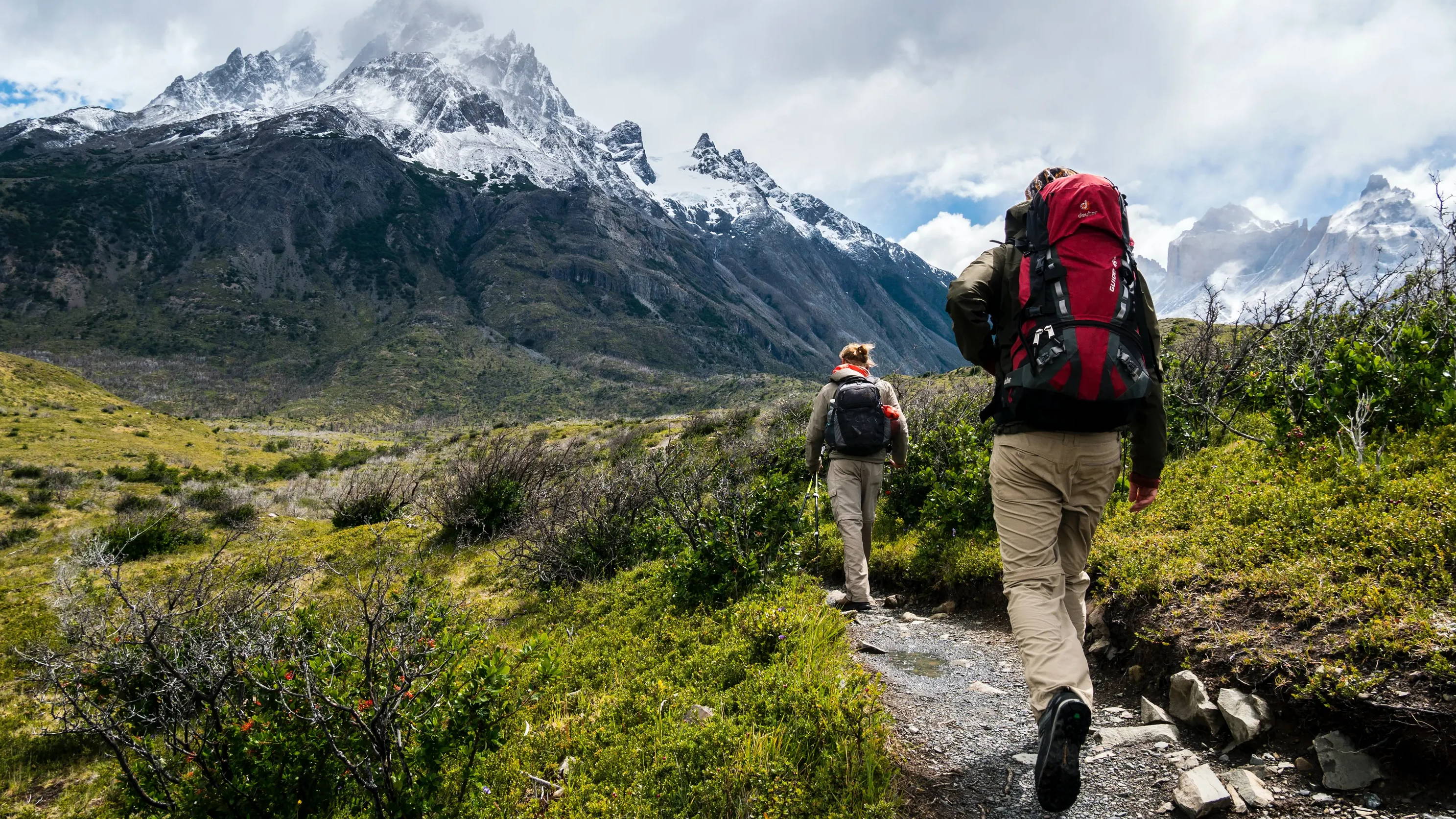 Yoga Pants
Another great option for hiking dates is yoga pants. Every woman knows the wonders of yoga pants. They fall into the category of some of the most comfortable clothes you can get - which makes them super popular.
A wonderful bonus is that they can be styled really well and contribute to a cute outfit like no other item.
They are great for many reasons:
They're extremely practical. Yoga pants are lightweight while simultaneously giving you the coverage that you might want.

Why would you want coverage, you ask? The answer is simple - it'll protect you from bug bites, as well as some of the flora and fauna you may encounter, and it will provide you with much-needed sun protection.

They're versatile. With some hiking clothes, you can only wear them while hiking, which means that the number of times you get to wear them is limited.

With yoga pants, you know that you can wear them on a plethora of occasions - on a hike, to the gym, while running errands, on a coffee date, on a casual walk, and so on.

They're stylish. As we've mentioned, yoga pants are having their moment in fashion, and for a good reason. They're so easy to style and can be worn in a number of ways.

Whether you opt for a casual outfit with a cute sports bra, or a more elaborate outfit, you are guaranteed to look chic, so long as you have a cute pair of leggings on.
Hiking Shoes
As far as hiking boots go, we want to emphasize the importance of comfortable footwear and proper ankle support. We've already said that for your hiking date to be successful, you have to feel comfortable and be prepared for the hike.
And developing a blister mid-trail is sure to ruin even the best of hiking dates.
So, to prevent that, be sure to choose a good pair of hiking shoes. They'll be the best wingmen on your date
Hiking Boots
Our first choice of hiking footwear for you would be hiking boots. Why? Well, for a number of reasons:
First of all, they provide the most ankle support and ensure that your feet are as protected as possible.
Also, hiking boots have more room for cushioning on the inside, which prevents your feet from hurting and, consequently, you from getting grumpy on your hiking date.
Furthermore, hiking boots have the most capacity, out of all of the hiking footwear available, to protect you from the elements, the water, and flora and fauna.
Yeah, yeah, but how can you incorporate them into your chic hiking date outfit? Aren't they too clunky and chunky?
Yes, they are. But we say - embrace it. Chunky boots are in right now, so why not chunky hiking boots, as well?
Besides, we think that all of the benefits that they bring far outweigh the fact that they might not be your first choice style-wise.
Sports Shoes
The other options you have footwear-wise are sports or running shoes.
Depending on the hike length and the type of hiking trails you visit on your hiking dates, you can also choose a more lightweight (and more affordable) option - running shoes.
Proper footwear is key even on easier hikes, so don't take them lightly, either. When choosing your trainers, make sure that they give you as much cushioning and support - and comfort - as possible.
On uneven terrain, sneakers can be tricky and possibly lead to ankle sprains, though, so choose wisely.
Hiking Socks
A wonderful addition to any type of hiking footwear is hiking socks. They'll give you that extra cushioning, protection from the water and blisters, and add warmth on the colder days.
Don't get us wrong; you don't have to have them. But they'll certainly elevate the comfort level you'll feel on your hiking date.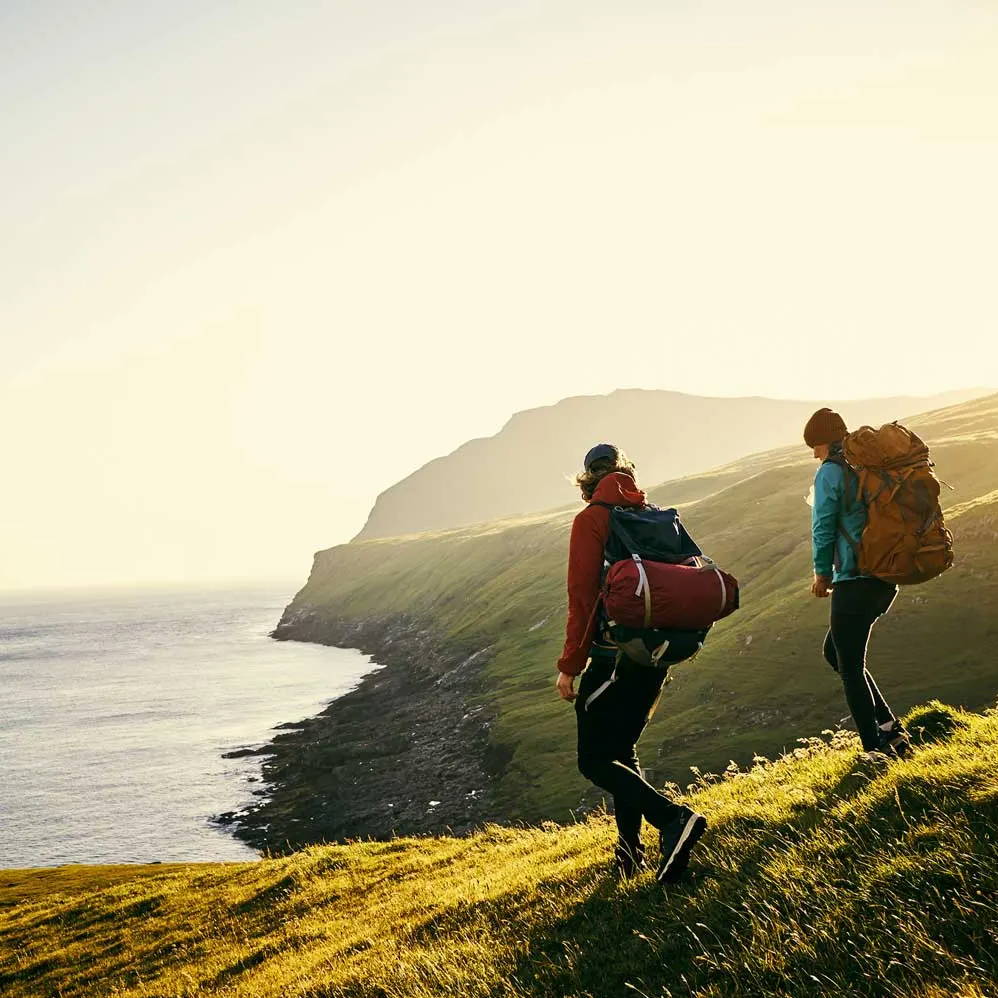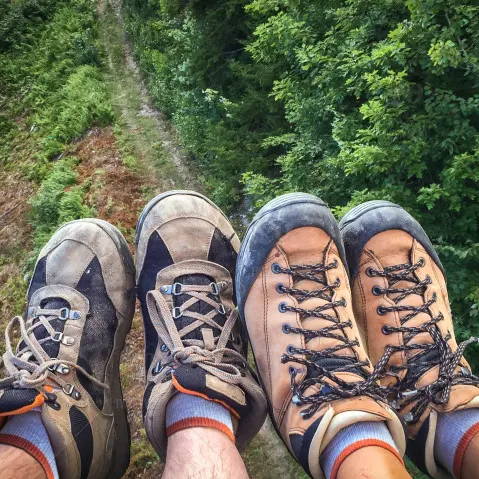 When it comes to autumn and winter hikes, you need a good waterproof jacket to keep you dry and warm. That's certainly a hiking essential that you shouldn't feel guilty about splurging a bit more money on.
They're absolutely necessary to make your date outfit comfortable, practical, and protective - and, in turn, your date successful.
Waterproof jackets come in many styles, which means that you can adjust them to your personal taste and the type of hikes you usually go on.
There are thinner and thicker ones, meaning that you can have waterproof jackets for warmer weather when the sky decides to treat you to a nice little shower.
Hiking Shirt
There are many ways you can go about a hiking shirt. They're among the most versatile items of clothing - not only in hiking fashion but in everyday life, as well.
Base Layer
When it comes to the base layer, you need something that'll feel like a second skin, as it's the layer that's the closest to your body.
It needs to be moisture-wicking to ensure that you don't get drenched in sweat; that would be far from an ideal situation on a date, regardless of where the hiking date takes place.
There's no amount of beautiful scenery that could erase the excessive sweat stains from one's memory, huh?
Oh, and yes, you should wear a base layer even if you're hiking in warm weather since there's an even higher chance of sweating.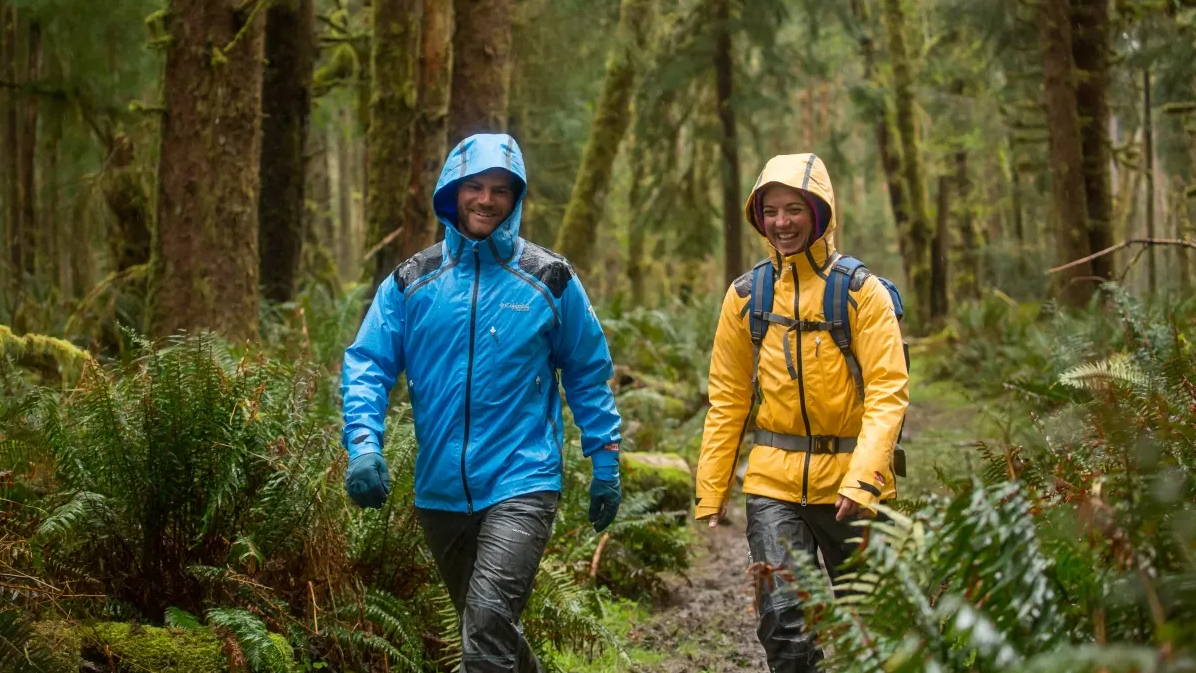 T-Shirts
We've briefly discussed the topic of the fabric of hiking gear, or hiking clothes, in particular, so you know that cotton and other natural materials generally aren't recommended in the hiking community because of their slow-drying nature and the ability to hold more water.
That's why experienced hikers and outdoor enthusiasts tend to steer clear of cotton T-shirts. However, it genuinely is a matter of preference.
If you enjoy more breathable clothes, a T-shirt can be a good choice for you.
Just don't let the season you're dressing for slip your mind. If your hiking date is taking place in the autumn or winter months, we'd advise you to stick to synthetic materials. You don't want to be wet in the cold, do you?
Otherwise, a short or long sleeve T-shirt can be a nice option in the warmer months. It provides endless styling possibilities and will be kind to your wallet.
What a good combination - stylish, comfortable, and affordable. What more could you want?
Hiking Skirt
Now, if you want to get out of your comfort zone and stand out on your hiking date, we have a true gem for you - skirts.
Granted, hiking skirts aren't as popular among hikers, but that could quickly change. They can be extremely practical and comfortable while still being fashionable and feminine.
So, if you're wondering what to wear on a hiking date to stand out - and make sure your hiking experience and hiking trip are memorable - you should definitely look into hiking skirts.
Sun Protection
We mustn't forget the end-all-be-all of hiking - sun protection.
If you know us, then you know how important we believe sun protection is. The UV rays are extremely damaging and could seriously affect your health - ruining your hiking date along the way.
That's why you must invest in good SPF, UPF clothing, and other useful items that'll protect you from the sun's negative effects.
Baseball Caps
Baseball caps are a fantastic, sporty option that not only serves as protection but also elevates any outfit that you opt for. They'll shield your face from the sun - and protect your head from sunstroke.
Of course, you can opt for any hat that you like, depending on your taste and the rest of your hiking date outfit.
Hot weather, in particular, requires this type of addition, but don't be too quick to exclude hats from your winter hiking date outfit. The great outdoors is full of surprises - so it's best to always be prepared.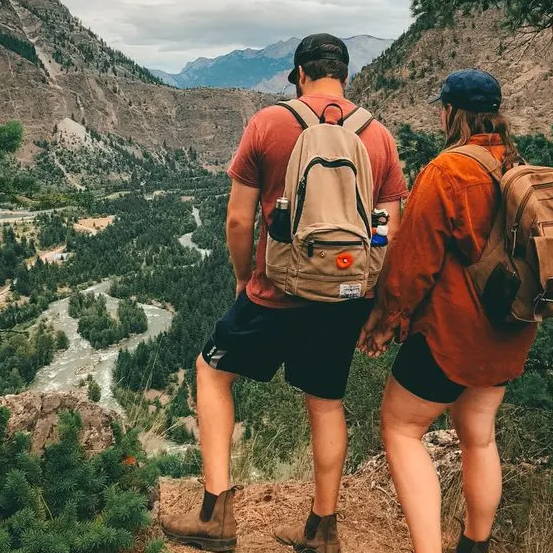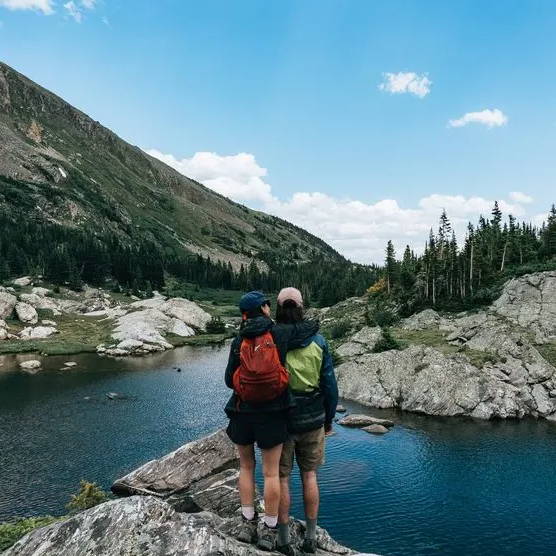 You came to us wondering what to wear on a hiking date - and how to elevate your hiking date outfit to the max. It was our pleasure to guide you through this topic, and we hope we've given you some valuable and useful advice.
Let's sum it up briefly:
Don't just focus on looking fancy; keep practicality and comfort at the forefront of your mind. Without them, no amount of "cute" will make the hiking date fun.
Pants and tops allow you to play around with various styles, so you're sure to find something to fit the occasion.
Hiking boots/shoes are essential. You should opt for a good, supportive pair that will carry you safely throughout your hiking date - and make your hiking experience pleasant.
And don't forget your sun protection, whether it comes in the form of sunscreen, UPF clothing, sunglasses, or hats.
Lastly, remember to have fun. Dates can be nerve-racking - especially if it's a first date - but try and enjoy them. After all, the picturesque scenery will give you all the talking points you could possibly need.
Off you go!
---